Music at Temple Ohabei Shalom
Music has always been an integral part of TOS. We are currently blessed with Rabbi Audrey Marcus Berkman's beautiful voice, David Sparr's skillful musical direction, Josh Cohen's vibrant educational leadership, and many gifted congregants and staff who lend their musicianship to our Shabbat Band, Choir, and events. You will find recent music on this page. Look for more, including music from our Reggae Shabbat, on David Sparr's web page.
Ya'aloz Sadai: The Voices of Ohabei Shalom - Past & Present: David Sparr, Music Director
This is a special setting of two lines of Psalm 96, music composed by the Israeli group Nava Tehila, and arranged by our own David Sparr.
After creating all of the instrumental tracks, to make it even more special, David invited eleven singers who have all have played a role in the music of Ohabei Shalom over the last 20 years to lend their voices to this project. Eight of them have brief solos, and you can hear them in this order:

Rabbi Audrey Marcus Berkman – 2017-present / Rabbi (she also has the last solo)
Joshua Cohen –2017-present / Music Educator
Cantor Randall Schloss – 2007-2016 / Cantor
Cantor Robbie Solomon – 1991-2005 / Cantor
Cantor Rick Lawrence – 2012-2014 / Cantorial Intern
Cantor Maayan Harel – 2017-present / High Holy Day soloist, B'nei Mitzvah tutor
Cantor Shana Onigman – 2005-2007 / Cantor
Avi Davis – 2019-present / High Holy Day Soloist
In addition, in the ensemble parts we also have the beautiful voices of:
Daniel Anderson – 2015-present / Education Programs Coordinator
Cassie Samuels – 2019-present / Youth Engagement & Administration Coordinator
Naomi Gurt Lind – 2013-2018 / Member Outreach Coordinator • Director of Membership & Engagement • Executive Director • High Holy Day Soloist.
The TOS Shabbat Band Performs Mizmor L'David!
On Shabbat B'yachad, May 8, 2020, the TOS Shabbat Band, Directed by David Sparr, performed Mizmor L'David by Shlomo Carlebach. Our thanks to David and our band members, for sharing this music with us! Thanks to Josh Cohen for putting this video together so beautifully.
Music Educator Josh Cohen & Membership & Engagement Coordinator Cassie Dezii: HaKarat HaTov Music Video:
Song and music by Josh Cohen and Cassie Dezii
Passover 2020: Music Director David Sparr
Community Member Andy O'Connell: Mi Shebeirach
Mi Shebeirach composed by Cantor Randall Schloss, mandolin and vocals by Andy O'Connell
Thu, December 8 2022
14 Kislev 5783
Upcoming Events:
There are no upcoming events at this time.
About Ohabei Shalom
Progressive in attitude yet traditional in practice, Temple Ohabei Shalom is an inclusive Jewish community committed to nurturing, sustaining, and touching Jewish lives through lifelong learning, joyful worship, and repair of the world in word and deed.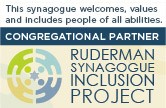 Contact Us
Our phone lines are open daily from 9:00am- 5:00pm.

If a lifecycle emergency occurs after hours, please call: 617.651.0585
Thu, December 8 2022 14 Kislev 5783