Welcome to Temple Ohabei Shalom
Strongly Connected While Physically Apart
All programming and worship opportunities are currently being held virtually. Please continue to check our website for our offerings.
This Week at TOS:
Monday, April 12
7:00pm: Spirituality and Mental Health Discussion Group
Tuesday, April 13
3:00pm: ARS in Session
Thursday, April 15
9:00am: Torah for the Heart and Mind with Rabbi Berkman (Zoom)
Friday, April 16
This Shabbat's Torah Portion is tazria-mtzora: Leviticus 12:1-15:33

6:00pm: Erev Shabbat Services - Yom Haatzmaut: (Zoom, Facebook Live, TOS Live!, Brookline Access TV)

Saturday, April 17
9:30am: Tot Shabbat with Josh and Cassie (Zoom, Facebook Live)
10:30am: Shabbat Morning Torah Study (Zoom)

Weekly Yahrzeits can be found Here
Weekly Service Zoom Links and other Zoom Offerings:
As per Zoom's security recommendations, we do not post Zoom links on our public website. They are all sent through email - so be sure you open your emails to get the ZOOM links you'll need! Members who log in to their ShulCloud accounts can find links on this secure web page.
TOS Supports Local! Prop Your Shop!
Are you a small business owner or do you work at a small business? TOS would love to know! We want to help support our TOS community members during these unprecedented times. Help "Prop your Shop" by sending your business info HERE and we will add it to our list. Be sure to include name of business, address, phone number, website (if applicable) and what the business specializes in.
Help support the local community and your TOS community! See Complete List HERE.
Social Action at TOS
Take a look at our Social Action Page and see everything planned in the TOS Community and beyond!
Join Temple Ohabei Shalom!
If you'd like to join our congregation, we are delighted to welcome you. You can sign up here.
Fri, April 16 2021
4 Iyar 5781
About Ohabei Shalom
Progressive in attitude yet traditional in practice, Temple Ohabei Shalom is an inclusive Jewish community committed to nurturing, sustaining, and touching Jewish lives through lifelong learning, joyful worship, and repair of the world in word and deed.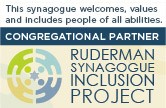 Contact Us
Our phone lines are open daily from 9:00am- 5:00pm.

If a lifecycle emergency occurs after hours, please call: 617.651.0584
Fri, April 16 2021 4 Iyar 5781