Temple Ohabei Shalom: Keeping it New Since 1842!

Join Us For High Holy Days!
Res
erve your tickets, sign up for pre-paid child care, RSVP for our Yom Kippur Break-fast, make tributes to your loved ones, and more here.
You'll find our High Holy Day schedule here.
YOU can help! Find out about Volunteer Opportunities.
Play a key role in making our bountiful Break-Fast a success! Become a Sponsor here: (select Donation Type 'Break-Fast' when you click the link)
High Holy Day Tickets are being mailed to all members in good standing. Please contact the office with any questions: 617-277-6610.
Renew or Join Temple Ohabei Shalom!
If you are a member of Ohabei Shalom but haven't yet had the chance to renew, you can do that here.
If you'd like to join, we are delighted to welcome you. You can sign up here.
Enroll Your Children Now!
Diane K. Trust Center for Early Education (TCEE preschool): Register here.
Ansin Religious School (ARS): New families register here. Returning? Here.
HomeBASE: Brookline Afterschool Enrichment @ TOS: Register here.
Welcome to Temple Ohabei Shalom!
TOMORROW NIGHT:
S'lichot: Beginning to Return: A S'lichot program of reflection and music
Saturday, September 21, 2019
•
21 Elul 5779
7:00 PM - 9:45 PM
Join us as we officially welcome the season of teshuvah (repentance and return). Connect with others, connect with yourself, and connect to the beauty of our tradition which offers us the continual opportunity for transformation and growth. We will begin with a time to gather over light refreshments, followed by Havdalah and a service which will include music, including our wonderful choir, an encounter with sacred texts, and reflection.
SUNDAY: Ohabei Shalom at Brookline Day
Larz Anderson Park
Sunday, September 22, 2019
•
22 Elul 5779
11 AM - 3 PM
Join us as we celebrate Brookline and our wonderful community on Sunday.
Soul Cycle: Spiritual Insights into the Jewish Holiday Cycle Taught by Rabbi Daniel Schaefer and Lifelong Learning Intern Ryan Leszner
Class topic Elul - Yamim Noraim - Returning: Thursday, September 26, 6:30 -- 8 pm
The cycle of the Jewish year provides us with a road-map for spiritual growth and development. Come nourish your soul with song, meditation, and learning as we journey through the Jewish year. This month we'll tap into the energy of the month of Elul, as we awaken our souls in preparation for the High Holy Days. Come to one, come to some, come to all. Free!
Registration not required but appreciated.
Sat, September 21 2019
21 Elul 5779
Help make TOS events the best they can be!
Click here to sign up to a volunteer for upcoming events.
Join us for Shabbat services
About Ohabei Shalom
Progressive in attitude yet traditional in practice, Temple Ohabei Shalom is an inclusive Jewish community committed to nurturing, sustaining, and touching Jewish lives through lifelong learning, joyful worship, and repair of the world in word and deed.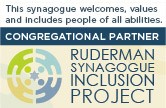 Sat, September 21 2019 21 Elul 5779