Connect with Us!



Click here

for up to the minute programming and information. As of 3/13/2020 the building is closed.
All events are being moved to virtual online gatherings. This situation is evolving constantly, and we will continue to keep our website updated!
We will be answering the TOS phones (617.277.6610) from 9 am - 4 pm daily. Feel free to leave a message at any time and as always, clergy and staff will be available by email. In case of a pastoral or lifecycle emergency, please call: 617.651.0584.
More.
Passover Inspiration & Resources
Welcome to Temple Ohabei Shalom!
Tot Shabbat, Services, Torah Study & B'nei Mitzvah

Online
We welcome you to online services, led by Rabbi Audrey Marcus Berkman & Rabbi Daniel Schaefer. Follow along here in the free online Mishkan T'filah Prayer Book.
Mazal Tov to Meredith Christ on your Bat Mitzvah! You did a great job!
Friday:
Facebook Live No Facebook account necessary!
6:00 pm Shabbat Services with Rabbi Audrey Marcus Berkman
Saturday:
Login via Zoom
9:30 am ZOOM: Torah Study (no service) with Rabbi Daniel Schaefer
Mon, April 6 2020
12 Nisan 5780
Our Most Recent Blog Posts
About Ohabei Shalom
Progressive in attitude yet traditional in practice, Temple Ohabei Shalom is an inclusive Jewish community committed to nurturing, sustaining, and touching Jewish lives through lifelong learning, joyful worship, and repair of the world in word and deed.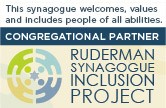 Mon, April 6 2020 12 Nisan 5780