Welcome to Temple Ohabei Shalom!
Toy Drive for The Grow Clinic at the Boston Medical Center until 12/10
Every year we collect new, unwrapped, nonviolent toys for The Grow Clinic at the Boston Medical Center. These toys go to children diagnosed with Failure To Thrive. Starting today, playpens will be available at the Marshal St and Beacon St (Rosenfield) entrances. Here is a list of suggested toys.
There will also be wonderful opportunities to bring toys at our Shabbat Morning B'yachad service on Saturday, December 1 and our Hanukkah B'yachad service on Friday, December 7. The Toy Drive goes through December 10th.
Modern Ethical Dilemmas from a Jewish Perspective with Rabbi Schaefer--December 6, 13, and 20
Since the Garden of Eden, Judaism has been concerned with ethics and has sought to provide principles for how to live in harmony with the earth, one's neighbors, and one's self. We'll discuss three modern ethical dilemmas, and look to Jewish sources for help in finding answers. Details.
Wed, November 21 2018
13 Kislev 5779
Join us for Shabbat services
Lifelong Learning

The 2018-2019 Adult Education Catalog is here! Download and print it to see our offerings for the year or go to our Lifelong Learning web page.
About Ohabei Shalom
Progressive in attitude yet traditional in practice, Temple Ohabei Shalom is an inclusive Jewish community committed to nurturing, sustaining, and touching Jewish lives through lifelong learning, joyful worship, and repair of the world in word and deed.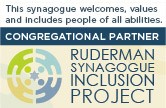 Wed, November 21 2018 13 Kislev 5779