Welcome to Temple Ohabei Shalom!
2nd Annual Reggae Shabbat
Friday, May 31 7:00 pm
Come hear the Shabbat Liturgy played and sung to the music of Bob Marley and the rhythms of Jamaica. Some of Boston's finest Reggae musicians join Rabbi Berkman, David Sparr, our own band and choir for this exciting event! Come early (6:15 pm) for an oneg Shabbat.
Clear Your Shelves and Help Youth Transform Their Lives!
Continuing the work of Tikkun Olam, TOS is partnering with the social enterprise non-profit, More Than Words. Your donations of books, CDs, and DVDs directly support this organization's important work.
When: May 29 - June 13.
Where: Book collection bins will be at the Admin/Beacon Street and Marshal Street entrances.
What: Click here for the types of items most helpful to More Than Words.
Drop your donations off at the Reggae Shabbat Service, and any time you're here at TOS!
Wed, May 22 2019
17 Iyar 5779
Help make TOS events the best they can be!
Click here to sign up to a volunteer for upcoming events.
Join us for Shabbat services
Lifelong Learning

The 2018-2019 Adult Education Catalog is here! Download and print it to see our offerings for the year or go to our Lifelong Learning web page.
About Ohabei Shalom
Progressive in attitude yet traditional in practice, Temple Ohabei Shalom is an inclusive Jewish community committed to nurturing, sustaining, and touching Jewish lives through lifelong learning, joyful worship, and repair of the world in word and deed.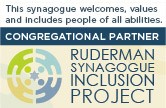 Wed, May 22 2019 17 Iyar 5779