The Office is Closed on Monday, in Observance of Indigenous Peoples' Day.
Welcome to Temple Ohabei Shalom!
David Broza & Friends
Saturday, December 14, 2019
•
16 Kislev 5780
7:00 PM - 10:30 PMSanctuary/Penn-Spero
This December, Ohabei Shalom hosts an exciting and exhilarating Hanukkah concert as we welcome Israeli luminary and superstar David Broza and NY based Cuban "Trio Havana" led by flute virtuoso Itai Kriss. Join us for the concert and stay for a reception afterwards! More information about the artists.
Tickets are available at the box office, including tickets for both the concert alone and the concert/reception.
Simchat Torah B'yachad -
Earlybird Ends at Noon on Wednesday, October 16th
Simchat Torah B'yachad is Sunday, October 20, 2019
5:00 PM - 8:00 PMSanctuary/Penn
Simchat Torah is the holiday where we celebrate the year-long cycle of reading Torah from beginning to end. This celebration is for all ages! What's the best way to celebrate Simchat Torah?
• Singing! Yes, that's why we invited David Sparr, Music Director, Josh Cohen and our amazing Shabbat band!
• Dancing! Yes, we'll dance on Beacon Street with the Torah! We will be accompanied by the Klezmer band Too Klez for Comfort.
• Community! We will unroll the Torah and surround our entire community in its teachings.
Teaching! We will mark the beginning of another school year. Our grade six children will become our teachers as they find "their" place in the Torah and begin preparations for B'nei Mitzvah.
• Chanting! Yes, hear how to chant the last and first verses of the Torah.
• Cookies! Yes, Torah is meant to be sweet so a special Oneg will follow services!
Don't miss Consecration!
For all students beginning formal Jewish education at the Ansin Religious School, we also invite you to participate in consecration this evening. You will receive a gift of Torah and mark this special milestone on the bimah!

Come celebrate the joy of Torah!
Dinner - Torah and Tacos - Vegetarian, Chicken, or Fish! RSVP here.
Renew or Join Temple Ohabei Shalom!
If you are a member of Ohabei Shalom but haven't yet had the chance to renew, you can do that here.
If you'd like to join, we are delighted to welcome you. You can sign up here.
Enroll Your Children Now!
Diane K. Trust Center for Early Education (TCEE preschool): Register here.
Ansin Religious School (ARS): New families register here. Returning? Here.
HomeBASE: Brookline Afterschool Enrichment @ TOS: Register here.
Tue, October 15 2019
16 Tishrei 5780
Help make TOS events the best they can be!
Join us for Shabbat services
Upcoming Events
All Events
Soul Cycle: Spiritual Insights into the Jewish Holiday Cycle Taught by Rabbi Daniel Schaefer and Rabbinic Intern Ryan Leszner


Thursday, Oct 17th

6:30p

to

8:00p




Select Thursdays, 6:30 pm The cycle of the Jewish year provides us with a road-map for spiritual growth and development. Come nourish your soul with song, meditation, and learning as we journey through the Jewish year. Each session will focus on a couple stories and prayers as we mindfully attune our souls to themes of the season.

GBIO Shabbat and Pot Luck Dinner


Friday, Oct 18th

6:00p

to

7:30p




Come celebrate the first anniversary of Temple Ohabei Shalom's membership in the Greater Boston Interfaith Organization (GBIO). Please join us to learn how GBIO is working this coming year to achieve improved access to health and mental health care, affordable housing and immigrant rights - and especially for a delicious and fun POT LUCK DINNER after services. All are welcome!! Sign up to bring your favorite dish here.

Shabbat Services with Lunch and Learn in the Sukkah


Shabbat, Oct 19th

10:30a

to

12:00p




Study torah in the sukkah with Rabbi Schaefer! You'll lunch and learn, a wonderful way to enjoy Sukkot and Shabbat.

Simchat Torah B'yachad


Sunday, Oct 20th

5:00p

to

8:00p




Simchat Torah is the holiday where we celebrate the year-long cycle of reading Torah from beginning to end. This celebration is for all ages! What's the best way to celebrate Simchat Torah? Singing! Dancing! Community! Teaching! Join us.

Monthly Women's Rosh Chodesh Group with Rabbi Audrey Marcus Berkman


Wednesday, Oct 30th

7:00p

to

8:30p




Come celebrate the beginning of each new Jewish month with women of all ages from 13 - 113. We'll have the chance to schmooze, learn, enjoy activities and just connect with one another, offering a variety of ways into Jewish learning, community and living.
About Ohabei Shalom
Progressive in attitude yet traditional in practice, Temple Ohabei Shalom is an inclusive Jewish community committed to nurturing, sustaining, and touching Jewish lives through lifelong learning, joyful worship, and repair of the world in word and deed.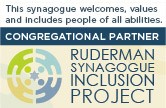 Tue, October 15 2019 16 Tishrei 5780