Strongly Connected While Physically Apart



Click here

for up to the minute programming. Our building is closed, but our community is vibrant!
All events are now virtual online gatherings. School, clergy, and staff are working their regular schedules remotely. This situation is evolving constantly, and we will continue to keep our website updated!
Our office phone is being forwarded to Naomi Fisher from 9:00 am to 4:00 pm Monday through Friday 617-277-6610. Feel free to leave a message at any time and as always, clergy and staff will be available by email. In case of a lifecycle emergency, please call: 617.651.0584. More.
---
Rabbi Schaefer's Shabbat Message:
THESE WILL I REMEMBER: BLACK LIVES, GAY PRIDE, & THE TEN MARTYRS
Friday, June 5, 2020/13 Sivan 5780
On Yom Kippur afternoon, we list the names of our Jewish martyrs who died for the sanctification of God's name, al kiddush hashem. Often known as the Martyrology, the service is named after the medieval poem Eileh Ezkira, which describes the ten rabbis who were martyred by the Roman empire in the period after the destruction of the Second Temple.
The poem begins: "These [martyrs] will I remember, and I will pour out my soul. How the wicked devoured our people… Continue reading...
---
SHABBAT SERVICES:
FRIDAY 6.5
6:00 pm Facebook Live, TOS Live and Brookline Access TV:
Erev Shabbat Services with Rabbi Audrey Marcus Berkman
Access our prayer book here:
SATURDAY 6.6
10:30 am ZOOM and TOS Live:
Shabbat Services with Rabbi Daniel Schaefer and Lifelong Learning Intern Ryan Leszner
During this Shabbat we say goodbye to Ryan, and thank him for leading us in study, teaching, and prayer, through his wonderful musical voice
Access our prayer book here:
Welcome to Temple Ohabei Shalom!
FROM RABBI BERKMAN AND OUR SOCIAL ACTION COMMITTEE IN RESPONSE TO RECENT EVENTS:
May 31, 2020/8 Sivan 5780
Shavua tov.
As the new week begins, Jews around the world are coming out of the holy time of Shabbat and Shavuot (observed for two days in much of the Jewish world). We return to a world deeply in need of healing, both from the pandemic which has caused 365,000 deaths as well as tremendous suffering from the economic impact, and from the scourge of racial injustice. The Temple Ohabei Shalom community shares the public grief and outrage over the killing of George Floyd in Minneapolis. You will find below a list of opportunities for education and action related to racial inequality. We hope you will join our Social Action Committee for some of these opportunities.
TOS Social Action: GBIO Coronavirus Congregational Campaign Launch
Tuesday, June 9 at 5:30 - 6:30 pm
Join TOS Social Action for the Greater Boston Interfaith Organization's Coronavirus Congregational Campaign Launch. Learn about how congregations across Boston are working with Governor Charlie Baker, District Attorney Rachel Rollins, and Attorney General Maura Healey for strategic and powerful action on health care, decarceration, and other issues that matter to GBIO congregations. New members and first-timers welcome!
To RSVP and receive the registration link, email: socialaction@ohabei.org
We Can Meet Our Goal!
Please help us keep our community strong, vibrant, and connected in these challenging times by donating to our COVID-19 emergency appeal. We are aiming to raise a total of $750,000 by June 30, 2020. THANK YOU!
If you are able to contribute to keep TOS running during this crisis please give whatever you can now by
clicking this link
(in the donation "type" drop down menu please choose COVID-19 Emergency Fund).
A Word About Zoom Links
As per Zoom's security recommendations, we do not post Zoom links on our public website. They are all sent through email - so be sure you open your emails to get the ZOOM links you'll need! Members who log in to their ShulCloud accounts can find links on this secure web page.
Join Temple Ohabei Shalom!
If you'd like to join our congregation, we are delighted to welcome you. You can sign up here.
Sat, June 6 2020
14 Sivan 5780
Our Most Recent Blog Posts
Add Me to Your Email List
About Ohabei Shalom
Progressive in attitude yet traditional in practice, Temple Ohabei Shalom is an inclusive Jewish community committed to nurturing, sustaining, and touching Jewish lives through lifelong learning, joyful worship, and repair of the world in word and deed.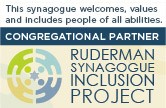 Sat, June 6 2020 14 Sivan 5780