Welcome to Temple Ohabei Shalom!
The Supernatural in the Book of Numbers
Wednesday, Jul 10th, July 17th, July 24th, and July 31st 6:30p to 8:00p
The book of Numbers chronicles the majority of the Israelites' journey through the wilderness. In between Egypt and Israel, amidst the rumblings and complaints, there are giants, a talking donkey, manna that appears every morning, and more. Over the course of four weeks, we'll take a look at the seemingly unbelievable and see how we can make sense of the supernatural in this fascinating fourth book of the Torah. Register here.
Taught by Rabbi Daniel Schaefer.
Tue, June 25 2019
22 Sivan 5779
Help make TOS events the best they can be!
Click here to sign up to a volunteer for upcoming events.
Join us for Shabbat services
Lifelong Learning

The 2018-2019 Adult Education Catalog is here! Download and print it to see our offerings for the year or go to our Lifelong Learning web page.
About Ohabei Shalom
Progressive in attitude yet traditional in practice, Temple Ohabei Shalom is an inclusive Jewish community committed to nurturing, sustaining, and touching Jewish lives through lifelong learning, joyful worship, and repair of the world in word and deed.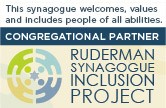 Tue, June 25 2019 22 Sivan 5779