Welcome to Temple Ohabei Shalom
Strongly Connected While Physically Apart
All programming and worship opportunities are currently being held virtually. Please continue to check our website for our offerings.
This Week at TOS:
Tuesday, January 12
3:00pm: ARS in Session
7:00pm: Social Action Committee Meeting- Climate Action
Wednesday, January 13
7:00pm: Adult Ed: You the Jury (Zoom)
Thursday, January 14
4:00pm: TOS Teens
Friday, January 15
This Shabbat's Torah Portion is va-eira: Exodus 6:2−9:35

6:00pm: Erev Shabbat Services: (Zoom, Facebook Live, TOS Live!, Brookline Access TV)

Saturday, January 16
10:30am: Shabbat Morning Service and Torah Study with Shir Hadash (Zoom)

Weekly Yahrzeits can be found Here
Weekly Service Zoom Links and other Zoom Offerings:
As per Zoom's security recommendations, we do not post Zoom links on our public website. They are all sent through email - so be sure you open your emails to get the ZOOM links you'll need! Members who log in to their ShulCloud accounts can find links on this secure web page.
TOS Treasurer's Report
As this calendar year comes to a close, we continue our appeal for Circle of Giving donations which enable Temple Ohabei Shalom to offer you the experiences that you enjoy and look forward to throughout the year. The Board of Trustees would like to provide the congregation at large an overview of our current financial position, so that you can better understand where your money goes and what's needed. Please click here to view the report.
*must be logged in and a member in good standing to view
Join Temple Ohabei Shalom!
If you'd like to join our congregation, we are delighted to welcome you. You can sign up here.
Sun, January 17 2021
4 Sh'vat 5781
About Ohabei Shalom
Progressive in attitude yet traditional in practice, Temple Ohabei Shalom is an inclusive Jewish community committed to nurturing, sustaining, and touching Jewish lives through lifelong learning, joyful worship, and repair of the world in word and deed.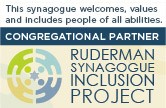 Contact Us
Our phone lines are open daily from 9:00am- 5:00pm.

In case of a lifecycle emergency occurs after hours, please call: 617.651.0584
Sun, January 17 2021 4 Sh'vat 5781