Youth Groups
Youth Groups

OSTY
OSTY (Ohabei Shalom Temple Youth) is Temple Ohabei Shalom's teen youth group, serving teens in grades 9-12. OSTY strives to make the teachings of Judaism a functioning part of the social outlook of all its members as well as to promote an understanding and practice of the values and traditions of Judaism. OSTY's main goal is to provide a space for Jewish youth to meet, develop friendships, and learn in a Jewish setting.
Beit OSTY, our 8-12 grade program. Below is our fall schedule. We welcome teens to join us for all or some programs; if you're just about social action, join us for our Tikkun Olam nights. If you're into planning programs, come to the EPC (Event Planning Committee) Open Meetings. Find what works for you and join us!
OSTY is one of the groups in NFTY-NE, the Northeast Region of the North American Federation of Temple Youth. NFTY-NE holds regional events throughout the year that meet the social, educational, and spiritual needs of its members. There are approximately 70 youth groups in NFTY-NE. For more info on NFTY go to www.nfty.org. Please note that most NFTY-Ne events are only for 9th-12th graders, but some include 8th graders as well!
OSTY is teen-run, you get to create what happens at your OSTY events. OSTY strives to reach out to all adolescents in the Temple Ohabei Shalom and greater Boston community, and our members are an enthusiastic, caring, friendly, and welcoming group.
All teens enrolled in our religious school program are automatically granted membership in OSTY. If you would like to join OSTY, but are not enrolled in our religious school program, email Fallon Rubin or Alexa Roos, our OSTY advisors.
Want to be a part of the OSTY Event Planning Committee? Our events focus on social action, community building, and fun—the Jewish way! We plan about one event per month! Everyone willing to make the commitment is welcome to join our event planning committee to share their ideas and plan our events! EPC meetings are held at 6:30 pm one Tuesday each month.
Questions about OSTY? Email our OSTY Advisor: Fallon Rubin.
JOSTY Shul In
Temple Ohabei Shalom has a long and amazing tradition of hosting the JOSTY Shul In (Junior Ohabei Shalom Temple Youth) each winter. Every year, we open our doors to the 7th and 8th graders in the Northeastern Region of NFTY so that they can get a little taste of what NFTY is like.
Every February, this annual event gives nearly 150-200 future NFTYites the chance to make connections with each other and discover the amazing Jewish community around them! It's a great way for 7th and 8th graders to get their toes wet, make Jewish friends outside of their own congregations, and connect with a wider community!
The JOSTY Shul In is a unique and special event because it is run by NFTYites for future NFTYites! NFTYites chosen by the NFTY NE Regional Board join OSTY to lead this amazing event. OSTYites have the choice between group leading for the 7th and 8th graders and helping out with and running logistics and set up during the shul in. Both options are a great way to develop leadership and planning skills, and we need OSTYites to do both to make this event truly amazing every year! If you are in OSTY and would like to be a part of the JOSTY Shul In this year, email Fallon Rubin, Youth and Teen Engagement Specialist.
Junior Youth Groups
All students enrolled in the Ansin Religious School are given automatic membership in their grade's youth group! Each of our youth groups have a Shul In (JOSTYites get to participate in the annual regional JOSTY Shul In) as well as other fun events throughout the year. These events are an integral part of the ARS experience that help students to build the relationships and form the Jewish bonds with each other that will last a lifetime!
What youth group is my child in?
7th & 8th grade: JOSTY (Junior Ohabei Shalom Temple Youth)
5th & 6th grade: BOSTY (Bigger Ohabei Shalom Temple Youth)
3rd & 4th grade: MOSTY (Mini Ohabei Shalom Temple Youth)
K, 1st & 2nd grade: TOSTY (Tiny Ohabei Shalom Temple Youth)
Students in TOSTY, our youngest youth group, get to have family youth group events, which gives you, the parents, the precious opportunity to truly experience Judaism with your family and to meet and get to know the parents of the other children in your child's class.
If you have questions about youth group or youth group events, email Fallon Rubin, Youth and Teen Engagement Specialist.
Wed, May 22 2019
17 Iyar 5779
Help make TOS events the best they can be!
Click here to sign up to a volunteer for upcoming events.
Join us for Shabbat services
Lifelong Learning

The 2018-2019 Adult Education Catalog is here! Download and print it to see our offerings for the year or go to our Lifelong Learning web page.
About Ohabei Shalom
Progressive in attitude yet traditional in practice, Temple Ohabei Shalom is an inclusive Jewish community committed to nurturing, sustaining, and touching Jewish lives through lifelong learning, joyful worship, and repair of the world in word and deed.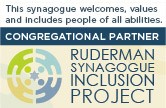 Wed, May 22 2019 17 Iyar 5779