Youth Groups
TOS Teens

TOS Teens
TOS offers a variety of programs to our teens (grades 8-12) that are designed to give a variety of opportunities to learn, create community, and give back to the world. Our program is flexible, intended to allow teens to opt in and out of programs as they choose. Options for 2022-2023 include:
-Class with Jen Whitman for 8th graders: The Good Place and Jewish Ethics
-Class with Rabbi Jenn Queen for 9-12 graders (Everything You Ever Wanted to Know About Being Jewish)
-The Tent at Temple Israel (we partner with this weekly community high school program for 8-12 graders)
-Madrichim (Teen assistant teachers in ARS on Tuesday afternoons; for 8-12 graders)
Wed, September 28 2022
3 Tishrei 5783
About Ohabei Shalom
Progressive in attitude yet traditional in practice, Temple Ohabei Shalom is an inclusive Jewish community committed to nurturing, sustaining, and touching Jewish lives through lifelong learning, joyful worship, and repair of the world in word and deed.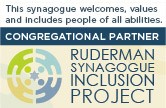 Contact Us
Our phone lines are open daily from 9:00am- 5:00pm.

If a lifecycle emergency occurs after hours, please call: 617.651.0585
Wed, September 28 2022 3 Tishrei 5783