Yahrzeits
Yahrzeits
We think of our loved ones whom death has...taken
from us... May their memories be for a blessing.
—Mishkan T'filah, A Reform Siddur
A Yahrzeit is the anniversary of a loved one's passing. In Judaism it is customary to light a candle or make a donation on that day. We all stand and pray together as we remember your loved one on this day.
Please see ways To Honor and Remember your Loved Ones.
Sat, September 21 2019
21 Elul 5779
Help make TOS events the best they can be!
Click here to sign up to a volunteer for upcoming events.
Join us for Shabbat services
About Ohabei Shalom
Progressive in attitude yet traditional in practice, Temple Ohabei Shalom is an inclusive Jewish community committed to nurturing, sustaining, and touching Jewish lives through lifelong learning, joyful worship, and repair of the world in word and deed.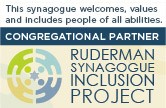 Sat, September 21 2019 21 Elul 5779