Yahrzeits
Yahrzeits

We think of our loved ones whom death has...taken
from us... May their memories be for a blessing.
—Mishkan T'filah, A Reform Siddur
A Yahrzeit is the anniversary of a loved one's passing. In Judaism it is customary to light a candle or make a donation on that day. We all pray together as we remember your loved one.
WE RECALL THE LOVED ONES WHOM DEATH HAS TAKEN FROM US
Daniel B. Caplan, beloved brother of Hugh Caplan and brother-in-law of Ray,
Susan Copeland, beloved aunt of Melissa Colten, and
Dr. Richard Glugeth, beloved husband of Madeline Glugeth.
This week (March 29 through April 4) we remember:
Mina Campell Alaynick
Nathan Angoff
Sally Aronson
Beatrice Baker
Sophie Beal
Linda Beaumont
Abe Berk
Sybil Berman
Beatrice Freidson
Bernat
Betty Bernhardt
Morris Berson
Audrey Faith Blumberg
Leo Bolan
Beatrice Borteck
Rose Bromberg
Ann Catherine Brown
Harry Chalfin
Emanuel P. Cohen
Alexander Cohen
Elmore T. Cohen
Louise Copeland
Ted Cutler
Mort Davidson
Morris Dresner
Joseph Epstein
M. Peter Ferngold
Barbara Fine
Myer Finer
Dr. Leonard Finger
Willie Arthur "Bud"
Folkes
Benjamin Geller
Nathan Gerber
Frances M. Ginsburg
Arthur Gluck
Sophie Goldfarb
Glugeth
Morris Goldberg
Herbert Goldberg
Alex Goldkrand
Bessie Gordon
Larry Grozalsky
Samuel Harrison
Abraham Hartman
Samuel Hazan
Margareta F. Horen
Rachel Jacobs
Morris Kalisky
Hy Kaplowitz
Selma Kerzner
Jerome Kravitz
Ethyl Goldstein
Kublin
Ralph M. Leeser
Simon L. Levin
Mary Skibelsky
Levins
Seymour Lewis
Jacob Lewis
Arthur Liebman
Morris Linsky
Bertha R. Lipner
Amiram Lipton
William London
Howard Mason
Anna Maurice
Barbara Norman
Jack Porter
Benjamin Rakowsky
Jack Rizman
Manley Rockman
Benjamin Rose
Henrietta Rosnosky
Nathan Rubin
Benjamin Sack
Sara R. Sawyer
Bernard Scheinberg
Ettie Scheinberg
Norman Segal
George Shuman
Hyman Silverman
Sadie L. Sisson
Frederick T. Stein
Abraham David
Steinberg
Celia Goodman Stern
Edward T. Stern
Anita Stone
Rose Thalheimer
Shaya Tsytsarko
Abraham Yarchin
Morris Yarrin
David Yona
Mollie Zabarsky
Herbert Zimmer
Mon, April 6 2020
12 Nisan 5780
Our Most Recent Blog Posts
About Ohabei Shalom
Progressive in attitude yet traditional in practice, Temple Ohabei Shalom is an inclusive Jewish community committed to nurturing, sustaining, and touching Jewish lives through lifelong learning, joyful worship, and repair of the world in word and deed.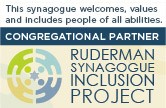 Mon, April 6 2020 12 Nisan 5780