Welcome
Dear Friends,
Thank you for your interest in Temple Ohabei Shalom. Our diverse, vibrant community is delighted to welcome you!
A congregation rich in history, we embrace modern life through the lens of ancient wisdom and through a commitment to a Reform Jewish identity that is progressive in attitude, yet traditional in practice.
We are proud of the ways in which we engage heart and mind: through spirited musical services, inspiring learning opportunities, and social justice initiatives. We are proud of the ways in which we nurture the spiritual and intellectual growth of our children – from the preschoolers in the Trust Center for Early Education to our Ansin Religious School students. But above all we are proud of our community. We have many unique opportunities to come together informally, to deepen relationships in meaningful ways. We share a culture of volunteerism that enables us to be there for each other in times of distress and in times of joy. At Temple Ohabei Shalom, members and guests alike are cherished as they are and fully embraced by the community.
We are eager to learn about you and to share this remarkable community with you. Please come back to visit us, early and often. Soon you will feel like one of the family. We look forward to welcoming you!
With warmth and blessing,
Rabbi Audrey Marcus Berkman

Thu, October 21 2021
15 Cheshvan 5782
About Ohabei Shalom
Progressive in attitude yet traditional in practice, Temple Ohabei Shalom is an inclusive Jewish community committed to nurturing, sustaining, and touching Jewish lives through lifelong learning, joyful worship, and repair of the world in word and deed.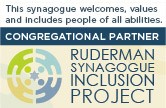 Contact Us
Our phone lines are open daily from 9:00am- 5:00pm.

If a lifecycle emergency occurs after hours, please call: 617.651.0584
Thu, October 21 2021 15 Cheshvan 5782