Weekday Worship
Weekday Worship
Weekday Worship Services are available upon prior arrangement. If you need to say kaddish, please contact the office so we can coordinate a service for you: 617-277-6610.
Please join us on Fridays and Saturdays for our regular Shabbat Services.
Mon, December 6 2021
2 Tevet 5782
About Ohabei Shalom
Progressive in attitude yet traditional in practice, Temple Ohabei Shalom is an inclusive Jewish community committed to nurturing, sustaining, and touching Jewish lives through lifelong learning, joyful worship, and repair of the world in word and deed.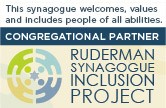 Contact Us
Our phone lines are open daily from 9:00am- 5:00pm.

If a lifecycle emergency occurs after hours, please call: 617.651.0584
Mon, December 6 2021 2 Tevet 5782