We Can Make It!
We Can Meet Our Goal! TOS Donations as of June 5th
In these difficult times, Ohabei Shalom remains committed to finding ways we can worship together, strengthen our connections, and support one another. We ask, if you are able and have not already done so, to donate now to COVID-19 emergency appeal. We are aiming to raise a total of $750,000 by June 30, 2020, which means we need your help.
If you are able to contribute to keep TOS running during this crisis, and you haven't yet responded to our Emergency Appeal, please give whatever you can now by clicking this link (in the donation "type" drop down menu please choose COVID-19 Emergency Fund). Your support and generosity are critical to Temple Ohabei Shalom, particularly now. Despite our physical distance, we are working to maintain the intimacy and sense of community which form the bedrock of TOS.
We are grateful to everyone who has contributed so far!
With thanks to the following donors, whose generosity increases our capacity to engage, inspire, and achieve our mission of being a beacon for inclusive Jewish worship, education and social justice in Brookline and beyond.
Our Lamed Vavnik Program
Lamed Vavnik Program Donors ($36,000 over three years)
Jewish lore holds that at any time in history there are 36 righteous people who are quietly responsible for saving the world. These are the Tzadikim Nistarim (hidden righteous ones), also known as the Lamed Vavniks as Lamed stands for the number 30 and Vav stands for the number 6. We are looking for 36 family units who will
---
• Anonymous
• Anonymous
• Mindy Berman & Andy Sumberg
• Georgia Churilla & Stephen Popper
pledge $36,000 or more over a period of one, two or three years, with two-thirds of the funds being deposited into the TOS Hineini and Sanctuary Funds, dedicated endowment funds that need to be replenished, and with one-third of the funds being used for ongoing TOS operations.
Matching funds for Lamed Vavnik donations courtesy of Marc Casper and Anonymous Donors
---
• Nina & David Fialkow
• Denise & Larry Green
• Lynn & William Kargman
Covid-19 Fund
Ms. Shelby Allen
Dr. Gerald & Mrs.
Rosalind Angoff
Anonymous
Anonymous
Mr. Gerard Badler
Dr. Andrew Beck &
Dr. Thea Brennan-Krohn
Mr. Jack Bardy &
Mrs. Caroline Baumal Bardy
Mr. Peter Barrer
Mr. Ted &
Mrs. Cynthia Berenson
Mr. Benjamin Berkowitz,
Ms. Jessica Foster &
Eliana Berkowitz
Mr. Donald & Mrs.
Dorothy Berman
Ms. Amy B. Bernstein
Dr. Jeffrey &
Ms. Lori Berry
Mr. Michael Brill &
Ms. Lisa Irvings
Mr. Richard &
Mrs. Ellen Calmas
Dr. Hubert & Mrs.
Raynor Doris Caplan
Ms. Irene Carmen
Ms. Denise Casper
Mr. Marc Casper
Mr. Jesse Cochin &
Dr. Alice Newton
Kathe and Allan Cohen
Mr. Beryl W. &
Mrs. Barbara Cohen
Mr. Jonathan Cohen
Dr. Robert Cohen &
Dr. Amy Ship
Mr. Andre &
Mrs. Marilyn Danesh
Ms. Elinor Davidson
Dr. Daniel Deykin
Dr. John Dixon &
Ms. Rachel Sater
Ms. Sarah Esterquest
Mr. Paul &
Mrs. Lauren Feldman
Mr. Marc H. &
Mrs. Gail Fenton
Mr. David P. Fialkow &
Ms. Nina H. Sing
Fialkow
Ms. Sophie Forrester
Mr. Peter Frumkin &
Ms. Sharon
Grimberg
Mr. Mark Gale &
Ms. Wendy Zazik
Ms. Penny Garver
Mr. Laurence &
Mrs. Muriel Gillick
Ms. Hillary Golden
Dr. Lance Goodman &
Mr. Richard Stern
Mr. Spencer Gould
Ms. Judith Grace
The Grayson Family
Mr. Howard Grossman
Dr. Jeffrey Greenberg &
Dr. Rachel Freedman
Mr. Ben &
Mrs. Rachel Greene
Mr. Jeremy &
Ms. Jill Grossman
Judith Halper
Mr. Mark Hammer &
Mrs. Shweta Gooptu
Mr. Joel Herzfeld &
Ms. Connor Novy
Dr. Leigh &
Ms. Daisy Hochberg
Mr. Bill Hollman
Mr. Julian T. &
Ms Susan Houston
Mr. Edward &
Mrs. Elizabeth Jacobs
Ms. Martha Jaffe
Mr. Edward D. &
Mrs. Marjorie S. Kahn
Ms. Hollis Kahn
Mr. David G. Kanter
Ms. Jeanne
Karagosian Silver
Ms. Denise Karlin &
Mr. Bill Jarosz
Mr. Gerald &
Mrs. Barbara Katz
Dr. Jeffrey N. Katz &
Ms. Susan Zeiger
Ms. Rena Keller
Mr. Ross Knights &
Mrs. Alexandra Dorf
Mr. David &
Mrs. Stephanie Kohn
Mr. Howard Koor &
Ms. Ellen Mosner
Ms. Susan &
Mr. Bill Elsbree
Ms. Jamie Krauss
Mr. David Krigman
Ms. Maya R. Krigsgaber
Ms. Joyce Lazarus
Mr. Alan Christ &
Dr. Robin LeWinter
Mr. Mark Lipof
Mr. Roger &
Mrs. Alberta Lipson
Ms. Hilda Lopez-Soto
Mr. Scott Lush
Ms. Judith Mabel
Mr. Akshay &
Mrs. Laura Mahajan
Sacha Mankins
Mr. Drew Ames &
Ms. Amy Margalit
Mr. Drew Ames &
Ms. Amy Margalit
Ms. Tali Mazor
Ms. Susanna Mitro
Mr. Henry Morris
Ms. Tracy Moshe
Mr. Thomas Marton &
Ms. Danit Ben-Ari
Mr. Michael Mittelman &
Ms. Fawn Phelps
Mr. Andrew O'Connell &
Dr. Sharon A. Levine
Mr. & Mrs. David &
Eleanor Paradise
Mr. Joshua Paradise &
Ms. Masha Kogan
Ms. Lois Platt
Mr. Martin Plovnick
Mr. David &
Mrs. Rita Polatin
Dr. Jeffrey Prebluda &
Ms. Marjory Aronson
Mr. Carlos &
Mrs. Alisa Ridruejo
Dr. Eric &
Mrs. Allison Rimm
Mr. Matthew Rubins &
Ms. Meredith Rosenberg
Dr. Kenneth &
Mrs. Honey Sacks
Ms. Zita Samuels
Mr. William Sater
Mr. Jonathan Schoenfeld
& Mrs. Kelly Levin
Ms. R. K. (Shelley)
Schwartz
Mr. Ruth Seidman
Mr. David Seldin &
Ms. Cathryn Stein
Mr. Nathan Shpritz &
Ms. Nancy Kasen
Mr. Stephen &
Ms. Sherri Sigel
Ms. Michelle Simon
Mr. Toby & Ms. Elisa Simon
Mr. Matthew Simonson
Mr. David Sparr &
Ms. Jamie Leader
Mr. Todd &
Ms. Tammy Spencer
Ms. Ann Steinberg
Mr. Donald Steinbrecher
& Dr. Shellee Robbins
Ms. Charlotte Swartz
Ms. Eileen Schwartz
Mr. Martin Shore &
Dr. Shari Lisann
Mr. Gerard Taylor &
Ms. Heather Zion
Ms. Judith Tick
TOS Sisterhood
Mr. Shawn LaCount &
Ms. Jessica Ullian
Ms. Francine Vidlocker
Mrs. Joan Wasserman
Ms. Jessica Weiss
Mr. Kenneth &
Ms. Ellen Weinstein
Mr. Burton Winnick
Mr. Brian Crompton &
Mrs. Lisa Wyman
Ms. Angela Yudzinsky
Fri, June 5 2020
13 Sivan 5780
Our Most Recent Blog Posts
Add Me to Your Email List
About Ohabei Shalom
Progressive in attitude yet traditional in practice, Temple Ohabei Shalom is an inclusive Jewish community committed to nurturing, sustaining, and touching Jewish lives through lifelong learning, joyful worship, and repair of the world in word and deed.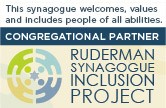 Fri, June 5 2020 13 Sivan 5780