Volunteer Appreciation
Volunteer Appreciation
Thank you!
Our community benefits enormously from the efforts of volunteers! Every day, members of the congregation step forward to help. In big ways and in small ways they give their time, ideas and efforts. This page of Volunteer Appreciation is dedicated to their contributions and our thanks.
We should all be thankful for those people who rekindle the inner spirit.
—

Albert Schweitzer
Sisterhood June Mailing
Dottie Berman
Doris Feldman
Judy Halper
Margie Kahn
Denise Karlin
Karen Landman
Alberta Lipson
Honey Sacks
Ann Steinberg
Farewell Dinner for Rabbi Sonia - Planning, Setup, etc.
Larry Green, Chair
Margie Kahn, Reception
Ann Steinberg, Reception
Yana Gershberg, Decoration
Dan Deykin
Susan Elsbree
Doris Feldman
Peter Feldman
Saul Feldman
Naomi Fisher,
Service Program
Jeremy Grossman
Jill Grossman
Naomi Gurt Lind
Richard Halpern
Denise Karlin
Ellen Mosner,
Memory Book
Honey Sacks
Ken Sacks
Rich Snyder
Flowers sponsored by Shellee Robbins & Donald Steinbrecher
Cake sponsored by Margie & Ed Kahn
Speakers at Farewell Dinner for Rabbi Sonia
Shari Churwin
Len Davidson
Denise Duclos
Louis Goldman
Spence Gould
Denise Green
Abram Klein
Ellen Mosner
Andy O'Connell
Allison Rimm
Cathryn Stein
Alessandra Ward-Goldberg
Strategic Planning Phone Bank
Benjamin Berkowitz
Rachel Calmas
Richard Calmas
Jesse Cochin
Susan Elsbree
Spence Gould
Jeremy Grossman
Naomi Gurt Lind
Jeffrey Katz
Rachel Munzer
Meryl Nistler
Andy O'Connell
Joshua Paradise
Stephen Popper
Rabbi Sonia Saltzman
Matt Simonson
Rich Snyder
Ann Steinberg
Mara Ward-Goldberg
Name Tag Preparation
Barbara Cohen
Margie Kahn
Zita Samuels
Judith Halper
Board of Trustees
Rachel Calmas, President
Susan Elsbree, Vice-President
Edward Jacobs, Vice-President
Denise Karlin, Vice-President
Joshua Paradise, Vice-President
Ben Berkowitz, Treasurer
Richard Stern, Assist. Treasurer
Matt Simonson,
Recording Secretary
Sara Bookbinder
Shomar Dhar
Saul Feldman
Penny Garver
Louis Goldman
Spence Gould
Rachel Greene
Jeremy Grossman
Robin Lewinter
Howard Koor
Roger Lipson
Michael Mittleman
Paul Moghtader
Annie Rotner
Ken Sacks
Ann Steinberg
Past Presidents
Georgia Churilla
Jesse Cochin
Len Davidson
Dan Deykin

Larry Green
Ellen Harder
Bill Harris
Sue Helfgot

David Leifer
Steven Lewenberg
Sonia Ravech
Michael Weintraub
Shabbat Musicians
Lisa Geller
Karen Lasser
Andrew O'Connell
Jay Rauch
Steve Rauch
Tom Rubenoff
Tammy Spencer
Todd Spencer
Sisterhood & Brotherhood Leadership
Sisterhood & Brotherhood Volunteers
David Alpert
Jonathan Atkins
Ed Belz
Dottie Berman
Hu Caplan
Elaine Cohen
Doris Feldman
Saul Feldman
Louis Goldman
Spence Gould
Craig Greenwald
Judy Halper
Ed Kahn
Margie Kahn
Howard Koor
Karen Landman
Alberta Lipson
Ellen Mosner
Rich Oshry
Diane Rosen
Zita Samuels
Alan Shepro
Harvey Solomon
Lay-Led Worship Leaders
Spence Gould
Denise Karlin
Listed above are the volunteers who have given their time and efforts in the past few weeks, as well as those whose ongoing commitment deserves ongoing recognition. This page will be updated regularly. If we have accidentally left you out, please contact Betsey Goldwasser in the Temple Office so that we can make it right.
Tue, July 23 2019
20 Tammuz 5779
Help make TOS events the best they can be!
Click here to sign up to a volunteer for upcoming events.
Join us for Shabbat services
Upcoming Events
All Events
Community Tisha B'Av Services


Shabbat, Aug 10th

6:30p

to

8:00p




Please join Temple Ohabei Shalom, Temple Sinai, and Temple Israel for a time of reflection. We will meet at Temple Israel.
About Ohabei Shalom
Progressive in attitude yet traditional in practice, Temple Ohabei Shalom is an inclusive Jewish community committed to nurturing, sustaining, and touching Jewish lives through lifelong learning, joyful worship, and repair of the world in word and deed.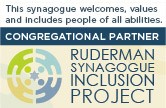 Tue, July 23 2019 20 Tammuz 5779