Volunteer Appreciation
Volunteer Appreciation
Thank you!
Our community benefits enormously from the efforts of volunteers! Every day, members of the congregation step forward to help. In big ways and in small ways they give their time, ideas and efforts. This page of Volunteer Appreciation is dedicated to their contributions and our thanks.
We should all be thankful for those people who rekindle the inner spirit.
—

Albert Schweitzer
Rosh Hashanah Volunteers
TICKET TABLE
Elaine Cohen
Louis Goldman
Spence Gould
Amy Grayson
Adam Grayson
Josh Grayson
Sharon Grimberg
Alberta Lipson
Celeste Mittelman
Tracy Moshe
Fawn Phelps
HEAD USHERS
Edward Jacobs
Mark Lipof
Michael Weintraub
USHERS
Sarah Bookbinder
Barbara Cohen
Ben Dykeman
Danielle Dykeman
Priscilla Green
Stephen Popper
Shellee Robbins
Ben Spunt
APPLES & HONEY RECEPTION COORDINATORS
Denise Duclos
Susan Elsbree
Lauren Feldman
& the Membership Committee
APPLES & HONEY SETUP
Tracy Moshe
HONOR COORDINATORS
Spence Gould
Diane Rosen
Alan Shepro
Yom Kippur Volunteers
TICKET TABLE
Barbara Cohen
Elaine Cohen
Mark Gale
Zach Gale
Priscilla Green
Jeremy Grossman
Jennifer Kesselheim
David Kohn
Caleb Kohn
Alberta Lipson
Hilda Lopez-Soto
Amy Margalit
Mike Mittelman
Celeste Mittelman
Tracy Moshe
Ellen Mosner
Shellee Robbins
Zita Samuels
Aaron Sitkof
Dava Sitkof
Rob Sitkof
Sylvie Sitkof
Tam Sitkof
HEAD USHERS
Edward Jacobs
Mark Lipof
Michael Weintraub
USHERS
Barbara Cohen
Priscilla Green
Jeremy Grossman
Alberta Lipson
Stephen Popper
Shellee Robbins
Ben Spunt
VOLUNTEERS
Louis Goldman
Spence Gould
ROSH HASHANNAH BOOK REPLACEMENT COORDINATOR
Alan Shepro
HONOR COORDINATORS
Spence Gould
Diane Rosen
Alan Shepro
BREAK-FAST COORDINATOR
Cathryn Stein

Listed above are the volunteers who have given their time and efforts in the past couple of weeks. If we have accidentally left you out, that doesn't mean we don't appreciate you! Please contact Naomi Fisher in the Temple Office so that we can make it right.
Sun, January 19 2020
22 Tevet 5780
Our Most Recent Blog Post
Our Lifelong Learning Catalog
Check out our Lifelong Learning Opportunities for the rest of the year. You'll find everything from Torah study (at Shabbat Morning B'yachad) to learning about the seasons of the Jewish Year, the Shema, and much, much more. Open the catalog here.
Help make TOS events the best they can be!
In the Works Now: Israel Trip!
Planning is underway for our next congregational trip to ISRAEL! The trip will take place from approximately February 11-21, 2021 (this is during the February school vacation week). Our member David Seldin is chairing the planning committee, along with Rabbi Berkman. Details.
About Ohabei Shalom
Progressive in attitude yet traditional in practice, Temple Ohabei Shalom is an inclusive Jewish community committed to nurturing, sustaining, and touching Jewish lives through lifelong learning, joyful worship, and repair of the world in word and deed.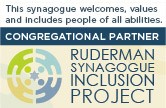 Sun, January 19 2020 22 Tevet 5780