Volunteer Appreciation
Volunteer Appreciation
Thank you!
Our community benefits enormously from the efforts of volunteers! Every day, members of the congregation step forward to help. In big ways and in small ways they give their time, ideas and efforts. This page of Volunteer Appreciation is dedicated to their contributions and our thanks.
We should all be thankful for those people who rekindle the inner spirit.
—

Albert Schweitzer
Rosh Hashanah Volunteers
TICKET TABLE
Elaine Cohen
Louis Goldman
Spence Gould
Amy Grayson
Adam Grayson
Josh Grayson
Sharon Grimberg
Alberta Lipson
Celeste Mittelman
Tracy Moshe
Fawn Phelps
HEAD USHERS
Edward Jacobs
Mark Lipof
Michael Weintraub
USHERS
Sarah Bookbinder
Barbara Cohen
Ben Dykeman
Danielle Dykeman
Priscilla Green
Stephen Popper
Shellee Robbins
Ben Spunt
APPLES & HONEY RECEPTION COORDINATORS
Denise Duclos
Susan Elsbree
Lauren Feldman
& the Membership Committee
APPLES & HONEY SETUP
Tracy Moshe
HONOR COORDINATORS
Spence Gould
Diane Rosen
Alan Shepro
Yom Kippur Volunteers
TICKET TABLE
Barbara Cohen
Elaine Cohen
Mark Gale
Zach Gale
Priscilla Green
Jeremy Grossman
Jennifer Kesselheim
David Kohn
Caleb Kohn
Alberta Lipson
Hilda Lopez-Soto
Amy Margalit
Mike Mittelman
Celeste Mittelman
Tracy Moshe
Ellen Mosner
Shellee Robbins
Zita Samuels
Aaron Sitkof
Dava Sitkof
Rob Sitkof
Sylvie Sitkof
Tam Sitkof
HEAD USHERS
Edward Jacobs
Mark Lipof
Michael Weintraub
USHERS
Barbara Cohen
Priscilla Green
Jeremy Grossman
Alberta Lipson
Stephen Popper
Shellee Robbins
Ben Spunt
VOLUNTEERS
Louis Goldman
Spence Gould
ROSH HASHANNAH BOOK REPLACEMENT COORDINATOR
Alan Shepro
HONOR COORDINATORS
Spence Gould
Diane Rosen
Alan Shepro
BREAK-FAST COORDINATOR
Catheryn Stein

Listed above are the volunteers who have given their time and efforts in the past couple of weeks. If we have accidentally left you out, that doesn't mean we don't appreciate you! Please contact Naomi Fisher in the Temple Office so that we can make it right.
Tue, October 15 2019
16 Tishrei 5780
Help make TOS events the best they can be!
Join us for Shabbat services
Upcoming Events
All Events
Soul Cycle: Spiritual Insights into the Jewish Holiday Cycle Taught by Rabbi Daniel Schaefer and Rabbinic Intern Ryan Leszner


Thursday, Oct 17th

6:30p

to

8:00p




Select Thursdays, 6:30 pm The cycle of the Jewish year provides us with a road-map for spiritual growth and development. Come nourish your soul with song, meditation, and learning as we journey through the Jewish year. Each session will focus on a couple stories and prayers as we mindfully attune our souls to themes of the season.

GBIO Shabbat and Pot Luck Dinner


Friday, Oct 18th

6:00p

to

7:30p




Come celebrate the first anniversary of Temple Ohabei Shalom's membership in the Greater Boston Interfaith Organization (GBIO). Please join us to learn how GBIO is working this coming year to achieve improved access to health and mental health care, affordable housing and immigrant rights - and especially for a delicious and fun POT LUCK DINNER after services. All are welcome!! Sign up to bring your favorite dish here.

Shabbat Services with Lunch and Learn in the Sukkah


Shabbat, Oct 19th

10:30a

to

12:00p




Study torah in the sukkah with Rabbi Schaefer! You'll lunch and learn, a wonderful way to enjoy Sukkot and Shabbat.

Simchat Torah B'yachad


Sunday, Oct 20th

5:00p

to

8:00p




Simchat Torah is the holiday where we celebrate the year-long cycle of reading Torah from beginning to end. This celebration is for all ages! What's the best way to celebrate Simchat Torah? Singing! Dancing! Community! Teaching! Join us.

Monthly Women's Rosh Chodesh Group with Rabbi Audrey Marcus Berkman


Wednesday, Oct 30th

7:00p

to

8:30p




Come celebrate the beginning of each new Jewish month with women of all ages from 13 - 113. We'll have the chance to schmooze, learn, enjoy activities and just connect with one another, offering a variety of ways into Jewish learning, community and living.
About Ohabei Shalom
Progressive in attitude yet traditional in practice, Temple Ohabei Shalom is an inclusive Jewish community committed to nurturing, sustaining, and touching Jewish lives through lifelong learning, joyful worship, and repair of the world in word and deed.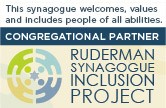 Tue, October 15 2019 16 Tishrei 5780