Get Involved
Volunteer for Upcoming Events
Volunteering at TOS is a great way to be involved. By volunteering, you will have the opportunity to meet new people, spend time with old friends, and your community more vibrant by your work.
There are many ways to get involved in congregational life at Temple Ohabei Shalom. The success of our programs and events depends on volunteers. We need your vision to create new projects and events, and your hands to assist with pre-existing ones. These events, as well as the daily life of a community, are strengthened by the work of many hands.
To lend your hands and spirit to our work, sign up here or email us with a brief description of any skills or experience you would like to contribute to the community.
We thank you for your time and effort.
Thu, December 8 2022
14 Kislev 5783
Upcoming Events:
There are no upcoming events at this time.
About Ohabei Shalom
Progressive in attitude yet traditional in practice, Temple Ohabei Shalom is an inclusive Jewish community committed to nurturing, sustaining, and touching Jewish lives through lifelong learning, joyful worship, and repair of the world in word and deed.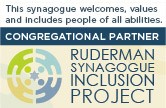 Contact Us
Our phone lines are open daily from 9:00am- 5:00pm.

If a lifecycle emergency occurs after hours, please call: 617.651.0585
Thu, December 8 2022 14 Kislev 5783