Join Parenting Through a Jewish Lens w Rabbi Berkman!
Class meets six Sundays from 5:00 to 6:30 pm beginning November 3. For a list of dates click here.
Parenting Through a Jewish Lens (PTJL) offers timeless texts to learn from and other parents to lean on. With PTJL, you will:
• Explore the many ways that Jewish values can enrich your family life
• Join a group of your parenting peers to discuss topics that matter
• Find time for personal inspiration and reflection
PTJL is recommended for parents of kids ages 0 to 9. Includes free child care and pizza dinner for the kids. Parents of all backgrounds are welcome!
Couple discounts and financial assistance available! For more information visit the website or email.
See what parents are saying about Parenting Through a Jewish Lens: "The idea that Judaism has resources and wisdom to address parenting situations we find ourselves in is both comforting and inspiring."
"I really appreciated the opportunity to speak candidly amongst peers about the challenges and joys of parenting in these times."
Sat, September 21 2019
21 Elul 5779
Help make TOS events the best they can be!
Click here to sign up to a volunteer for upcoming events.
Join us for Shabbat services
About Ohabei Shalom
Progressive in attitude yet traditional in practice, Temple Ohabei Shalom is an inclusive Jewish community committed to nurturing, sustaining, and touching Jewish lives through lifelong learning, joyful worship, and repair of the world in word and deed.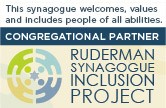 Sat, September 21 2019 21 Elul 5779