Coming in January for Parents of Young Children:
Parenting Through a Jewish Lens
Sundays from 4:30-6 pm
January 27, February 3 & 10, March 3, 10 & 31 Free childcare & light dinner included.
Join a group of fellow parents of children ages 0 to 10 to discuss topics that matter to you as a parent; explore Jewish values that can enrich your family; reflect on the joys and challenges of raising kids today; and find support, encouragement and connection. Parenting Through a Jewish Lens welcomes the participation of interfaith couples and families, and parents of all abilities, backgrounds, and sexual orientations. Childcare and a light dinner will be provided. Details and registration information.
Wed, January 16 2019
10 Sh'vat 5779
Help make TOS events the best they can be!
Click here to sign up to a volunteer for upcoming events.
Join us for Shabbat services
Lifelong Learning

The 2018-2019 Adult Education Catalog is here! Download and print it to see our offerings for the year or go to our Lifelong Learning web page.
About Ohabei Shalom
Progressive in attitude yet traditional in practice, Temple Ohabei Shalom is an inclusive Jewish community committed to nurturing, sustaining, and touching Jewish lives through lifelong learning, joyful worship, and repair of the world in word and deed.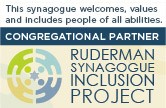 Wed, January 16 2019 10 Sh'vat 5779