Coming in January for Parents of Young Children:
Parenting Through a Jewish Lens
Sundays from 4:30-6 pm
January 27, February 3 & 10, March 3, 10 & 31 Free childcare
Join a group of fellow parents of children ages 0 to 10 to discuss topics that matter to you as a parent; explore Jewish values that can enrich your family; reflect on the joys and challenges of raising kids today; and find support, encouragement and connection. Parenting Through a Jewish Lens welcomes the participation of interfaith couples and families, and parents of all abilities, backgrounds, and sexual orientations. Details and registration information.
Introducing the Peace Room
The Temple Ohabei Shalom Inclusion Committee has worked many months to provide materials for a movable Peace Room. The Peace Room consists of a cart with sensory tools, soft lighting, weighted blankets, noise-canceling headphones, and a variety of stress-management resources. It is available at most public events (location varying according to overall space needs) for anyone who might need a break due to sensory or other personal challenges. (All children must be supervised.)
The Peace Room is generously sponsored by
Jeremy & Jill Grossman.
Tue, November 20 2018
12 Kislev 5779
Join us for Shabbat services
Lifelong Learning

The 2018-2019 Adult Education Catalog is here! Download and print it to see our offerings for the year or go to our Lifelong Learning web page.
About Ohabei Shalom
Progressive in attitude yet traditional in practice, Temple Ohabei Shalom is an inclusive Jewish community committed to nurturing, sustaining, and touching Jewish lives through lifelong learning, joyful worship, and repair of the world in word and deed.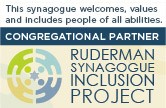 Tue, November 20 2018 12 Kislev 5779