Tribe 1187 (20s-30s)
Tribe 1187 (20s-30s)

TRIBE1187 (20's-30's @ Temple Ohabei Shalom) is your Jewish connection in Boston. Meet new people, attend fun and exciting events, and get involved in the Jewish community!
Meet our TRIBE1187 Program Coordinator…Alexa Roos!
Alexa moved to Boston in September of 2015. She enjoys being part of the TOS community as the Tribe1187 Coordinator. Alexa has her BA in Child Psychology and her MA in Clinical Counseling. She is currently the program coordinator for a local after school program. In her spare time she enjoys Jiu-Jitsu, traveling and watching movies.
Contact Alexa for more information about TRIBE1187. If you're not on the TRIBE1187 mailing list, click below to stay in the know.
This is Your Town. Your Tribe. We look forward to seeing you at our next event.
Don't miss a thing -- join our mailing list!
Past events include:
Wine and Cheese in the Sukkah
Roaring 20's Purim Party
Havdalah in the Home
Bar night at Osaka Sushi
A trip to see the Broadway production of Book of Mormon
Bar Nights at Barcelona Wine Bar
Red Sox game for Jewish Heritage Night
.
Tue, July 17 2018
5 Av 5778
Upcoming Events
All Events
Community Tisha B'Av Services


Shabbat, Jul 21st

8:00p

to

9:00p




Temple Sinai, Temple Israel and Temple Ohabei Shalom observe the Jewish holiday of Tisha B'Av on Saturday evening, July 21 at 8:00 p.m. Temple Sinai is hosting the service this year.

Sign up now for a Special Musical Evening in preparation for High Holy Days-hosted by Mayyim Hayyim


Thursday, Sep 6th

7:00p

to

8:15p




Off site at Temple Reyim. Joey Weisenberg leads a community-wide song-learning workshop, with space for reflection and teshuva (return, repentance), and the opportunity for you to dive into the full complexity of song. No prior knowledge required. Registration required.
Join us for Shabbat services
About Ohabei Shalom
Progressive in attitude yet traditional in practice, Temple Ohabei Shalom is an inclusive Jewish community committed to nurturing, sustaining, and touching Jewish lives through lifelong learning, joyful worship, and repair of the world in word and deed.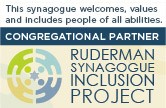 Tue, July 17 2018 5 Av 5778