Meet Our Staff
Shari has worked at Ohabei Shalom for more than seventeen years in many different educational positions including Education Administrator, Youth Educator, and Family Educator. She now serves as our Education Director helping to direct our vision of Jewish Education as we enter the 21st century.
She recently completed a Masters Degree in Jewish Education and also holds a Certificate in Jewish Family Education from Hebrew College. Shari is a member of the National Association of Temple Educators (NATE) the National Association Education of Young People (NAEYC) and the Early Childhood Educators of Reform Judaism (ECE-RJ).
Shari is a graduate of Indiana University with a Bachelors Degree in Jewish Studies and Sociology. In 1994 she studied at the Hebrew University in Jerusalem, taking courses in Jewish Education, modern Jewish culture and Jewish history. While in Israel Shari was a Lainer intern (sponsored by the Jewish Education Service of North America – JESNA) at the National Federation of Temple Youth (NFTY) office in Jerusalem and led a six week tour of Israel for 40 Midwestern High School Students. Shari has worked at various synagogues in the Boston area as a formal and informal educator for both school-aged children and adults. She has worked in a variety of camp settings and has served as a part of the administration of several camps including Camp Breakaway, a camp for underprivileged Jewish children and currently is the Program Director of Camp Micah, New England's newest Jewish summer camp.
Shari and her husband, Mike, have three beautiful daughters, Hannah, Ashley and Julia, and a lovable dog named Moxie.
Shari can be reached at schurwin@ohabei.org.
Amy Deutsch has over twenty years of experience in Jewish education. Her passion is helping learners of all ages find their own path to Jewish life. Highlights of her career include working with college students at Tufts University Hillel, engaging teenagers across the country at the Union for Reform Judaism, teaching religious school students and creating family education programs at Central Synagogue in Manhattan, writing and editing for the Jewish parenting website Kveller.com, and consulting on various projects for The Covenant Foundation, Areyvut, and Park Slope Jewish Center. Amy's undergraduate degree is from Brandeis University and she completed a master's degree in Jewish education at the Davidson School of the Jewish Theological Seminary for which she received the prestigious Wexner Fellowship. She lives with her husband and two young children in Brookline.
Amy can be reached at adeutsch@ohabei.org.
Stacey Boisvert, Event Coordinator
Stacey comes to the Event Production position after spending her first year at Ohabei Shalom working for HomeBASE, our after school program. She is excited to be the Event Production Coordinator as well as continuing to teach in the HomeBASE program.
Stacey completed her undergraduate degree at Suffolk University in Boston where she studied English and minored in the Foundations of Education. She then went on to earn her Masters in the Art of Teaching from Rhode Island College. Soon after, she spent several years working for various school districts throughout Massachusetts.
Stacey's love of event planning started at an early age, but came to fruition when she worked for Partners HealthCare in their Employee Programs Department while attending college. During her time at Partners, Stacey was able to learn all aspects of events from data entry and marketing, managing volunteers, to the actual production of the event. She hopes to take all skills learned and apply them here at Ohabei Shalom to make all events exciting and run seamlessly.
Stacey lives in Framingham with her husband, Brett, and their toddler, Nathan as well as their lovable cat, Sophia.
Stacey can be reached at sboisvert@ohabei.org.
Naomi joined the Temple Ohabei Shalom staff in October of 2014. She is a native of Newton, where she grew up during the inspiring creation and growth of her childhood congregation. She continues to cherish the people, rituals, and fullness of Judaism. For many years she sang with Zamir Chorale of Boston and she was also a member of Havurat Shalom in Somerville for more than a decade.
Naomi comes to Temple Ohabei Shalom after working in the field of publishing and communications for several decades. Understanding and loving the enrichment that synagogue life can offer, she is excited to be part of TOS and enjoys working with the community.
Naomi can be reached at nfisher@ohabei.org.
Richard Gopie, Bookkeeper
Richard is from Trinidad & Tobago in the West Indies. Having graduated with a degree in Accounting he worked in various governmental agencies before migrating to Massachusetts in the mid-nineties to raise his family. Richard continued his accounting profession here both in the corporate and governmental sectors, even stopping for a brief stint with Ohabei Shalom some 15 years ago before rejoining in 2019.
A passion for gardening and community Richard serves as the current treasurer of the Caribbean Foundation, an agency that helps to keep the elderly and ill at home by providing CNA and PC care for those in need. He is also part of Boston Natural Areas Network that helps support and develop community gardening; an avid sports enthusiast he finds much enjoyment following international as well regional sporting events. Richard is a responsible and reliable worker and intends to be a valuable addition to the Ohabei Shalom family.
Richard can be reached at rgopie@ohabei.org.
While David Sparr grew up mostly in New Jersey (Summit and Princeton - where he learned to play piano starting at age six), he was born in Brookline, Massachusetts, and his maternal grandparents, Hy and Cele Orenberg, were lifelong members at Temple Ohabei Shalom.
Having worked as a full time professional musician since graduating from the University of Michigan in the 1970's, David has had the privilege of working with a variety of musical celebrities, including Sarah Caldwell, Linda Hopkins and Joel Grey. David loves that he has been able to learn and perform a wide range of music (jazz, reggae, salsa, klezmer, opera, blues, tango, R&B, etc.) and part of his philosophy as Music Director at Temple Ohabei Shalom is to incorporate many of those influences into our liturgy to keep our music fresh, exciting, and inspirational. David says that he likes to think of making the service "dance."
David has been the Musical Director at Temple Ohabei Shalom since 2000. When he is not playing, his recording studio, Little Dog Studios, takes up much of his time. Through his position at Ohabei Shalom he have gotten to know Cantors from all over New England, resulting in studio recording and live performing collaborations with many of them. David also devotes much of his time to arranging and composition — if you come to services on the High Holy Days you will hear many of his choral arrangements.
David can be reached at dsparr@ohabei.org.
Amelia has been a member of the Temple Ohabei Shalom community since 2001. After graduating from Boston University with a degree in Early Childhood Education, Amelia decided to return to her roots and join the teaching staff of the Trust Center for Early Education. Currently, Amelia is completing her MA in Educational Leadership and Policy Studies at Boston University. As the Assistant Director of TCEE, Amelia is excited to focus on parent engagement and staff and curriculum development. Amelia can also be found teaching in the Ansin Religious School on Tuesday afternoons. Amelia is excited to get to know all of the families at Temple Ohabei Shalom!
You can reach Amelia at aremy@ohabei.org.
Joshua Cohen brings his natural enthusiasm and creativity to Temple Ohabei Shalom as the Music Educator! Josh grew up in Northern California going to Jewish camps and participating in youth group activities. Before he knew it he had fallen in love with Jewish music, playing guitar, and singing. More than a decade later, he is excited to bring his love of spiritual music to TOS. Josh has been fortunate enough to be a Songleader for BBYO, which has allowed him to travel the country spreading ruach to Jewish young adults. Since Josh moved to Boston he has been involved with a variety of Temples in the area, but now is very happy to finally find a home at TOS.
Josh can be reached at jcohen@ohabei.org.


Cassie Samuels, Youth Engagement and Administration Coordinator
As the Youth Engagement and Administration Coordinator (YEAC), Cassie is focused on youth programming and engagement for grades 8-12. This is her first year at ARS and TOS and she is so excited to be here, teaching 7th grade as well! As an educator, she believes that understanding our own Jewish identities, how we fit and can make a difference within our community is an integral part of our Jewish lives. Outside of school, Cassie is an avid baker, loves doing 1000+ piece puzzles, and dancing. Whether its contact improvisation or a choreographed piece, she loves to move!
Cassie can be reached at csamuels@ohabei.org.
Alexa moved to Boston and joined the TOS community in September of 2015. She loves her role as the HomeBASE Director as it allows her to have fun at work every day (who doesn't love playing board games?). Alexa has her BA in Child Psychology from Alfred University and her MA in Clinical Counseling from Johns Hopkins University. Before moving to Boston, Alexa was a mental health therapist in inner-city Baltimore for children and families. In her spare time she enjoys Jiu-Jitsu, traveling, eating chocolate, and watching movies.
Alexa can be reached at aroos@ohabei.org.
Karen Landman joined the Temple Ohabei Shalom staff in 2004 as the Clergy Assistant, a position she held until 2009. She comes from a strong background in industry, including customer service and administrative work. After she left in 2009, Karen remained close to the Temple volunteering with ushering and mailings. Karen returned to Temple Ohabei Shalom in 2013. She works in the front office and occasionally helps out at the Trust Center for Early Education. She enjoys and is at home being part of the Ohabei Shalom Community.
Karen can be reached at klandman@ohabei.org.
David Stewart, Facility Supervisor
David has worked at Temple Ohabei Shalom since August of 2014.
Tom W. Young, Facility Associate
Tom has worked at Ohabei Shalom since the Fall of 2018.
Tue, June 2 2020
10 Sivan 5780
Our Most Recent Blog Posts
About Ohabei Shalom
Progressive in attitude yet traditional in practice, Temple Ohabei Shalom is an inclusive Jewish community committed to nurturing, sustaining, and touching Jewish lives through lifelong learning, joyful worship, and repair of the world in word and deed.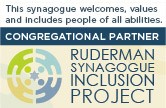 Tue, June 2 2020 10 Sivan 5780