Installation Remarks
11/02/2018 04:00:00 PM
Rabbi Audrey Marcus Berkman
| | |
| --- | --- |
| Author | |
| Date Added | |
| Automatically create summary | |
| Summary | |
My already-beloved community, cherished family, friends, colleagues: How very humbling to be called to the leadership of this kehilla kedoshah, this holy community, at this moment in history. It is not an easy moment - it is arguably the most challenging and shocking time for American Jews in many decades, certainly in my lifetime. Our sense of relative peace and security as Jews in this nation has been shaken since last Shabbat. The sanctity of life and the sanctity of our holy Sabbath were desecrated, and we are called back to our ancient response and responsibility: we rebuild. As we stand in this liminal moment in Temple Ohabei Shalom's history, celebrating this new sacred partnership of rabbi and congregation, we stand also at a watershed moment in our nation's history and in our people's history within this nation. This Shabbat we are poised between the trauma of Pittsburgh and the hope and possibility of the midterm elections on Tuesday. We are called upon to find strength in our tradition, in our history, and in one another. We are called upon. To be a Jew is to hold the responsibility to respond - literally to have response-ability - and to understand the power of response. We are a community and a faith based in action and obligation to that which transcends us: our community, and the Source of all Life. Through our deeds, we manifest the holy in this world - we sanctify life. Rabbi Abraham Joshua Heschel in his book God in Search of Man, writes: "It is in the deeds that human beings become aware of what life really is, of their power to harm and to hurt, to wreck and to ruin; of their ability to derive joy and bestow it upon others…"
When we understand ourselves as part of the unfolding story of something so much greater than ourselves, and when we understand that when we speak and when we act we do so as part of a chain going backward and forward through millenia -- then it is our communal memory that shapes us and calls us to act and speak to create healing and wholeness in our world; then our communal faith in a better future, as "the people of hope," sustains us in the darkest times, when hope seems a foolish thing indeed.
Holding the polarity of existential fear, and that deeply-embedded existential hope that is a hallmark of our Jewish people - we build for the future despite, despite, despite - we hold tightly to life and its joys and sorrows because we know - we know in the depth of our being, in our spiritual DNA, that this existence we share is fleeting, is precarious...and it matters so very much.
And so, when our sacred spaces and sacred times are desecrated, we rebuild and rebuild again. We believe in the possibility of love and life and growth and connection and we build from that, even out of utter catastrophe. We are exactly one month away from lighting the first candle of Chanukah, when we retell the story of re-dedicating sacred space that had been desecrated. Daylight savings time ends in a little over 48 hours, so we will soon be moving into the darkest time of the year, when we remember our obligation to become the light we need.
Commenting on this week's Torah Portion, Chayei Sarah, rabbi Jonathan Sacks has written: "God enters our lives as a call from the future. It is as if we hear [God] beckoning to us from the far horizon of time, urging us to take a journey and undertake a task that, in ways we cannot fully understand, we were created for. That is the meaning of the word vocation, literally "a calling", a mission, a task to which we are summoned." (Jonathan Sacks, Chayei Sarah, 2015) I sometimes think that the morning during the fall of my junior year at Oberlin College, when I inexplicably decided to study in Beersheva, Israel for a semester, was the first whisper of the call that led me, ultimately, 24 years later, to you, and to this moment, by way of so many experiences, including time spent learning and living in Jerusalem (where I first connected with the spirituality of Shabbat songs at Marc Baker's Shabbat table!). Becoming the spiritual leader of Temple Ohabei Shalom feels like the harvesting of so many experiences and relationships that all grew out of listening to a call in some way, even when it was quiet and unexpected, and of building and rebuilding.
What an incredible gift to be part of a people who forges its identity out of history, memory, and the call of the future.
In this moment, more bravery, strength, and courage are being demanded of us than many of us could have imagined. I am honored to answer my call in order to help you answer yours. What is being asked of you in this moment? The world is an overwhelming place to dwell, and so much is asked of us. We are needed, and must resist the urge to turn inward. For many, our inner landscape is also complex and fraught, especially at a time like this. But when we are together in community, in the service of each other and what lies within and beyond each of us, we can uplift this world - a world crying out to be remade. As Marge Piercy writes, "What we want to change we curse and then pick up a tool. Bless whatever you can with eyes and hands and tongue. If you can't bless it, get ready to make it new." Ours is a tradition of obligation and action, a stubborn and insistent drive to remake what is.
It is my calling to help you find your way in - to help you understand yourself as a necessary part of this whole, of this unfolding story of Jewish history - that what you are, what you do, now, echoes through the generations just as who you are now "contains multitudes" (in the words of Walt Whitman): the deeds, the decisions, the connections, of those who came before you. We need you - every one of you - your voice, your passion, your experience, your vision, your questions, as we create the Jewish future. Now more than ever, we need to come together to resist those who want to destroy us and the values we stand for. We must dedicate and rededicate ourselves to connection to Judaism, and that can happen in so many ways. There is a way in for every one of you who wishes to connect to the richness and rootedness of our ancient and evolving tradition. Seeking and pursuing that point of connection is our sacred obligation.
It is a tree of life to those who hold fast to it - Etz Chayim hi lamachazikim bah- we sing this prayer in reference to our Torah, but ultimately it is to one another that we must hold fast. When we do so, we honor the sanctity of life, which is the very essence of Torah.
We are standing in the doorway of a new world, blinking from the light (or perhaps the darkness?) to which our eyes have been unaccustomed. Let us answer our sacred obligation together, holding hands as we go forth into a world ripe for remaking, and for blessing.
Thank you for the gift of your trust in me as we move forward in strength together.
Shabbat Shalom.
Fri, March 22 2019
15 Adar II 5779
Help make TOS events the best they can be!
Click here to sign up to a volunteer for upcoming events.
Join us for Shabbat services
Lifelong Learning

The 2018-2019 Adult Education Catalog is here! Download and print it to see our offerings for the year or go to our Lifelong Learning web page.
Upcoming Events
All Events
GBIO Community Conversations Shabbat


Friday, Mar 22nd

6:00p

to

8:00p




Join us for a special Shabbat service. We will launch our effort to build an even stronger sense of community and belonging at TOS using many individual Community Conversations. Come learn about how our membership in GBIO can help us implement the TOS strategic plan in building more connections among us and supporting Tikkun Olam. Sign up to bring food to our potluck oneg: www.tinyurl.com/share-oneg

Parenting Through a Jewish Lens


Sunday, Mar 24th

4:30p

to

7:00p




Join fellow parents of children ages 0 to 10 to discuss topics that matter to you as a parent; explore Jewish values that can enrich your family; reflect on the joys and challenges of raising kids today; and find support, encouragement, and connection. Registration required. Childcare available.

Annual Spring Breakfast with the Brotherhood


Sunday, Mar 31st

9:30a

to

12:00p




Please join us as we honor TOS congregant Dan Deykin. We will express our thanks to Dan, enjoy a wonderful breakfast, and hear how to "Keep Brookline Safe" from keynote speaker Brookline Police Chief Andrew Lipson. Tickets are $20/$15 students (with ID). Free child care available. bhoodbreak@ohabei.org 781.223.4388

Parenting Through a Jewish Lens


Sunday, Mar 31st

4:30p

to

7:00p




Join fellow parents of children ages 0 to 10 to discuss topics that matter to you as a parent; explore Jewish values that can enrich your family; reflect on the joys and challenges of raising kids today; and find support, encouragement, and connection. Registration required. Childcare available.

Shabbat B'yachad


Friday, Apr 5th

5:30p

to

8:00p



About Ohabei Shalom
Progressive in attitude yet traditional in practice, Temple Ohabei Shalom is an inclusive Jewish community committed to nurturing, sustaining, and touching Jewish lives through lifelong learning, joyful worship, and repair of the world in word and deed.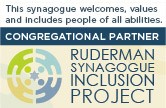 Fri, March 22 2019 15 Adar II 5779