ARS 2018-2019 Vision: B'tzelem Elohim
09/26/2018 05:48:00 PM
Amy Deutsch
| | |
| --- | --- |
| Author | |
| Date Added | |
| Automatically create summary | |
| Summary | |
At ARS, we approach curriculum through a variety of ways. There's the Hebrew and Judaica curriculum that students examine in the classroom, the tefilah questions that help students dive into prayer and theology at our weekly service, and each year we choose a theme that's our rallying cry—our vision, our mission, and our goal.
Last year we worked to be a kehillah kedosha, a holy community. In pursuit of that vision, we welcomed new friends, helped others find their own way on their personal Jewish journeys, and elevated our individuality in the bonds of community. This year, we're taking the work of a holy community to a new level as we enact the value of being b'tzelem Elohim, in the image of God. Or, as I like to call it: Created to be Sacred.
One of the very first lines of the Torah explains that each human is created B'tzelem Elohim, in God's image. If we are each created in God's image, we are each equally worthy of respect, kindness, and inclusion. As God's creations, we are each holy, special, and sacred. We each have value. We each have something to teach, to learn, and to share. We each have endless potential. And because we are all from the same Source, we all share something holy, and it is our sacred task to take care of that holiness in ourselves and others. When we come together as a kehillah kedosha, a holy community, the capacity for change, growth, and friendship is boundless.
A note--talking about God can be intimidating, confusing, and off-putting. The understandings of God that many of us have are influenced by the society in which we live, and sometimes involve that "old man in the sky" theory. I want to be very clear: that's not the kind of God that we are talking about at ARS! Judaism offers a multiplicity of ways to understand God, and we want to offer that multiplicity to our students, in the hope that each individual will find their own connection to what is greater than us. We can find moments of God in the beauty of a sunset, in dinner conversations with our families, in the beauty of singing Oseh Shalom together at tefilah.
Our fabulous Music Educator Josh Cohen is teaching our students a song called B'tzelem Elohim, by Dan Nichols. The lyrics (anc chords!) can be found here, and here's a video of Dan Nichols teaching the song. Or if you prefer, a singalong version!
For more on God, here are a few resources:
Talking to your children about God by Rabbi Sarah Reines (who happens to be one of my own very favorite rabbis in the world!).
Another perspective on how to talk to your kids about God, by renowned theologian Rabbi David Wolpe
And a video by parenting expert Rabbi Danya Ruttenberg reassures us that we don't need to know ALL the answers in order to engage with our kids in conversations about God!
Fri, February 22 2019
17 Adar I 5779
Help make TOS events the best they can be!
Click here to sign up to a volunteer for upcoming events.
Join us for Shabbat services
Lifelong Learning

The 2018-2019 Adult Education Catalog is here! Download and print it to see our offerings for the year or go to our Lifelong Learning web page.
Upcoming Events
All Events
HomeBASE February Vacation Camp!


Tuesday, Feb 19th

8:00a

to

Friday, Feb 22nd

6:00p




Hannah Arendt: Controversy and Thought with Amos Lassen, Ph.D.


Thursday, Feb 28th

7:00p

to

9:15p




Hannah Arendt covered the trial of Eichmann, and what she wrote made her the most reviled Jewish thinker since Spinoza. We will examine the controversy to see how we view it in today's context.

Shabbat B'yachad


Friday, Mar 1st

5:30p

to

8:00p




The Book of Judges: From Unity to Chaos on the Road to Monarchy


Wednesday, Mar 6th

6:30p

to

8:30p




The Book of Judges contains some of the most dramatic episodes in the bible. It is part of the Deuteronomic History that begins with Deuteronomy itself and continues through Second Kings, with the fall of Jerusalem and the end of the Davidic monarchy. The goals of the course are to engage in a close reading of the texts and to discover a hidden political agenda that underlies much of the Hebrew Bible.

Monthly Women's Rosh Chodesh Group


Wednesday, Mar 6th

7:30p

to

9:00p




Come celebrate the beginning of each new Jewish month with women of all ages from 13 - 113. We'll have the chance to schmooze, learn, enjoy activities and just connect with one another, offering a variety of ways into Jewish learning, community and living.
About Ohabei Shalom
Progressive in attitude yet traditional in practice, Temple Ohabei Shalom is an inclusive Jewish community committed to nurturing, sustaining, and touching Jewish lives through lifelong learning, joyful worship, and repair of the world in word and deed.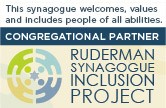 Fri, February 22 2019 17 Adar I 5779