A Word of Torah: The New Moon
08/10/2018 11:28:29 AM
by Rabbi Daniel Schaefer
| | |
| --- | --- |
| Author | |
| Date Added | |
| Automatically create summary | |
| Summary | |
The new moon this weekend begins the new month of Elul. By the time the moon has waxed and waned we'll be arriving at Rosh Hashanah, the start of a new year. Elul is a time for preparing for the High Holy Days, of awakening ourselves to do the work of teshuvah.
A Midrash on the Song of Songs says, "The Holy One said to Israel: "My children, make for Me an opening of teshuvah as small as a needle, and I will make the opening of forgiveness so wide that coaches and wagons could enter." (Midrash Tanhuma).
The Song of Songs, is both the story of the love between two lovers and an allegory about the love between God and the people of Israel. The ancient Rabbis based this insight on teshuvah on Song of Songs 5:2:
"I sleep, but my heart is awake. Knocking on the door is the voice of my beloved; Open to me, my sister, my love, my dove, my perfect one; for my head is filled with dew, and my locks with the drops of the night.
אֲנִ֥י יְשֵׁנָ֖ה וְלִבִּ֣י עֵ֑ר ק֣וֹל ׀ דּוֹדִ֣י דוֹפֵ֗ק פִּתְחִי־לִ֞י אֲחֹתִ֤י רַעְיָתִי֙ יוֹנָתִ֣י תַמָּתִ֔י שֶׁרֹּאשִׁי֙ נִמְלָא־טָ֔ל קְוֻּצּוֹתַ֖י רְסִ֥יסֵי לָֽיְלָה׃

It's a beautiful verse and a beautiful song. God is calling to us, inviting us to fully awaken as we begin to turn toward the High Holy Days. May we all find ways to create openings for teshuvah, even ones as small as a needle.​
Sat, September 21 2019
21 Elul 5779
Help make TOS events the best they can be!
Click here to sign up to a volunteer for upcoming events.
Join us for Shabbat services
About Ohabei Shalom
Progressive in attitude yet traditional in practice, Temple Ohabei Shalom is an inclusive Jewish community committed to nurturing, sustaining, and touching Jewish lives through lifelong learning, joyful worship, and repair of the world in word and deed.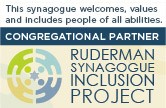 Sat, September 21 2019 21 Elul 5779