Co-presidents Corner – Strategic Planning & Clergy Search
03/13/2018 05:29:55 PM
Georgia Churilla & Rachel Calmas
| | |
| --- | --- |
| Author | |
| Date Added | |
| Automatically create summary | |
| Summary | |
Dear TOS Community,
We are pleased to update you on our strategic planning and clergy search process.
Strategic Planning
On March 11th, we held our second community meeting. At this meeting, we examined our personal and congregational Jewish values. We then envisioned our community in the year 2023. Each table created a long list of exciting and innovative ideas for our community's future.
Over the next few weeks, the strategic planning facilitation team along with senior staff and our CJP consultants will be reviewing the data to identify our congregational core values and vision. Our core values and vision combined with the snapshot report will enable us to prioritize committees (both current and new) to realize our vision. Once approved by the Board of Trustees, every decision we make should be rooted in our core values, bringing us closer to our vision and enabling us to be proactive and not reactive.
At our final community meeting on May 6th, we will begin to identify the various roads that can take us from our current state to our future state. We will be asking each of you to pick the issue that you feel most passionate about and help make an action plan to bring us into 2023 and beyond.
We welcome questions, comments, and constructive feedback. The strategic planning facilitation team includes Rabbi Berkman, Rachel Calmas, Danielle Dykeman, Mara Goldstein, Naomi Gurt Lind, Andy O'Connell, and Joshua Paradise. We can be reached at strategicplan@ohabei.org.
Clergy Search
As we mentioned in the previous Co-Presidents corner, the Board has determined that we should hire a part-time interim rabbi for the coming year due to the timing of our strategic planning process. I am happy to report that we have started interviewing candidates and are delighted by the quality of the applicants we have received.
The interview committee incudes Rachel Calmas, Georgia Churilla, Jesse Cochin, Danielle Dykeman, Jeremy Klein, Hilda Lopez, Diane Rosen, Alan Shepro and Elena Singer along with Rabbi Berkman. We look forward to sharing an update with you as soon as possible!
We would love to hear from you if you have any questions or concerns that we can address. We can be reached at co-presidents@ohabei.org.
b'vracha (with blessings),
-Rachel and Georgia
Sun, August 19 2018
8 Elul 5778
Upcoming Events
All Events
TCEE Teacher Meet & Greet


Friday, Aug 24th

4:30p

to

6:00p




Come have pizza with us at the TOS playground and parking lot and enjoy some music and sports activities. Meet our Rabbis, TCEE teachers, and families before we start the new school year together!

S'lichot: Beginning to Return: A S'lichot program of reflection and music


Shabbat, Sep 1st

7:30p

to

9:00p




Join us as we officially welcome the season of teshuvah (repentance and return). Connect with others, connect with yourself, and connect to the beauty of our tradition which offers us the continual opportunity for transformation and growth.

Welcome Back Shabbat!


Friday, Sep 7th

5:15p

to

7:30p




We miss you! Join us for a casual Shabbat get together. We'll have a chance to welcome each other back from the summer before Rosh Hashanah. If we can we'll be outside for snacks. Rabbi Berkman and our new Assistant Rabbi Schaefer look forward to welcoming you!

Rhythm 'n' Ruach Preschool Music


Wednesday, Sep 12th

1:15p

to

Wednesday, Dec 5th

2:00p




This interactive, high energy music program for children ages 2.5 - 5 yrs will give your child a strong connection to Judaism through music, movement, yoga, drumming, and dancing. Children and parents/caregivers will love this moving and grooving class featuring upbeat music, rhythm instruments, and songs that are guaranteed to be on the lips and in the hearts of your children throughout their growing years. 9 sessions (September 12 - December 5 - closed 9/19, 11/7, 11/21, and 11/28.)

High Holy Days Meditation Retreat: Touching the Spirit Within


Shabbat, Sep 15th

12:00p

to

4:00p




You are invited to take a journey. Together we will accept what is with gentleness and compassion. Come along and open your heart for a day of reflection during the High Holy Days. The program includes sitting and walking meditation, Jewish text study, mindful eating in silence and more.
Join us for Shabbat services
About Ohabei Shalom
Progressive in attitude yet traditional in practice, Temple Ohabei Shalom is an inclusive Jewish community committed to nurturing, sustaining, and touching Jewish lives through lifelong learning, joyful worship, and repair of the world in word and deed.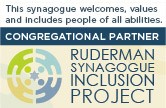 Sun, August 19 2018 8 Elul 5778