Tikkun Zoom Shavuot
Celebrating Shavuot with Jewish Learning of All Kinds!
Fiction, Wilderness, and... Basketball?
Celebrate Shavuot with us with a
Tikkun Zoom Shavuot!

Thursday, May 28, 5:00 pm - Friday, May 29, 5:00 pm
Shavuot celebrates the day the Jewish people received the Torah at Sinai, after the Exodus from Egypt — and tradition teaches that every Jewish soul, past, present, and future, was there to receive it. Celebrate with our TOS rabbis, our members, and Greater Boston's Jewish community as we mark Shavuot in a traditional all-night study session via Zoom on Thursday, May 28, starting at 5 pm. A schedule as well as links and Login information for all sessions is here.
Connect on Thursday evening, treat yourself to ice cream or another dairy dessert (it's tradition!) and join us for one of these study sessions:
Opening Blessings with Clergy from Participating Synagogues, Including Rabbi Berkman
Thursday, May 28, 5:00 pm
Yizkor (Memorial) Service for Shavuot
Thursday, May 28, 6:15 pm
A Russian Immigrant: Three Novellas
Thursday, May 28, 7:00-8:00 pm
TOS member Maxim D. Shrayer, winner of the National Jewish Book Award, will join Rabbi Daniel Schaefer for reading and discussion from his new collection of short fiction.
Open to Wilderness, Open to Wisdom:
Lessons from the Midbar for the time of Pandemic
Thursday, May 28, 8:00-9:00 pm
We'll explore ancient and contemporary sources on the meaning of inhabiting and cultivating open space (and the vulnerability that comes with it) within and beyond ourselves in order to receive the wisdom we need.
On The Mystical Shape of the Hoophead
Thursday, May 28, 11:00 pm-12:00 am
Rabbi Daniel Schaefer has been
counting the days of the omer
, the 49-day period between Passover and Shavuot, by choosing a basketball player for each day who best embodies the combination of sefirot, or divine attributes, by jersey number. Join him for a conversation about the days and players that offered greater insight into the Omer and sefirot this year.
Fri, June 5 2020
13 Sivan 5780
Our Most Recent Blog Posts
Add Me to Your Email List
About Ohabei Shalom
Progressive in attitude yet traditional in practice, Temple Ohabei Shalom is an inclusive Jewish community committed to nurturing, sustaining, and touching Jewish lives through lifelong learning, joyful worship, and repair of the world in word and deed.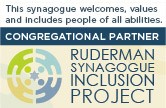 Fri, June 5 2020 13 Sivan 5780