TCEE—Preschool
TCEE—Preschool

The Trust Center for Early Education (TCEE) fosters the intellectual, social, emotional, physical and spiritual growth of small children in a safe, loving, nurturing environment infused with Jewish values. TCEE exists to impart a love of learning, to develop children's skills, independence and self-confidence, and to engage families in our vibrant Jewish community. Our unique all-day early childhood program supports and contributes to our mission of lifelong Jewish learning - building and enhancing our extended Jewish community. Please visit the TCEE Website for more information.
The Diane K. Trust Center for Early Education of Temple Ohabei Shalom provides the building blocks for each preschooler to develop a love of learning that will serve as the foundation for their personal journey of discovery and wonder.
In March, 2012, Brookline Patch readers named the Trust Center for Early Education Brookline's Best Preschool/Daycare. In 2011, two of our teachers received a Teaching and Technology Fellowship from Combined Jewish Philanthropies.
Mon, January 18 2021
5 Sh'vat 5781
About Ohabei Shalom
Progressive in attitude yet traditional in practice, Temple Ohabei Shalom is an inclusive Jewish community committed to nurturing, sustaining, and touching Jewish lives through lifelong learning, joyful worship, and repair of the world in word and deed.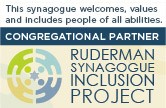 Contact Us
Our phone lines are open daily from 9:00am- 5:00pm.

In case of a lifecycle emergency occurs after hours, please call: 617.651.0584
Mon, January 18 2021 5 Sh'vat 5781