Strategic Planning
Strategic Planning

A community is too heavy for anyone to carry alone.

—

Deuteronomy Rabbah 1:10
Blessing
At each phase of this crucial work, Rabbi Berkman has been leading us in a
blessing which seems tailor-made for the process, a blessing of
gratitude for the opportunity to engage with the needs of the community.
Our Community Facilitation Team
Meet our team, and find out how to contact them.
Details here.
Community Meetings
The process is scaffolded by three community meetings.
Details here.
Making your voice count
Find out how we are gathering information–and share your feedback.
Details here.
Our Consultants
Meet Margie Zohn and Guy Sapirstein, Ph.D. from
CJP's Leadership Development Institute. Details here.
Sat, September 21 2019
21 Elul 5779
Help make TOS events the best they can be!
Click here to sign up to a volunteer for upcoming events.
Join us for Shabbat services
About Ohabei Shalom
Progressive in attitude yet traditional in practice, Temple Ohabei Shalom is an inclusive Jewish community committed to nurturing, sustaining, and touching Jewish lives through lifelong learning, joyful worship, and repair of the world in word and deed.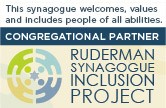 Sat, September 21 2019 21 Elul 5779