Sponsor an Oneg
Sponsor an Oneg
Recognizing a life cycle or other event with an oneg or Kiddush creates a special moment for the community to come together in celebration, in gratitude, or in memory.
If you would like to sponsor an oneg Shabbat (light refreshments after erev Shabbat services) or a Kiddush luncheon (after Shabbat morning or Shabbat Morning B'yachad services) to commemorate a loved one's yahrzeit, recognize a life cycle event, celebrate a birthday or anniversary, or in honor of another important event, please complete and submit the form below or contact events@ohabei.org with any questions.
• Sponsor the Shabbat B'yachad Dessert Oneg • Sponsor the Oneg at Friday Night Services
• Sponsor Kiddush Luncheon for a Shabbat Morning B'yachad
• Other Friday night Onegs: Israeli fare or cookies, fruit, cheese and crackers
Oneg Sponsorship is tax deductible.
We are grateful to community members who help us make a beautiful and welcoming Sabbath through donations of funds, food and flowers. If you would like to make a contribution of food, please complete the form below. If you would like to contribute funds, please select Kiddush Fund here. To contribute flowers, please contact events@ohabei.org.
---
Thu, November 26 2020
10 Kislev 5781
About Ohabei Shalom
Progressive in attitude yet traditional in practice, Temple Ohabei Shalom is an inclusive Jewish community committed to nurturing, sustaining, and touching Jewish lives through lifelong learning, joyful worship, and repair of the world in word and deed.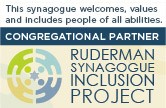 Contact Us
Our phone lines are open daily from 9:00am- 5:00pm.

In case of a lifecycle emergency occurs after hours, please call: 617.651.0584
Thu, November 26 2020 10 Kislev 5781