Social Action
Social Action

Mitzvah Day
Deeds of loving-kindness are equal in weight to all the commandments.
-Jerusalem Talmud, Peah 1:1
Many of our members and students are involved in Social Action projects through Committees and Projects. Get in touch with our Committee chairs.
Family Table
Collecting and distributing canned tuna or salmon and whole grain cereal in support of Jewish Family and Children's Project throughout the year.
High Holiday Food Drive
Supporting the Brookline Food Pantry, Grow Clinic and Family Table.
Holiday Toy Drive
Supporting The Grow Clinic at Boston Medical Center serving malnourished and at risk children.
Brookline Literacy Partnership
Born out of a TOS Mitzvah Project, our very own Sarah Plovnick founded the Brookline Literacy Partnership which has collected over 4,000 books to build a library at the Emerson School.
Annual Mitzvah Day
Temple Ohabei Shalom's commitment to making a difference in our local community is never more evident than on Mitzvah Day when members of all ages participate in group activities throughout the community.
Wed, May 22 2019
17 Iyar 5779
Help make TOS events the best they can be!
Click here to sign up to a volunteer for upcoming events.
Join us for Shabbat services
Lifelong Learning

The 2018-2019 Adult Education Catalog is here! Download and print it to see our offerings for the year or go to our Lifelong Learning web page.
About Ohabei Shalom
Progressive in attitude yet traditional in practice, Temple Ohabei Shalom is an inclusive Jewish community committed to nurturing, sustaining, and touching Jewish lives through lifelong learning, joyful worship, and repair of the world in word and deed.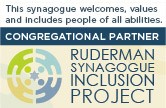 Wed, May 22 2019 17 Iyar 5779