Sisterhood of Temple Ohabei Shalom
A Note to the Women of Ohabei Shalom
The Sisterhood of Temple Ohabei Shalom recently did a mailing to inform women in our congregation about who we are and what we do. It appears that the mailing may not have reached all women in the congregation. If you do not receive a mailing from Sisterhood by Friday June 29th, please contact Denise Karlin, Sisterhood President.
To facilitate the process you can access a Sisterhood Membership form online, which you can download, complete, and return. And while you are at it, don't forget to order your honey! We apologize for any confusion and inconvenience.
Sisterhood of Temple Ohabei Shalom

To All Women of Ohabei Shalom:
Shalom! The Officers and Board members of the Temple Ohabei Shalom (TOS) Sisterhood invite you to join or renew your membership with Sisterhood. We continue traditions that have existed for women in our Synagogue for over 100 years. The Sisterhood provides support and friendship to our members in their interactions with each other as we enjoy programs that sustain us as Jewish women and support a variety of TOS activities. Plus we have lots of fun. We invite you to be a welcome guest at any of our events this year and if you are a new member of Ohabei Shalom, your first year in Sisterhood is complimentary.
The Sisterhood reflects the inclusive principles of Reform Judaism through acts of service to the Synagogue such as:
- providing gifts to B'nei Mitzvah
- making annual donations to TOS and Ansin Religious School
- helping to support Family Table, the local Jewish food bank
- helping to support Mitzvah Day
- sending Chanukah packages to college students
- reading to children in the Trust Center for Early Education (TCEE)
- conducting pastoral visits to those who are ill or otherwise in need
- helping out wherever there's a need.
We build community through programs that help us develop and maintain caring relationships with each other across the various ages and stages of our lives. Some of our plans this year include events such as our Welcome Meeting and Reception, Chanukah Lunch and Yankee Swap, Sisterhood Shabbat, events related to the 175th anniversary of Temple Ohabei Shalom, monthly Sisterhood Book Club, and events with the Brotherhood.
We are also planning a Meet the Author afternoon in a member's home and other "pop-up" fun events. We greatly appreciate the generosity that people have shown by donating to Sisterhood and to the Betsy Gould Mitzvah Fund, founded in honor of our dear departed Sisterhood President who left us way too soon and gave her all to Sisterhood and TOS. Please consider contributing again or for the first time. Whatever you can give is most appreciated. Donations can be made in honor of special people in your life, celebratory occasions, or in memory of departed loved ones. Acknowledgements will be sent as appropriate.
If you have been a member of Sisterhood in the past, we hope that you will be joining us again. If you have never previously joined the Sisterhood, we welcome your membership and participation as a means to creating a more personal and fulfilling Synagogue connection. In addition to benefiting the congregation and the larger community, we benefit from the warmth, love, caring, and fun at the heart of Sisterhood. Please watch here and in our weekly e-mail blasts for details of our events. Come join us at our Annual Welcome Evening on Thursday September 14, 2017. You are welcome to attend any of our events with the hope that you will decide that Sisterhood will add as much to your experience as it has to ours.
L'Shalom The Sisterhood Leadership Board
The 2018-2019 schedule will be posted soon. Here is last year's schedule to give you an idea of Sisterhood programs and events.
2017-2018 Sisterhood Calendar of Events
• Thursday, September 14, 2017, 7:00-9:00 pm, Annual Welcome Meeting and Reception
• October/November~Possible Craft Class or Cooking Class
• Possible Field Trip~Chocolate Making at Athan's
• Possible Field Trip~Movie at Kendall Square Theatre and meal at Mamaleh's
• Sunday, November 19, 2017 (time TBA)~TOS Mitzvah Day
• Thursday, Decmber 14, 2017, 12:30-2:30 pm~Chanukah Pot Luck Lunch and Yankee Swap
• Thursday, February 1, 2018, 6:00-8:00 pm, A Taste of Tu B'Shevat dinner and Seder
• March 2018, Possible joint event with Brotherhood
• Sunday matinee, May 6, 2018, 2:00 pm, Theatre outing to see Two Jews Walk Into A War at New Rep Theatre and optional dinner at La Casa de Pedro
• Saturday morning, June 2, 2018, 10:30-1:00 pm, Sisterhood Shabbat and Kiddush Lunch
• Spring 2018, Sunday afternoon, Doris Feldman's Home~Meet the Author (date and program TBA)
• Monday, June 18, 2018, 6:30 pm, Sisterhood Dinner Out at Chef Chow's
• Monthly, Sisterhood Book Club Resumes in September. If interested, contact Alberta Lipson at albertalipson@gmail.com for more information. There will also be pop-up events during the year as well. Please check this website and your e-mail regularly for specific dates and program details.
The 2018-2019 Sisterhood Leadership Board
President, Denise Karlin
Temple Board of Trustees Representative: Ann Steinberg
Treasurer: Zita Samuels (Past President)
Recording Secretary: Judy Halper
Corresponding Secretary: Alberta Lipson
Betsy Gould Mitzvah Fund: Margie Kahn (Past President)
Pastoral/Mitzvah Visits: Margie Kahn (Past President), Diane Rosen (Past President), & Dottie Berman
Graphic Designer: Ellen Mosner (Past President)
Meet the Author: Doris Feldman
At Large Board Members: Elaine Cohen, Denise Green, Hilda Lopez, Honey Sacks
Honorary Board Members: Lois Nathan, Shelley Schwartz (Past President), Shirley Spero, Cassandra Warshowsky, Ita N. Weiner (Past President)
Wed, May 22 2019
17 Iyar 5779
Help make TOS events the best they can be!
Click here to sign up to a volunteer for upcoming events.
Join us for Shabbat services
Lifelong Learning

The 2018-2019 Adult Education Catalog is here! Download and print it to see our offerings for the year or go to our Lifelong Learning web page.
About Ohabei Shalom
Progressive in attitude yet traditional in practice, Temple Ohabei Shalom is an inclusive Jewish community committed to nurturing, sustaining, and touching Jewish lives through lifelong learning, joyful worship, and repair of the world in word and deed.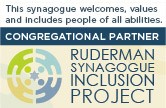 Wed, May 22 2019 17 Iyar 5779