Shalom @ Home

Shalom@Home is an award-winning program that brings together Ohabei Shalom community members for encounters that are at once informal and meaningful.
Congregants meet in small groups in each other's homes to share refreshments and conversation in a low-key, peer-to-peer environment. Whether it's a diverse group of folks from many walks of life or a small group of people who already have something in common, participation in Shalom@Home offers an antidote to the fragmentation and isolation of modern life by fostering deep connections.
Shalom@Home is much more than a cocktail party! A Shalom@Home encounter is heartfelt and substantive, a unique opportunity to have a genuine, unhurried conversation about the things that matter most. House meetings are gently facilitated by congregant volunteers to help draw out our common threads and weave them together. A theme that surfaces again and again is how nice it is, just to be together.
Hinei ma tov u-ma na'im shevet achim gam yachad
How good and pleasant it is to sit together as a community!
One recent participant spoke movingly about relocating to Boston years ago and not knowing anyone. He and his wife had just taken new jobs in the area and arrived in September. They had nobody to break the fast with after Yom Kippur until a work colleague made a connection for them. Through that connection, they met another couple – all of similar age, with no children and no family nearby. As time went on, a tradition sprung up among the three couples: one couple hosted Thanksgiving, one hosted Passover, and one hosted a break-fast after Yom Kippur. Eventually the three couples had children and shared the journey of parenthood with each other. Through many decades, they kept up this three-holiday tradition – and added occasional Shabbat dinners, then B'nei Mitzvah, graduations, and weddings.
Something magical can happen when people get together!
As Shalom@Home progresses, those common threads will form the basis of more permanent small groups of congregants, coming together around the issues and experiences that shape our lives.
One participant writes: Thanks again for organizing the Shalom@Home a few nights ago. I really enjoyed the company and conversation.
Everyone in the congregation is encouraged to become part of Shalom@Home! Contact Naomi Gurt Lind to learn more. Volunteer assistance is also needed to make this initiative a success: we need hosts, facilitators, and people to help with phone follow-up.
Thu, July 19 2018
7 Av 5778
Upcoming Events
All Events
Community Tisha B'Av Services


Shabbat, Jul 21st

8:00p

to

9:00p




Temple Sinai, Temple Israel and Temple Ohabei Shalom observe the Jewish holiday of Tisha B'Av on Saturday evening, July 21 at 8:00 p.m. Temple Sinai is hosting the service this year.

Sign up now for a Special Musical Evening in preparation for High Holy Days-hosted by Mayyim Hayyim


Thursday, Sep 6th

7:00p

to

8:15p




Off site at Temple Reyim. Joey Weisenberg leads a community-wide song-learning workshop, with space for reflection and teshuva (return, repentance), and the opportunity for you to dive into the full complexity of song. No prior knowledge required. Registration required.
Join us for Shabbat services
About Ohabei Shalom
Progressive in attitude yet traditional in practice, Temple Ohabei Shalom is an inclusive Jewish community committed to nurturing, sustaining, and touching Jewish lives through lifelong learning, joyful worship, and repair of the world in word and deed.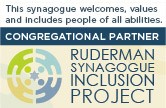 Thu, July 19 2018 7 Av 5778