Shabbat at TOS
Shabbat at TOS
As a member of the Union for Reform Judaism, services are conducted using the New Reform Prayerbook - Mishkan T'filah - with its rich mix of Hebrew, English and song. Participatory services are led by our clergy in concert with the Shabbat Band with contributions from our Adult Choir. We provide free child care on Friday evenings (during the school year) and select Saturday mornings. All are welcome! Always check this week's calendar as occasionally service times change. If you would like us to add someone's name to the Mi Shebeirach list, please complete this online form.
More than Jews have kept Shabbat,
Shabbat has kept the Jews.

—Ahad Ha'am (Asher Ginsberg),
poet & Zionist ideologue (1856-1927)
Erev Shabbat
Erev Shabbat Services are generally held in the Montague Chapel on the corner of Marshal and Beacon Streets at 6 PM. Times and locations may change when celebrating Shabbat B'yachad Community Dinner, or during festivals and holidays when we conduct services in the Sanctuary on the corner of Kent and Beacon Streets. We provide free child care on Friday nights. Please consult the calendar for up to the minute times and events. Candle photo by Olaf Herfurth.
Special Shabbats
Conversation to set your mind aglow. Enjoy a savory oneg and lively discussion after services featuring special guests. Please check the calendar for a complete description of upcoming Special Shabbats. Free child care is often provided and can be arranged.
Shabbat B'yachad – Community Dinner - 6:00 PM followed by Erev Shabbat Service
Monthly Shabbat B'yachad (Shabbat Together) is a community worship service and dinner bringing together our entire TOS family every month. A satisfying dinner for both children and adults follows Tot Shabbat after which we join for services featuring Ansin Religious School students and our Shabbat Band led by David Sparr. The Adult Choir often add their voices in songful prayer. Evening draws to a close chatting over coffee and dessert with old and new friends. A wonderful way to catch your breath, greet the Shabbat Angels and start a stress free weekend. Relax! It's Shabbat.
Tot Shabbat - Friday evenings 5:30pm
Tot Shabbat (usually first Friday of the month) is a great way to get to know new friends while celebrating Shabbat. Our short, child friendly service is followed by a delicious community dinner RSVP here. Make sure to check the calendar or contact Shari Churwin at the Education Office at (617) 264-2801 with any questions.

Shabbat Morning
"It is a sin to be sad on the Sabbath day." Abraham Joshua Heschel (1907-1972)
Mindfulness and Meditation - 9:00 AM
Held in the Berenson Library on the third Saturday of the month before services, Donna Rubenoff brings new meaning to our Judaism, exploring how meditation can quiet the mind and encourage positive thought in support of mind body healing. Incorporating themes from Torah, Jewish texts and stories and quotes from Jewish scholars into our meditations, we deepen our understanding of Judaism through our spiritual connection together.
Shabbat Morning Services - 10:30 AM
Services are held in Montague Chapel unless a bar or bat mitzvah celebration is scheduled in the main Sanctuary, or when a festival or holiday coincides with Shabbat.
Shabbat Morning B'yachad
A morning of community and connection. From bagels and coffee to Torah study, worship and lunch. This is a morning for all ages, all stages. Join us!
Tot Shabbat - Saturday mornings - 11:15 AM
In addition to Friday nights, Tot Shabbat is also held on select Saturday mornings. This lively, musical service gives children early exposure to Shabbat ritual and is followed by a community oneg. Check the calendar for service times.
Thu, December 8 2022
14 Kislev 5783
Upcoming Events:
There are no upcoming events at this time.
About Ohabei Shalom
Progressive in attitude yet traditional in practice, Temple Ohabei Shalom is an inclusive Jewish community committed to nurturing, sustaining, and touching Jewish lives through lifelong learning, joyful worship, and repair of the world in word and deed.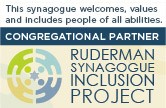 Contact Us
Our phone lines are open daily from 9:00am- 5:00pm.

If a lifecycle emergency occurs after hours, please call: 617.651.0585
Thu, December 8 2022 14 Kislev 5783