Ritual Committee
Ritual Committee
(Torah and yad from Big Synagogue Museum, Wlodawa, Poland)
RITUAL - noun, Latin-ritus, First use: 1572
The established form for a ceremony; specifically: the order of words prescribed for a religious ceremony.

—

Merriam Webster Dictionary

Members of our Ritual Committee join with our clergy to develop inspirational and meaningful experiences and to offer advice upon and support for our clergy religious practices initiatives. Temple Ohabei Shalom's services are conducted using The Reform Judaism New Reform Prayerbook - Mishkan T'filah - with its rich mix of Hebrew, English and song. Whether celebrating Tot Shabbat or gathered in grief, we share our own blend of traditions traveling across the millennia claiming our heritage as People of the Book.

Contact Rabbi Audrey Marcus Berkman, Rabbi Daniel Schaefer, or our Ritual Committee members should you have questions or suggestions about ritual observance.

Ritual Committee
Spence Gould
Rabbi Audrey Marcus Berkman
Dan Deykin
Denise Karlin
Diane Rosen
Denise Green
Tue, July 23 2019
20 Tammuz 5779
Help make TOS events the best they can be!
Click here to sign up to a volunteer for upcoming events.
Join us for Shabbat services
Upcoming Events
All Events
Community Tisha B'Av Services


Shabbat, Aug 10th

6:30p

to

8:00p




Please join Temple Ohabei Shalom, Temple Sinai, and Temple Israel for a time of reflection. We will meet at Temple Israel.
About Ohabei Shalom
Progressive in attitude yet traditional in practice, Temple Ohabei Shalom is an inclusive Jewish community committed to nurturing, sustaining, and touching Jewish lives through lifelong learning, joyful worship, and repair of the world in word and deed.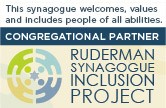 Tue, July 23 2019 20 Tammuz 5779