Womens Rosh Chodesh
Virtual Womens Rosh Chodesh
Wednesday, May 27, 5:00 pm via Zoom
Come celebrate the beginning of each new Jewish month with women of all ages from 13 - 113. We'll have the chance to schmooze, learn, enjoy activities and just connect with one another, offering a variety of ways into Jewish learning, community and living.
This time we'll read and discuss the role of women's friendship in the Book of Ruth, in honor of the upcoming holiday of Shavuot.

Fri, June 5 2020
13 Sivan 5780
Our Most Recent Blog Posts
Add Me to Your Email List
About Ohabei Shalom
Progressive in attitude yet traditional in practice, Temple Ohabei Shalom is an inclusive Jewish community committed to nurturing, sustaining, and touching Jewish lives through lifelong learning, joyful worship, and repair of the world in word and deed.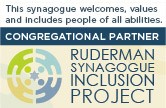 Fri, June 5 2020 13 Sivan 5780