Rabbi Sonia Saltzman
Rabbi Sonia Saltzman
During the day Rabbi Saltzman can be contacted through the Temple office at: (617) 277-6610. For Life-cycle emergencies only, after business hours call: (617) 651-0584.
Rabbi Sonia Saltzman was ordained in 2008 as part of the first graduating class of the Rabbinical School at Hebrew College, an institution committed to a pluralistic approach to Jewish learning and practice. Upon ordination she served three years at Sha'arei Shalom, a non-affiliated community in Ashland, MA. She helped lead the community through a transition process including extensive new programming and relocation. During Rabbinical School Rabbi Saltzman held student pulpits at Temple Emanuel in Newton and at Temple Aliyah in Needham. She completed chaplaincy training at Brigham and Women's Hospital and served as faculty for the Bronfman Youth Fellowship Program in Israel. Prior to entering the rabbinate, Rabbi Saltzman worked in the field of micro-finance at ACCION International as head of the Financial Services Department, extending credit to small businesses in the developing world. She also worked in Bank of Boston's Project Finance Department and taught in its Loan Officer Development Program. Rabbi Saltzman is a graduate of Tufts University and holds a Masters Degree in International Affairs (Columbia University) and a Masters Degree in Bible and Jewish Thought (Brandeis University). She is married to Dr. Ned Saltzman, an urologist at Newton-Wellesley Hospital and has two grown sons, Benjamin and Gabriel. Rabbi Saltzman grew up in Chile, in a home imbued with Jewish values, but at a time when opportunities for Jewish learning were especially limited for women. When asked why she entered the rabbinate, Rabbi Saltzman responds, [quote name="Rabbi Sonia Saltzman"]I believe in the wisdom and beauty of Judaism and hope to inspire others to deepen their relationship to Judaism by offering opportunities to engage with our sacred texts, to experience the richness of prayer and to build a caring and committed community.[/quote]
Rabbi Saltzman's High Holy Days Sermons
5778/2017
Timshol—Yom Kippur 2017
Hineini—Kol Nidre 2017
Love and Hate — RH Day 1
5777/2016
Questions RH— Erev Rosh Hashanah Come as You Are, Leave Changed — RH Day 1
Adam and Eve: Adult Learners — RH Day 2
Resilience — Kol Nidre Leadership — Yom Kippur
5776/2015
What Makes a Space Holy? — Erev Rosh Hashanah
Memories and Moving Forward Rosh Hashanah — RH Day 1
Environment — RH Day 2 MA'AMADOT—RH Day 2
Prayers for the Earth Imperfection and Brokenness—Kol Nidre Religious Fundamentalism & Extremism—Yom Kippur
5775/2014
How High are the High Holidays? – Erev Rosh Hashanah
Spiritual but not Religious – Rosh Hashanah
Reflections on Sin – Kol-Nidre Israel: Reflections and Appeal – Yom Kippur
5774/2013
Follow the links below to read Rabbi Sonia Saltzman's inspiring sermons from High Holy Day services 5774/2013.
Celebrating Birthdays – Erev Rosh Hashanah
Pursuit of Holiness – Rosh Hashanah Day 1
Created in God's Image – Rosh Hashanah Day 2
Al Tira / Do not Fear – Kol Nidre
Behind the Un'tane tokef – Yom Kippur
Sat, June 6 2020
14 Sivan 5780
Our Most Recent Blog Posts
Add Me to Your Email List
About Ohabei Shalom
Progressive in attitude yet traditional in practice, Temple Ohabei Shalom is an inclusive Jewish community committed to nurturing, sustaining, and touching Jewish lives through lifelong learning, joyful worship, and repair of the world in word and deed.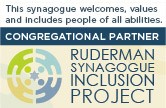 Sat, June 6 2020 14 Sivan 5780