Rabbi Emily Lipof, Rabbi Emerita
Rabbi Emily Lipof, Rabbi Emerita
is the first woman in the United States to be named Senior Rabbi of a major congregation. In 1988, she was called to our pulpit, where she has been instrumental in revitalizing our congregation with her innovative programs, spirituality, and inclusiveness. An educator at heart, Rabbi Lipof founded the Temple Shalom Nursery School in Newton. She served as principal of the High School for Jewish Studies and was the director and teacher of an adult education workshop at Brandeis University.
The Jewish community of Greater Boston and beyond is well aware of Rabbi Lipof's uniqueness and accomplishments: She has been honored by Combined Jewish Philanthropies with their annual Rabbinic Award, by Ben-Gurion University of the Negev with their Outstanding Service Award, and by Israel Bonds National Board, which chose her as one of 50 rabbis in the United States to receive the coveted Golden Shofar Award.
Thu, July 19 2018
7 Av 5778
Upcoming Events
All Events
Community Tisha B'Av Services


Shabbat, Jul 21st

8:00p

to

9:00p




Temple Sinai, Temple Israel and Temple Ohabei Shalom observe the Jewish holiday of Tisha B'Av on Saturday evening, July 21 at 8:00 p.m. Temple Sinai is hosting the service this year.

Sign up now for a Special Musical Evening in preparation for High Holy Days-hosted by Mayyim Hayyim


Thursday, Sep 6th

7:00p

to

8:15p




Off site at Temple Reyim. Joey Weisenberg leads a community-wide song-learning workshop, with space for reflection and teshuva (return, repentance), and the opportunity for you to dive into the full complexity of song. No prior knowledge required. Registration required.
Join us for Shabbat services
About Ohabei Shalom
Progressive in attitude yet traditional in practice, Temple Ohabei Shalom is an inclusive Jewish community committed to nurturing, sustaining, and touching Jewish lives through lifelong learning, joyful worship, and repair of the world in word and deed.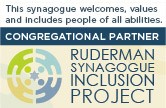 Thu, July 19 2018 7 Av 5778