Rabbi Audrey Marcus Berkman
Rabbi Audrey Marcus Berkman
During the day Rabbi Berkman can be contacted through the Temple office at: (617) 277-6610. For Life-cycle emergencies only, after business hours call: (617) 651-0584.
A graduate of Oberlin College and Harvard Divinity School (Masters of Theological Studies), Rabbi Berkman was ordained by the Reconstructionist Rabbinical College in 2007, where she also received a Wexner Graduate Fellowship. She has served as a teacher, service leader, and officiant in a wide variety of Jewish contexts and communities. Most recently serving as Campus Rabbi and Hillel Director at Wellesley College, for six years she was rabbi of Shir Hadash, a congregation in Newton, MA.
Rabbi Berkman has also served as a chaplain for Hebrew Senior Life and for Newton-Wellesley Hospital, an educator for the prestigious Bronfman Youth Fellowships in Israel, a cantor at Congregation Mishkan Tefila, and a teacher for Parenting Through a Jewish Lens, through Hebrew College. Rabbi Berkman has spent time learning and living in Israel, at Pardes Institute for Jewish Studies, Hebrew University, Ben Gurion University, among others, and deeply loves the language and cultural landscape of Israel. She has officiated at many life-cycle events for unaffiliated families throughout the Boston area, and loves the work of engaging all who wish to connect to Jewish life and community, from any background.
Rabbi Berkman believes that it is our Jewish obligation to create an ongoing dialogue between our individual torah (our life experiences, passions, challenges, and questions) and Torah (Jewish text, tradition, culture, and wisdom in all of its many forms.)
When we bring our own voices into conversation with Torah, we are participating in the sacred task of the creation of new wisdom, and a better world.
Rabbi Berkman is married to Rabbi Jethro Berkman, Dean of Jewish Education at Gann Academy in Waltham. They have three sons, Gavi, Ami, and Edan, and a very sweet dog they adopted named Coco Rose. They live in the village of Auburndale in Newton.
Rabbi Berkman believes in the life-giving and transformative power of humor, time spent in nature, poetry, music, dance, dogs, coffee, and time spent with children. She looks forward to getting to know every member of the TOS community!
Rabbi Berkman can be reached at: amberkman@ohabei.org.
Fri, August 7 2020
17 Av 5780
About Ohabei Shalom
Progressive in attitude yet traditional in practice, Temple Ohabei Shalom is an inclusive Jewish community committed to nurturing, sustaining, and touching Jewish lives through lifelong learning, joyful worship, and repair of the world in word and deed.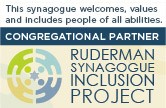 Our Most Recent Blog Posts
Add Me to Your Email List
Fri, August 7 2020 17 Av 5780