Rabbi Audrey Marcus Berkman
Rabbi Audrey Marcus Berkman
During the day Rabbi Berkman can be contacted through the Temple office at: (617) 277-6610. For Life-cycle emergencies only, after business hours call: (617) 651-0584.
A graduate of Oberlin College and Harvard Divinity School (Masters of Theological Studies), Rabbi Berkman was ordained by the Reconstructionist Rabbinical College in 2007, where she also received a Wexner Graduate Fellowship. She has served as a teacher, service leader, and officiant in a wide variety of Jewish contexts and communities. Most recently serving as Campus Rabbi and Hillel Director at Wellesley College, for six years she was rabbi of Shir Hadash, a congregation in Newton, MA.
Rabbi Berkman has also served as a chaplain for Hebrew Senior Life and for Newton-Wellesley Hospital, an educator for the prestigious Bronfman Youth Fellowships in Israel, a cantor at Congregation Mishkan Tefila, and a teacher for Parenting Through a Jewish Lens, through Hebrew College. Rabbi Berkman has spent time learning and living in Israel, at Pardes Institute for Jewish Studies, Hebrew University, Ben Gurion University, among others, and deeply loves the language and cultural landscape of Israel. She has officiated at many life-cycle events for unaffiliated families throughout the Boston area, and loves the work of engaging all who wish to connect to Jewish life and community, from any background.
Rabbi Berkman believes that it is our Jewish obligation to create an ongoing dialogue between our individual torah (our life experiences, passions, challenges, and questions) and Torah (Jewish text, tradition, culture, and wisdom in all of its many forms.)
When we bring our own voices into conversation with Torah, we are participating in the sacred task of the creation of new wisdom, and a better world.
Rabbi Berkman is married to Rabbi Jethro Berkman, Dean of Jewish Education at Gann Academy in Waltham. They have three sons, Gavi, Ami, and Edan, and a very sweet dog they adopted named Coco Rose. Edan recently graduated from TCEE. They live in the village of Auburndale in Newton.
Rabbi Berkman believes in the life-giving and transformative power of humor, time spent in nature, poetry, music, dance, dogs, coffee, and time spent with children. She looks forward to getting to know every member of the TOS community!
Rabbi Berkman can be reached at: amberkman@ohabei.org.
Mon, November 18 2019
20 Cheshvan 5780
Interfaith Thanksgiving
November 24 3:30 Temple Beth Zion
Join the Brookline Interfaith communities, Rabbi Schaefer, members of our choir, and Too Klez for Comfort, as we celebrate Thanksgiving together. Details.
Help make TOS events the best they can be!
Join us for Shabbat services
Upcoming Events
All Events
Monthly Women's Rosh Chodesh Group with Rabbi Audrey Marcus Berkman


Wednesday, Nov 20th

7:00p

to

8:30p




Come celebrate the beginning of each new Jewish month with women of all ages from 13 - 113. We'll have the chance to schmooze, learn, enjoy activities and just connect with one another, offering a variety of ways into Jewish learning, community and living.

You, The Jury


Thursday, Nov 21st

7:00p

to

8:30p




Three-part class involving Torah study in a courtroom setting. Attorneys Len Davidson and Larry Green create closing arguments. Judge/Rabbi Schaefer will preside over the sessions. Class attendees will serve as jurors in deciding the following three cases following presentation of closing arguments: Session 1: People v. Abraham Session 2: Esau v. Rebecca and Jacob Session 3: Moses' Motion for Reconsideration Come to one, two, or all three!

Shabbat Morning B'yachad


Shabbat, Nov 23rd

10:00a

to

1:30p




A morning of community and learning! All ages, stages & backgrounds welcome! Come when you can, leave when you need to. Warm up with coffee and bagels, study a little Torah, enjoy our Shabbat morning or Tot Shabbat service, and stay for a Kiddush lunch. Free child care is available if the little ones need a break!

Shabbat B'yachad


Friday, Dec 6th

5:30p

to

8:00p




Come and join us for an evening of community, worship, good food, and good friends. If you're coming for the Tot Shabbat service, it begins at 5:30 pm. Dinner begins at 6:00 pm; services and oneg are at 7:00 pm. We look forward to seening you and sharing Shabbat together.

Soul Cycle: Spiritual Insights into the Jewish Holiday Cycle Taught by Rabbi Daniel Schaefer and Rabbinic Intern Ryan Leszner


Thursday, Dec 12th

6:30p

to

8:00p




Select Thursdays, 6:30 pm The cycle of the Jewish year provides us with a road-map for spiritual growth and development. Come nourish your soul with song, meditation, and learning as we journey through the Jewish year. Each session will focus on a couple stories and prayers as we mindfully attune our souls to themes of the season.
About Ohabei Shalom
Progressive in attitude yet traditional in practice, Temple Ohabei Shalom is an inclusive Jewish community committed to nurturing, sustaining, and touching Jewish lives through lifelong learning, joyful worship, and repair of the world in word and deed.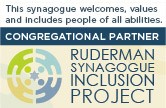 Mon, November 18 2019 20 Cheshvan 5780