Rabbi Daniel Schaefer
Assistant Rabbi Daniel Schaefer
Prior to his ordination,
Rabbi Daniel Schaefer
served as the student Rabbi of the Martha's Vineyard Hebrew Center and the Bethlehem Hebrew Congregation, as well as the Director of Graduate Student Engagement at MIT Hillel.
Rabbi Schaefer grew up in Connecticut before attending Stanford University, where he studied History and Jewish Studies. His award-winning honors thesis, American Judaism Reconsidered: Religion & Nationalism in the Thought of Irving Reichert, explored visions of American Judaism before World War II. At Hebrew College, his final project, The Way of the Wilderness, focused on connections between nature and Torah in the book of Numbers.
After college, Rabbi Schaefer worked as an entrepreneur and ghostwriter, taught at a wilderness school, and served in AVODAH: The Jewish Service Corps, before returning to rabbinical school. In addition to Hebrew College, he has studied at Mechon Hadar, the Hartman Institute, the Jewish Theological Seminary, and Hebrew Union College.
He is passionate about Torah study, experiential learning, spiritual exploration, and building multi-generational Jewish community. In his free time, he loves spending time at Walden Pond, in the White Mountains, and cheering on the Boston Celtics. He enjoys being part of the community here
at Temple Ohabei Shalom.
Tue, January 21 2020
24 Tevet 5780
Our Most Recent Blog Post
Our Lifelong Learning Catalog
Check out our Lifelong Learning Opportunities for the rest of the year. You'll find everything from Torah study (at Shabbat Morning B'yachad) to learning about the seasons of the Jewish Year, the Shema, and much, much more. Open the catalog here.
Help make TOS events the best they can be!
In the Works Now: Israel Trip!
Planning is underway for our next congregational trip to ISRAEL! The trip will take place from approximately February 11-21, 2021 (this is during the February school vacation week). Our member David Seldin is chairing the planning committee, along with Rabbi Berkman. Details.
About Ohabei Shalom
Progressive in attitude yet traditional in practice, Temple Ohabei Shalom is an inclusive Jewish community committed to nurturing, sustaining, and touching Jewish lives through lifelong learning, joyful worship, and repair of the world in word and deed.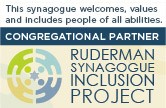 Tue, January 21 2020 24 Tevet 5780