Purim 2020
Purim Carnival Hoopla ~ Penn Spero
Sunday, March 8 3:00 to 5:30 pm
FREE ADMISSION
Cotton candy, carnival games, prizes, an indoor bounce house, food, raffles and fun for the whole family! Enter our silent auction to win prizes like a ride to school in a police car, or a special experience with one of our TCEE teachers, or buy one of our mystery gift card boxes. All proceeds support scholarships for children to attend TCEE.
Feel free to bring a box of cereal or a can of tuna to be donated to Brookline Food Pantry and JF&CS Family Table.
Kids, come in costume for extra fun (optional). Let's celebrate together!
Want to volunteer for the Carnival? Step right up.
PURIM PARTY: PIZZA & SHPIEL

Tuesday, March 10 at 5:30 pm
Chapel
Come hear the Purim story, set to pop music. After a brief evening service, there will be a Purim schpiel (play) led by community members, religious school students, and our Rabbis, involving art, pop music, and chanted selections of the megillah. This Purim event is for all ages. Costumes are encouraged for extra fun! Come for amusement, yummy hamantashan, and friends galore!
Sign up here for pizza at 5:30 pm.
PURIM FUN FACTS: Find out more about Purim here including history, recipes, projects and more.


Here are three creative ideas for themed mishloach manot (Purim gift baskets):


What is hamantaschen? Let Maya Rudolph and Shalom Sesame explain below:
And we are invited:
Shir Hadash Purim (Adult Event) ~
Monday, March 9 7:00 to 9:00 pm off site
Lutheran Church of the Newtons, 1310 Centre Street in Newton
Shir Hadash, our partner, is holding an adult Purim celebration and reading of the megillah. TOS members are cordially invited to join with Shir Hadash havurah members for merriment,craziness and noisemaking. Featured entertainment includes a multi-media telling of the story of Purim through Hebrew, English, song, audience participation and skits.There will be klezmer music from the havurah's band Shir Madness. There will be a dessert buffet with 5 varieties of hamantashen.
All are welcome. The more-dechai, the merrier!
Thu, August 6 2020
16 Av 5780
About Ohabei Shalom
Progressive in attitude yet traditional in practice, Temple Ohabei Shalom is an inclusive Jewish community committed to nurturing, sustaining, and touching Jewish lives through lifelong learning, joyful worship, and repair of the world in word and deed.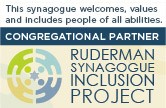 Our Most Recent Blog Posts
Add Me to Your Email List
Thu, August 6 2020 16 Av 5780