Purim 2019
It's Purim—Be Happy!
Purim Carnival Hoopla ~ Penn Spero
Sunday, March 17 3:00 to 6:00 pm
FREE ADMISSION
Cotton candy, carnival games, prizes, an indoor bounce house, food, raffles and fun for the whole family! Enter our silent auction to win prizes like a ride to school in a police car, or a special experience with one of our TCEE teachers, or buy one of our mystery gift card boxes. All proceeds support scholarships for children to attend TCEE.
Feel free to bring a box of cereal or a can of tuna to be donated to Brookline Food Pantry and JF&CS Family Table.
Special programming for preschoolers and under: 3-3:45 p.m.
Everybody: 3:45-6 p.m.
Kids, come in costume for extra fun (optional). Let's celebrate together!
Want to help out? Click here.
Hamantaschen Baking (Adult Event) ~ Lissner Hall
Sunday, March 17 1:30 to 3:30 pm
Join to bake up these yummy Purim treats, and schmooze, along with members of Shir Hadash, a Newton-based havurah. Free. RSVP here.
Want to help out? Email here.
The Lion Queen: A Purim Celebration

Tuesday, March 19 at 6:00 pm
To join us for a Purim Pizza Party from 5:30-6:00 pm RSVP here.
Come hear the Purim story, set in the Lion King universe. After a brief evening service, there will be a Purim play led by our religious school students, involving art, music, and selections of megillah chanted. This event is open to the whole community and costumes are encouraged!
Schedule:
5:30 - Community Pizza Dinner (RSVP here so we know how much pizza to order!)
6:00 - A fun, meaningful, and comical service including parts of the megillah (and an open bar!)
7:00 - Hamantaschen reception
Want to help out? Email here.
PURIM FUN FACTS: Find out more about Purim here including history, recipes, projects and more.

What is hamantaschen? Let Maya Rudolph and Shalom Sesame explain below:
Tue, July 23 2019
20 Tammuz 5779
Help make TOS events the best they can be!
Click here to sign up to a volunteer for upcoming events.
Join us for Shabbat services
Upcoming Events
All Events
Community Tisha B'Av Services


Shabbat, Aug 10th

6:30p

to

8:00p




Please join Temple Ohabei Shalom, Temple Sinai, and Temple Israel for a time of reflection. We will meet at Temple Israel.
About Ohabei Shalom
Progressive in attitude yet traditional in practice, Temple Ohabei Shalom is an inclusive Jewish community committed to nurturing, sustaining, and touching Jewish lives through lifelong learning, joyful worship, and repair of the world in word and deed.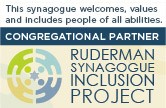 Tue, July 23 2019 20 Tammuz 5779