ARS Prayer Recordings
Prayer Recordings
Below are the prayer recordings for our students to practice as they prepare for b'nei mitzvah. The Torah service begins on p. 244 in the Shabbat prayerbook. A digital version can be found here. If you have questions or trouble with this, email ars@ohabei.org and we will help you out. Mazel tov!
Shabbat Morning Torah Service Prayers
1. Ein Kamocha
2. Ki Mitziyon
3. Sh'ma
4. Gadlu
5. Blessing BEFORE reading Torah (text, transliteration, and recording are also here.)
6. Blessing AFTER reading Torah (text, transliteration, and recording are also here.)
7. Blessing Before reading Haftarah
8. Blessing After reading Haftarah
9. V'Zot Habracha (said while Torah is unrolled and held up for all to see - during Hagbah)
10. Returning the Torah to the Ark
------------------------------------------------------
Other Important Prayers
Barchu
Shema
V'ahavta
Adonai Sifatai Tiftach
Avot V'Imahot Prayer
G'vurot Prayer
K'dusha Prayer (for Friday night)
K'dusha Prayer (for Saturday morning)
L'cha Dodi (prayer said on Friday night at Kabbalat Shabbat Services)

Friday Night Kiddush (prayer over the wine)
Aleinu Prayer
Mourner's Kaddish
Wed, September 28 2022
3 Tishrei 5783
About Ohabei Shalom
Progressive in attitude yet traditional in practice, Temple Ohabei Shalom is an inclusive Jewish community committed to nurturing, sustaining, and touching Jewish lives through lifelong learning, joyful worship, and repair of the world in word and deed.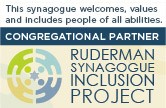 Contact Us
Our phone lines are open daily from 9:00am- 5:00pm.

If a lifecycle emergency occurs after hours, please call: 617.651.0585
Wed, September 28 2022 3 Tishrei 5783