ARS Prayer Recordings
ARS Prayer Recordings

Below are the prayer recordings for our ARS students to practice as they prepare for b'nei mitzvah. If you have questions or trouble with this, email ars@ohabei.org and we will help you out. Mazel tov!
1. Ein Kamocha
2. Ki Mitziyon
3. Sh'ma
4. Gadlu
5. Blessing BEFORE reading Torah (text, transliteration, and recording are also here.)
6. Blessing AFTER reading Torah (text, transliteration, and recording are also here.)
7. Blessing Before reading Haftarah
8. Blessing After reading Haftarah
------------------------------------------------------
Avot Prayer
G'vurot Prayer
K'dusha Prayer (for Friday night)
K'dusha Prayer (for Saturday morning)
Aleinu Prayer
Sun, January 19 2020
22 Tevet 5780
Our Most Recent Blog Post
Our Lifelong Learning Catalog
Check out our Lifelong Learning Opportunities for the rest of the year. You'll find everything from Torah study (at Shabbat Morning B'yachad) to learning about the seasons of the Jewish Year, the Shema, and much, much more. Open the catalog here.
Help make TOS events the best they can be!
In the Works Now: Israel Trip!
Planning is underway for our next congregational trip to ISRAEL! The trip will take place from approximately February 11-21, 2021 (this is during the February school vacation week). Our member David Seldin is chairing the planning committee, along with Rabbi Berkman. Details.
About Ohabei Shalom
Progressive in attitude yet traditional in practice, Temple Ohabei Shalom is an inclusive Jewish community committed to nurturing, sustaining, and touching Jewish lives through lifelong learning, joyful worship, and repair of the world in word and deed.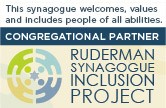 Sun, January 19 2020 22 Tevet 5780