Our History and Historic Sanctuary
Our History and Historic Sanctuary
A magnificent flying Star Of David crowns the domed ceiling at Temple Ohabei Shalom. (Photo by David Leifer)
Congregation Ohabei Shalom (Lovers of Peace) was founded in 1842, the longest enduring Jewish congregation in Massachusetts and the second in New England after Touro Synagogue located in Newport, Rhode Island. Housed on Beacon Street over the Boston border into Brookline, we are located at the Kent Street Green Line Stop serving Brookline, Newton and the Boston communities of Back Bay, Fenway, Longwood Medical Area and Mission Hill, the South End, Allston Brighton and Jamaica Plain. A highly visible landmark, we are within walking distance to Coolidge Corner, Fenway Park, six universities and colleges, Longwood Medical hospitals including Beth Israel Hospital and Harvard Medical School and the Museum of Fine Arts.
Our history begins with a few families who began meeting at the home of Peter and Julius Spitz on Fort Hill in the early 1840's. As a primary obligation of a Jewish community is to provide a burial ground, in 1844 the fledgling Ohabei Shalom congregation purchased a parcel of land in East Boston creating a cemetery, officially establishing Ohabei Shalom as a religious institution. In the following year, on March 22, 1845, the forty member congregation obtained a charter of incorporation from the Commonwealth. Among early meeting places were a room in Rabbi Saling's house on Carver Street in Boston and a rented house on Albany Street. By 1851, the congregation, having grown to eighty families, erected its first building on Warren Street (now Warrenton Street) in Boston's South End, the first synagogue built in Massachusetts, consecrated in 1852. "Worthy fellow citizens of every Religious Denomination" and the "Israelites of the United States" responded to an appeal for donations. In 1875, for the first time, women were permitted to sit with their relatives in newly installed family pews. Ohabei Shalom's home from 1863 to 1886 is now the Charles Playhouse.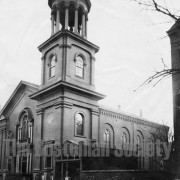 In 1887 the congregation moved to still larger quarters on Union Park Street in the heart of the South End. The Union Park structure is now home to St. John the Baptist Hellenic Greek Orthodox Church.
The land for our home was purchased in 1921. The Byzantine-Romanesque edifice and its magnificent sanctuary was completed in 1928. Modeled on themes from Hagia Sophia and the Great Synagogue of Florence, Italy, it was designed by Boston architects, Blackall, Clapp and Whittemore.
The extensive footprint includes large and small banquet halls with full catering kitchens, an Administrative Office Building, the Ansin Religious School Building housing Montague Chapel (300 person capacity), The Ansin Religous School, several conference rooms, two libraries and an exhibition gallery. At its annual meeting In 1988, a vote was taken to install Rabbi Emily Gopen Lipof as senior rabbi, the first senior woman rabbi of a major urban synagogue in the United States. In 2009, the synagogue expanded yet again, erecting the Diane K. Trust Center for Early Education Building, a pre-school serving children from 21 months to age 5.
For more information about Temple Ohabei Shalom including function facilities rental, or to arrange a guided tour, please contact our office at (617) 277-6610 during regular business
hours.
Sat, February 22 2020
27 Sh'vat 5780
Our Most Recent Blog Post
Our Lifelong Learning Catalog
Check out our Lifelong Learning Opportunities for the rest of the year. You'll find everything from Torah study (at Shabbat Morning B'yachad) to learning about the seasons of the Jewish Year, the Shema, and much, much more. Open the catalog here.
Upcoming Events
All Events
Wednesday

,

Feb

February

26

,

2020

Monthly Women's Rosh Chodesh Group with Rabbi Audrey Marcus Berkman


Wednesday, Feb 26th

7:00p

to

8:30p




Come celebrate the beginning of each new Jewish month with women of all ages from 13 - 113. We'll have the chance to schmooze, learn, enjoy activities and just connect with one another, offering a variety of ways into Jewish learning, community and living.

Saturday

,

Feb

February

29

,

2020

Shabbat Morning B'yachad, Tot Shabbat & TCEE Play Date


Shabbat, Feb 29th

10:00a

to

1:30p




A morning of community and learning! All ages, stages & backgrounds welcome! Come when you can, leave when you need to. Warm up with coffee and bagels, study a little Torah, enjoy our Shabbat morning or Tot Shabbat service, and stay for a Kiddush lunch. Free child care is available if the little ones need a break!

Thursday

,

Mar

March

5

,

2020

Soul Cycle: Spiritual Insights into the Jewish Holiday Cycle Taught by Rabbi Daniel Schaefer and Lifelong Learning Intern Ryan Leszner


Thursday, Mar 5th

6:30p

to

8:00p




Select Thursdays, 6:30 pm The cycle of the Jewish year provides us with a road-map for spiritual growth and development. Come nourish your soul with song, meditation, and learning as we journey through the Jewish year. Each session will focus on a couple stories and prayers as we mindfully attune our souls to themes of the season.

Sunday

,

Mar

March

8

,

2020

Purim Carnival Hoopla


Sunday, Mar 8th

3:00p

to

5:30p




FREE ADMISSION. Cotton candy, carnival games, prizes, an indoor bounce house, food, raffles and fun for the whole family! Enter our silent auction to win prizes like a ride to school in a police car, or a special experience with one of our TCEE teachers, or buy one of our mystery gift card boxes. All proceeds support scholarships for children to attend TCEE. Costumes encouraged. Join us for an afternoon of fun!

Tuesday

,

Mar

March

10

,

2020

TOS Community Purim: WTOS 118.7


Tuesday, Mar 10th

6:00p

to

8:00p




Come hear the Purim story, set to pop music. After a brief evening service, there will be a Purim play led by community members, religious school students, and our Rabbis, involving art, music, and chanted selections of the megillah. This event is open to whole everyone. Costumes are encouraged! Come for zany fun, yummy hamantashan, and friends galore.
Help make TOS events the best they can be!
In the Works Now: Israel Trip!
Planning is underway for our next congregational trip to ISRAEL! The trip will take place from approximately February 11-21, 2021 (this is during the February school vacation week). Our member David Seldin is chairing the planning committee, along with Rabbi Berkman. Details.
About Ohabei Shalom
Progressive in attitude yet traditional in practice, Temple Ohabei Shalom is an inclusive Jewish community committed to nurturing, sustaining, and touching Jewish lives through lifelong learning, joyful worship, and repair of the world in word and deed.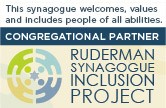 Sat, February 22 2020 27 Sh'vat 5780