Our Facilities
Our Facilities
Your history happens here….

Founded in 1842, Temple Ohabei Shalom is Massachusetts' oldest Jewish congregation. For more than 170 years we have helped families and organizations form rich memories of special moments together. Whether a wedding, a bat/bar mitzvah, a concert, fundraiser or business meeting, your guests will never forget an event at Temple Ohabei Shalom.
Our Sanctuary
One of America's truly grand sanctuaries, Temple Ohabei Shalom is modeled on themes from Hagia Sophia and the Great Synagogue of Florence, Italy. With its majestic domed ceiling and cantilevered balcony, this historic structure accommodates 1400 guests. Available for bat/bar mitzvahs, weddings, concerts and graduations, we are pleased to open our Sanctuary to non-members as well as members. Available for smaller religious gatherings, concerts and lectures, Montague Chapel can accommodate 300 individuals. Located above Lissner Hall, its kaleidoscope of stained glass windows and raised bimah provide a warm, intimate setting.
Penn-Spero Hall
Penn-Spero Banquet Hall, equipped with a permanent raised stage and dance floor can comfortably accommodate a 300-guest dinner or 600-guest cocktail reception. Through the years, it has hosted graduations, award ceremonies, plays, concerts, speaker series, and fundraisers as well as thousands of Bat/Bar Mitzvah parties and wedding receptions. A full service kitchen, prep room and storage facility stand ready for your caterer's use. Wifi, sound and visual equipment are readily available.
Lissner Hall
Lissner Hall is just right for medium to small events. Onegs, executive meetings and retreats, cocktail receptions, book signings and exhibitions all work well in this versatile space. Seated dinners for 75 guests and cocktail/buffet receptions for up to 125 guests are easily accommodated. Located immediately below Montague Chapel, Lissner Hall has its very own caterer's kitchen ensuring guests' needs are met regardless of other events happening simultaneously on our campus.
Meeting Rooms
Several small meeting rooms serving up to 30 persons in boardroom or classroom style are also available.
Travel and Parking
Our strategic location on Beacon Street in Brookline at the Kent Street Green Line Stop makes us a great location for your next event. A Courtyard Marriott is a quick 10-minute walk at Coolidge Corner and a Holiday Inn sits directly opposite the synagogue. Out of town guests are able to take in all that Boston has to offer by subway. Museums, Fenway Park, kosher restaurants, stores and shopping are all a walk away. On street parking is available, however, during Red Sox games, you may prefer to negotiate with a nearby parking garage or hotel. We will work with you to arrange parking should this be desirable. To make an appointment to view our facilities, please contact us at (617) 277-6610. Temple Ohabei Shalom accommodates individuals with disabilities. We are able to assist you for both kosher and non-kosher events.
Mon, November 18 2019
20 Cheshvan 5780
Interfaith Thanksgiving
November 24 3:30 Temple Beth Zion
Join the Brookline Interfaith communities, Rabbi Schaefer, members of our choir, and Too Klez for Comfort, as we celebrate Thanksgiving together. Details.
Help make TOS events the best they can be!
Join us for Shabbat services
Upcoming Events
All Events
Monthly Women's Rosh Chodesh Group with Rabbi Audrey Marcus Berkman


Wednesday, Nov 20th

7:00p

to

8:30p




Come celebrate the beginning of each new Jewish month with women of all ages from 13 - 113. We'll have the chance to schmooze, learn, enjoy activities and just connect with one another, offering a variety of ways into Jewish learning, community and living.

You, The Jury


Thursday, Nov 21st

7:00p

to

8:30p




Three-part class involving Torah study in a courtroom setting. Attorneys Len Davidson and Larry Green create closing arguments. Judge/Rabbi Schaefer will preside over the sessions. Class attendees will serve as jurors in deciding the following three cases following presentation of closing arguments: Session 1: People v. Abraham Session 2: Esau v. Rebecca and Jacob Session 3: Moses' Motion for Reconsideration Come to one, two, or all three!

Shabbat Morning B'yachad


Shabbat, Nov 23rd

10:00a

to

1:30p




A morning of community and learning! All ages, stages & backgrounds welcome! Come when you can, leave when you need to. Warm up with coffee and bagels, study a little Torah, enjoy our Shabbat morning or Tot Shabbat service, and stay for a Kiddush lunch. Free child care is available if the little ones need a break!

Shabbat B'yachad


Friday, Dec 6th

5:30p

to

8:00p




Come and join us for an evening of community, worship, good food, and good friends. If you're coming for the Tot Shabbat service, it begins at 5:30 pm. Dinner begins at 6:00 pm; services and oneg are at 7:00 pm. We look forward to seening you and sharing Shabbat together.

Soul Cycle: Spiritual Insights into the Jewish Holiday Cycle Taught by Rabbi Daniel Schaefer and Rabbinic Intern Ryan Leszner


Thursday, Dec 12th

6:30p

to

8:00p




Select Thursdays, 6:30 pm The cycle of the Jewish year provides us with a road-map for spiritual growth and development. Come nourish your soul with song, meditation, and learning as we journey through the Jewish year. Each session will focus on a couple stories and prayers as we mindfully attune our souls to themes of the season.
About Ohabei Shalom
Progressive in attitude yet traditional in practice, Temple Ohabei Shalom is an inclusive Jewish community committed to nurturing, sustaining, and touching Jewish lives through lifelong learning, joyful worship, and repair of the world in word and deed.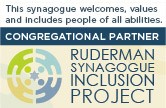 Mon, November 18 2019 20 Cheshvan 5780