Mitzvah Projects
Mitzvah Projects

Mitzvah Projects and Service to the Temple Ohabei Shalom Community
A mitzvah project is one of the first responsibilities we ask you to assume as you become an adult in our community. Tikkun olam, repairing the world, is central to who we are at Ohabei Shalom and to the bar/bat mitzvah process. It teaches our children that Torah "learning" and "doing" go hand in hand.
Your Mitzvah project should represent a substantial commitment of time and energy to a project of your choice.
Guidelines for completing a meaningful mitzvah project:
• Your project should involve at least 15 hours of community service.
• Projects can be done individually or as a small group.
• Be as creative as you like.
• Every project includes at least three of these key elements:
o Hands-on work (time spent working) with the organization
o Advocacy for the cause
o Educating others about the issue
o Collecting items or Tzedakah (money) for the cause
Service to the TOS Community:
Give back by donating three or more hours of your time to Ohabei Shalom. (e.g. babysitting, mailings, yard work or library work, Mitzvah Day volunteering, etc.)
Keeping Track of your Project:
We have created a form for students to input their hours--both for Mitzvah Projects as well as TOS community service. Please fill it out Service Hours Form, and email ars@ohabei.org if you have any questions.
Fri, October 22 2021
16 Cheshvan 5782
About Ohabei Shalom
Progressive in attitude yet traditional in practice, Temple Ohabei Shalom is an inclusive Jewish community committed to nurturing, sustaining, and touching Jewish lives through lifelong learning, joyful worship, and repair of the world in word and deed.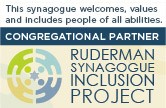 Contact Us
Our phone lines are open daily from 9:00am- 5:00pm.

If a lifecycle emergency occurs after hours, please call: 617.651.0584
Fri, October 22 2021 16 Cheshvan 5782