Inclusion
Guided by the core teaching that all humanity is created b'tzelem Elohim (in the image of God), Temple Ohabei Shalom strives to create a welcoming and inclusive experience for all. Members and guests alike are cherished as they are and fully embraced by the community. It is our deeply-held belief that we are all unique and that we all have unique needs. In our infinite variety, we are one community.
Having been chosen by the Ruderman Foundation's Synagogue Inclusion Project as a Partner Congregation, we are engaged in deepening our commitment to inclusion. Our building is fully accessible, with a lowered and wheelchair-accessible bima and modernized facilities. Additionally, our schools and event spaces are fully accessible and inclusive, with elevator access and gender-neutral, wheelchair-accessible restroom facilities.
Teachers and staff have been trained in awareness of diverse needs, learning styles, gender expressions, and sexual orientations. Jews of color, interfaith families, conversion students, and diverse family configurations are a cherished part of our community. If you have a need that has not been addressed here, please let us know so that we can address it together. Contact the office at (617) 277-6610 or email us at clergy@ohabei.org.
Fri, October 22 2021
16 Cheshvan 5782
About Ohabei Shalom
Progressive in attitude yet traditional in practice, Temple Ohabei Shalom is an inclusive Jewish community committed to nurturing, sustaining, and touching Jewish lives through lifelong learning, joyful worship, and repair of the world in word and deed.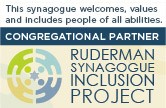 Contact Us
Our phone lines are open daily from 9:00am- 5:00pm.

If a lifecycle emergency occurs after hours, please call: 617.651.0584
Fri, October 22 2021 16 Cheshvan 5782