Community Life
Life at Temple Ohabei Shalom is full of opportunities for friendship, learning and meaning, through community dinners, social action projects, inspiring worship, and caring connections. We celebrate together as a congregation for Shabbat and holidays, dance in the streets with the scrolls at Simchat Torah, and share a lively second seder at Passover. Interfaith families, LGBTQ people, Jews by choice, people with disabilities, and families of "non-traditional" configuration are a cherished part of our community; our Temple family is a welcoming space for everyone who wishes to explore and experience Jewish life. Children develop strong Jewish values in our award-winning Trust Center for Early Education and Ansin Religious School, while their parents enjoy a rich sense of community and belonging. A highlight of the year is the Shul-In, when the children get to spend the night in their domed sanctuary with their classmates. In a parallel program, a beloved tradition has parents writing letters to their children, which are stored in our historic dome. Once children reach Bar or Bat
Mitzvah, they are taken up to the dome to retrieve the letters their parents wrote them through the years. Opportunities for strong personal relationships abound, for members of all ages. The TOS Sisterhood and Brotherhood create numerous learning opportunities and social events for the community, support Religious School financial aid, volunteer in the preschool and much more. OSTY (Ohabei Shalom Temple Youth) offers our children social events, leadership training, and community service projects. Shalom@Home, our award-winning program of house meetings, encourages members to form small groups for meaningful, ongoing connections. And a wide variety of cultural events – from Klezmer Havdallah to TOS Talks, our spring speaker series – makes our community a lively and enriching one. Being part of Temple Ohabei Shalom means belonging to a joyful, welcoming community that cherishes you as you are and is there for you in times of celebration, sorrow, and change. Ohabei Shalom is your Jewish home.
Sun, November 17 2019
19 Cheshvan 5780
Interfaith Thanksgiving
November 24 3:30 Temple Beth Zion
Join the Brookline Interfaith communities, Rabbi Schaefer, members of our choir, and Too Klez for Comfort, as we celebrate Thanksgiving together. Details.
Help make TOS events the best they can be!
Join us for Shabbat services
Upcoming Events
All Events
Monthly Women's Rosh Chodesh Group with Rabbi Audrey Marcus Berkman


Wednesday, Nov 20th

7:00p

to

8:30p




Come celebrate the beginning of each new Jewish month with women of all ages from 13 - 113. We'll have the chance to schmooze, learn, enjoy activities and just connect with one another, offering a variety of ways into Jewish learning, community and living.

You, The Jury


Thursday, Nov 21st

7:00p

to

8:30p




Three-part class involving Torah study in a courtroom setting. Attorneys Len Davidson and Larry Green create closing arguments. Judge/Rabbi Schaefer will preside over the sessions. Class attendees will serve as jurors in deciding the following three cases following presentation of closing arguments: Session 1: People v. Abraham Session 2: Esau v. Rebecca and Jacob Session 3: Moses' Motion for Reconsideration Come to one, two, or all three!

Shabbat Morning B'yachad


Shabbat, Nov 23rd

10:00a

to

1:30p




A morning of community and learning! All ages, stages & backgrounds welcome! Come when you can, leave when you need to. Warm up with coffee and bagels, study a little Torah, enjoy our Shabbat morning or Tot Shabbat service, and stay for a Kiddush lunch. Free child care is available if the little ones need a break!

Shabbat B'yachad


Friday, Dec 6th

5:30p

to

8:00p




Come and join us for an evening of community, worship, good food, and good friends. If you're coming for the Tot Shabbat service, it begins at 5:30 pm. Dinner begins at 6:00 pm; services and oneg are at 7:00 pm. We look forward to seening you and sharing Shabbat together.

Soul Cycle: Spiritual Insights into the Jewish Holiday Cycle Taught by Rabbi Daniel Schaefer and Rabbinic Intern Ryan Leszner


Thursday, Dec 12th

6:30p

to

8:00p




Select Thursdays, 6:30 pm The cycle of the Jewish year provides us with a road-map for spiritual growth and development. Come nourish your soul with song, meditation, and learning as we journey through the Jewish year. Each session will focus on a couple stories and prayers as we mindfully attune our souls to themes of the season.
About Ohabei Shalom
Progressive in attitude yet traditional in practice, Temple Ohabei Shalom is an inclusive Jewish community committed to nurturing, sustaining, and touching Jewish lives through lifelong learning, joyful worship, and repair of the world in word and deed.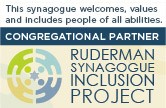 Sun, November 17 2019 19 Cheshvan 5780