Community Life
Life at Temple Ohabei Shalom is full of opportunities for friendship, learning and meaning, through community dinners, social action projects, inspiring worship, and caring connections. We celebrate together as a congregation for Shabbat and holidays, dance in the streets with the scrolls at Simchat Torah, and share a lively second seder at Passover. Interfaith families, LGBTQ people, Jews by choice, people with disabilities, and families of "non-traditional" configuration are a cherished part of our community; our Temple family is a welcoming space for everyone who wishes to explore and experience Jewish life. Children develop strong Jewish values in our award-winning Trust Center for Early Education and Ansin Religious School, while their parents enjoy a rich sense of community and belonging. A highlight of the year is the Shul-In, when the children get to spend the night in their domed sanctuary with their classmates. In a parallel program, a beloved tradition has parents writing letters to their children, which are stored in our historic dome. Once children reach Bar or Bat
Mitzvah, they are taken up to the dome to retrieve the letters their parents wrote them through the years. Opportunities for strong personal relationships abound, for members of all ages. The TOS Sisterhood and Brotherhood create numerous learning opportunities and social events for the community, support Religious School financial aid, volunteer in the preschool and much more. OSTY (Ohabei Shalom Temple Youth) offers our children social events, leadership training, and community service projects. Shalom@Home, our award-winning program of house meetings, encourages members to form small groups for meaningful, ongoing connections. And a wide variety of cultural events – from Klezmer Havdallah to TOS Talks, our spring speaker series – makes our community a lively and enriching one. Being part of Temple Ohabei Shalom means belonging to a joyful, welcoming community that cherishes you as you are and is there for you in times of celebration, sorrow, and change. Ohabei Shalom is your Jewish home.
Thu, October 21 2021
15 Cheshvan 5782
About Ohabei Shalom
Progressive in attitude yet traditional in practice, Temple Ohabei Shalom is an inclusive Jewish community committed to nurturing, sustaining, and touching Jewish lives through lifelong learning, joyful worship, and repair of the world in word and deed.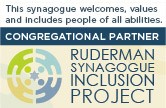 Contact Us
Our phone lines are open daily from 9:00am- 5:00pm.

If a lifecycle emergency occurs after hours, please call: 617.651.0584
Thu, October 21 2021 15 Cheshvan 5782