Meeting and Event Rentals
Meeting and Event Rentals
Whether for a wedding, a Bar or Bat Mitzvah, anniversary or any significant event, Temple Ohabei Shalom will cater to your special day, boasting one of the largest function facilities in Boston.
Penn-Spero Banquet Hall is equipped with auditorium staging and can comfortably accommodate a 400 guest dinner or 600 guest cocktail reception. A full service kitchen stands ready for your caterer's use.
Lissner Hall with its own smaller catering kitchen is just right for smaller venues. Several small meeting rooms serving up to 25 persons are also available.
Our strategic location on Beacon Street on the Kent Street Green Line Stop makes us a great place to hold your next event. The Marriott Courtyard and the Inn at Brookline (formerly Holiday Inn) are in short walking distance.
Our facility provides multiple and versatile rental options:
Parties for 10 – 700 Brisses,
B'nei mitzvah, Weddings, Baby Namings, and Meals of Condolence
Concerts, Conferences and Graduation Ceremonies for up to 1400
To get the process rolling, please complete the event submission form (below.) To make an appointment to view our facilities please contact our Event Coordinator or the Temple Office at (617) 277-6610.
Rental Request Submission
Please fill out this form for any event, meeting or program you are interested in hosting at TOS.
Sat, February 22 2020
27 Sh'vat 5780
Our Most Recent Blog Post
Our Lifelong Learning Catalog
Check out our Lifelong Learning Opportunities for the rest of the year. You'll find everything from Torah study (at Shabbat Morning B'yachad) to learning about the seasons of the Jewish Year, the Shema, and much, much more. Open the catalog here.
Upcoming Events
All Events
Wednesday

,

Feb

February

26

,

2020

Monthly Women's Rosh Chodesh Group with Rabbi Audrey Marcus Berkman


Wednesday, Feb 26th

7:00p

to

8:30p




Come celebrate the beginning of each new Jewish month with women of all ages from 13 - 113. We'll have the chance to schmooze, learn, enjoy activities and just connect with one another, offering a variety of ways into Jewish learning, community and living.

Saturday

,

Feb

February

29

,

2020

Shabbat Morning B'yachad, Tot Shabbat & TCEE Play Date


Shabbat, Feb 29th

10:00a

to

1:30p




A morning of community and learning! All ages, stages & backgrounds welcome! Come when you can, leave when you need to. Warm up with coffee and bagels, study a little Torah, enjoy our Shabbat morning or Tot Shabbat service, and stay for a Kiddush lunch. Free child care is available if the little ones need a break!

Thursday

,

Mar

March

5

,

2020

Soul Cycle: Spiritual Insights into the Jewish Holiday Cycle Taught by Rabbi Daniel Schaefer and Lifelong Learning Intern Ryan Leszner


Thursday, Mar 5th

6:30p

to

8:00p




Select Thursdays, 6:30 pm The cycle of the Jewish year provides us with a road-map for spiritual growth and development. Come nourish your soul with song, meditation, and learning as we journey through the Jewish year. Each session will focus on a couple stories and prayers as we mindfully attune our souls to themes of the season.

Sunday

,

Mar

March

8

,

2020

Purim Carnival Hoopla


Sunday, Mar 8th

3:00p

to

5:30p




FREE ADMISSION. Cotton candy, carnival games, prizes, an indoor bounce house, food, raffles and fun for the whole family! Enter our silent auction to win prizes like a ride to school in a police car, or a special experience with one of our TCEE teachers, or buy one of our mystery gift card boxes. All proceeds support scholarships for children to attend TCEE. Costumes encouraged. Join us for an afternoon of fun!

Tuesday

,

Mar

March

10

,

2020

TOS Community Purim: WTOS 118.7


Tuesday, Mar 10th

6:00p

to

8:00p




Come hear the Purim story, set to pop music. After a brief evening service, there will be a Purim play led by community members, religious school students, and our Rabbis, involving art, music, and chanted selections of the megillah. This event is open to whole everyone. Costumes are encouraged! Come for zany fun, yummy hamantashan, and friends galore.
Help make TOS events the best they can be!
In the Works Now: Israel Trip!
Planning is underway for our next congregational trip to ISRAEL! The trip will take place from approximately February 11-21, 2021 (this is during the February school vacation week). Our member David Seldin is chairing the planning committee, along with Rabbi Berkman. Details.
About Ohabei Shalom
Progressive in attitude yet traditional in practice, Temple Ohabei Shalom is an inclusive Jewish community committed to nurturing, sustaining, and touching Jewish lives through lifelong learning, joyful worship, and repair of the world in word and deed.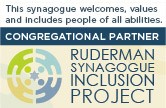 Sat, February 22 2020 27 Sh'vat 5780