Meeting and Event Rentals
Meeting and Event Rentals
Whether for a wedding, a Bar or Bat Mitzvah, anniversary or any significant event, Temple Ohabei Shalom will cater to your special day, boasting one of the largest function facilities in Boston.
Penn-Spero Banquet Hall is equipped with auditorium staging and can comfortably accommodate a 400 guest dinner or 600 guest cocktail reception. A full service kitchen stands ready for your caterer's use.
Lissner Hall with its own smaller catering kitchen is just right for smaller venues. Several small meeting rooms serving up to 25 persons are also available.
Our strategic location on Beacon Street on the Kent Street Greenline Stop makes us a great place to hold your next event. The Marriott Courtyard and Holiday Inn are in short walking distance.
Our facility provides multiple and versatile rental options:
Parties for 10 – 700 Brisses,
B'nei mitzvahs, Weddings, Baby Namings, and Meals of Condolence
Concerts, Conferences and Graduation Ceremonies for up to 1400
To make an appointment to view our facilities and learn more about our rental options and pricing, please contact the Temple Office at (617) 277-6610.
Rental Request Submission
Please fill out this form for any event, meeting or program you are interested in hosting at TOS.
Wed, May 22 2019
17 Iyar 5779
Help make TOS events the best they can be!
Click here to sign up to a volunteer for upcoming events.
Join us for Shabbat services
Lifelong Learning

The 2018-2019 Adult Education Catalog is here! Download and print it to see our offerings for the year or go to our Lifelong Learning web page.
About Ohabei Shalom
Progressive in attitude yet traditional in practice, Temple Ohabei Shalom is an inclusive Jewish community committed to nurturing, sustaining, and touching Jewish lives through lifelong learning, joyful worship, and repair of the world in word and deed.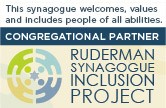 Wed, May 22 2019 17 Iyar 5779