Kayla's Caring Community
Kayla's Caring Community
Temple Ohabei Shalom is a caring community, whose members are enthusiastic about helping each other in times of need. In order to solidify that energy & use it in the most efficient & organic way possible, we are inviting you to be part of a unified program of caring that involves all segments of the Temple community working together. We have seen by experience – often sad experience – that when there is a need, we find a way to care for each other.
If someone in your family is experiencing an illness, if you need transportation to and from Temple events, if you've just had a baby and would like a friendly visit or a meal – or if you are otherwise in need of some support – please let us know. We want to help! Likewise, if you would like to be involved in helping other congregants, please let us know. You can sign up for Kayla's Caring Community here. If you have specific questions, contact Larry Green or Jason Soderblom at kcc@ohabei.org.
As part of Kayla's Caring Community you can sign up to:
• provide and deliver a meal
• offer a friendly phone call or visit a congregant who is homebound
• visit a congregant in the hospital or rehab
• offer child care (e.g. a play date for an older sibling in a family welcoming a new baby)
• offer transportation (ride to services or other Temple events)

We are calling this program
Kayla's Caring Community
in memory of Kayla Maya Soderblom
(November 11, 2010-July 2, 2012),
whose too-short life inspired congregational caring that echoes to this day.
Thu, May 19 2022
18 Iyar 5782
About Ohabei Shalom
Progressive in attitude yet traditional in practice, Temple Ohabei Shalom is an inclusive Jewish community committed to nurturing, sustaining, and touching Jewish lives through lifelong learning, joyful worship, and repair of the world in word and deed.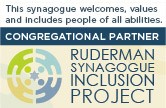 Contact Us
Our phone lines are open daily from 9:00am- 5:00pm.

If a lifecycle emergency occurs after hours, please call: 617.651.0584
Thu, May 19 2022 18 Iyar 5782