Kayla's Caring Community
Kayla's Caring Community
Temple Ohabei Shalom is a caring community, whose members are enthusiastic about helping each other in times of need. In order to solidify that energy & use it in the most efficient & organic way possible, we are inviting you to be part of a unified program of caring that involves all segments of the Temple community working together. We have seen by experience – often sad experience – that when there is a need, we find a way to care for each other.
If someone in your family is experiencing an illness, if you need transportation to and from Temple events, if you've just had a baby and would like a friendly visit or a meal – or if you are otherwise in need of some support – please let us know. We want to help! Likewise, if you would like to be involved in helping other congregants, please let us know. You can sign up for Kayla's Caring Community here. If you have specific questions, contact Naomi Gurt Lind, Executive Director, at 617.277.6610 or community@ohabei.org.
As part of Kayla's Caring Community you can sign up to:
• provide and deliver a meal
• offer a friendly phone call or visit a congregant who is homebound
• visit a congregant in the hospital or rehab
• offer child care (e.g. a play date for an older sibling in a family welcoming a new baby)
• offer transportation (ride to services or other Temple events)

We are calling this program
Kayla's Caring Community
in memory of Kayla Maya Soderblom
(November 11, 2010-July 2, 2012),
whose too-short life inspired congregational caring that echoes to this day.
Fri, February 22 2019
17 Adar I 5779
Help make TOS events the best they can be!
Click here to sign up to a volunteer for upcoming events.
Join us for Shabbat services
Lifelong Learning

The 2018-2019 Adult Education Catalog is here! Download and print it to see our offerings for the year or go to our Lifelong Learning web page.
Upcoming Events
All Events
HomeBASE February Vacation Camp!


Tuesday, Feb 19th

8:00a

to

Friday, Feb 22nd

6:00p




Hannah Arendt: Controversy and Thought with Amos Lassen, Ph.D.


Thursday, Feb 28th

7:00p

to

9:15p




Hannah Arendt covered the trial of Eichmann, and what she wrote made her the most reviled Jewish thinker since Spinoza. We will examine the controversy to see how we view it in today's context.

Shabbat B'yachad


Friday, Mar 1st

5:30p

to

8:00p




The Book of Judges: From Unity to Chaos on the Road to Monarchy


Wednesday, Mar 6th

6:30p

to

8:30p




The Book of Judges contains some of the most dramatic episodes in the bible. It is part of the Deuteronomic History that begins with Deuteronomy itself and continues through Second Kings, with the fall of Jerusalem and the end of the Davidic monarchy. The goals of the course are to engage in a close reading of the texts and to discover a hidden political agenda that underlies much of the Hebrew Bible.

Monthly Women's Rosh Chodesh Group


Wednesday, Mar 6th

7:30p

to

9:00p




Come celebrate the beginning of each new Jewish month with women of all ages from 13 - 113. We'll have the chance to schmooze, learn, enjoy activities and just connect with one another, offering a variety of ways into Jewish learning, community and living.
About Ohabei Shalom
Progressive in attitude yet traditional in practice, Temple Ohabei Shalom is an inclusive Jewish community committed to nurturing, sustaining, and touching Jewish lives through lifelong learning, joyful worship, and repair of the world in word and deed.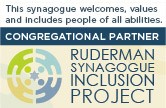 Fri, February 22 2019 17 Adar I 5779