JOSTY Regional Shul In
JOSTY Regional Shul In
About the JOSTY Shul In
Temple Ohabei Shalom has a long and amazing tradition of hosting the JOSTY Shul In (Junior Ohabei Shalom Temple Youth) each winter. Every year, we open our doors to the 6th, 7th & 8th graders in the Northeastern Region of NFTY so that they can get a little taste of what NFTY is like.
Every Winter, this annual event gives nearly 150-200 future NFTYites the chance to make connections with each other and discover the amazing Jewish community around them! It's a great way for 6th-8th graders to get their toes wet, make Jewish friends outside of their own congregations, and connect with a wider community!
The JOSTY Shul In is a unique and special event because it is run by NFTYites for future NFTYites! NFTYites chosen by the NFTY NE Regional Board join OSTY to lead this amazing event. If you are in OSTY and would like to be a part of the JOSTY Shul In this year, email Fallon Rubin, OSTY advisor, at frubin@ohabei.org.
Frequently Asked Questions
Who can attend the JOSTY Shul In?
Participants must be in 6th, 7th or 8th grade at their secular school to attend this event.
Where is the JOSTY Shul In?
The JOSTY Shul In always takes place at Temple Ohabei Shalom in Brookline, MA. Our address for postal mail or GPS is:
Temple Ohabei Shalom 1187 Beacon Street Brookline, MA 02446
Wed, January 16 2019
10 Sh'vat 5779
Help make TOS events the best they can be!
Click here to sign up to a volunteer for upcoming events.
Join us for Shabbat services
Lifelong Learning

The 2018-2019 Adult Education Catalog is here! Download and print it to see our offerings for the year or go to our Lifelong Learning web page.
About Ohabei Shalom
Progressive in attitude yet traditional in practice, Temple Ohabei Shalom is an inclusive Jewish community committed to nurturing, sustaining, and touching Jewish lives through lifelong learning, joyful worship, and repair of the world in word and deed.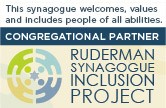 Wed, January 16 2019 10 Sh'vat 5779