Join Our Team
Book Keeper
Description
Temple Ohabei Shalom is looking for an enthusiastic, diligent, dedicated Bookkeeper to oversee day-to-day business operations. The successful candidate is both detail-oriented and community-oriented and thrives in a fast-paced, good-humored, unpretentious environment. Reporting to the Executive Director, this position encompasses financial duties (accounting, bookkeeping, budget, cash flow management, payroll), some aspects of human resources (file management, insurance, contracts, workers' comp, etc.), and other duties as assigned.
Bookkeeping & Accounting
Execute financial transactions: Full cycle Accounts Receivable, Accounts Payable, and Payroll

Prepare and oversee membership and tuition billing - including monthly payment plans and enrollment updates

Manage payables and receivables (cash, checks, ACH, credit cards, bank & wire transfers)

Manage all banking processes

Reconcile bank, debit card and credit card accounts

Development: Track pledges and donations; Generate, track, and distribute acknowledgement letters, and other tax receipts

Track employer and employee benefits and pension contributions, and complete monthly pension account transfers online

Responsible for the enrollment, and oversight of employee benefits

Point person for staff with payroll and retirement contribution questions or concerns

Interface with vendors, subcontractors, government agencies as needed to ensure compliance with all applicable regulations (1099, W-9, etc.); Coordinate, produce, file all tax documentation as required

Prepare weekly reports as well as monthly, quarterly and annual financial reports in consultation with Executive Director and synagogue leadership; Prepare budget & reports to Board as requested

Keep timely, accurate records on all financial matters
Human Resources and Recordkeeping
Oversee insurance, personnel files, inspection certificates, maintenance contracts

Improve and maintain filing system
Qualifications
Fluency in QuickBooks Online and best bookkeeping practices

Understands core accounting concepts and Chart of Accounts

Basic MS Excel proficiency

Understand core financial statements and the drivers and metrics associated with each

Handle confidential and sensitive information with discretion related to critical processes, both internally and with community members

Interface with families about financial questions and matters

Ask for help, support, or oversight as appropriate
Please send a resume and cover letter to executivedirector@ohabei.org
Wed, April 24 2019
19 Nisan 5779
Help make TOS events the best they can be!
Click here to sign up to a volunteer for upcoming events.
Join us for Shabbat services
Lifelong Learning

The 2018-2019 Adult Education Catalog is here! Download and print it to see our offerings for the year or go to our Lifelong Learning web page.
Upcoming Events
All Events
Mindfulness & Meditation


Shabbat, Apr 27th

9:00a

to

10:15a




Learn how to bring more meaning to our Judaism through meditation. Led by experienced guide Donna Rubenoff.

Shabbat Morning B'yachad


Shabbat, Apr 27th

10:00a

to

1:30p




A morning of community and learning! All ages, stages & backgrounds welcome! Come when you can, leave when you need to. Start off with food and conversation, study a little Torah, enjoy our Shabbat morning or Tot Shabbat service, and stay for a Kiddush lunch. Free child care is available if the little ones need a break!

Usher, Volunteer, & Community Safety Training


Monday, Apr 29th

6:00p

to

7:30p




Please join us for an interactive session provided by CJP which will provide ushers, greeters, volunteers, staff and anyone who is a welcoming presence at TOS with strategies and tools to help improve the safety and security of our community. Pizza dinner and childcare provided. RSVP here:

Yom HaShoah: Holocaust Remembrance Day Observance


Tuesday, Apr 30th

6:00p

to

7:30p




We are honored to welcome Aron Greenfield, a Norwood resident and Holocaust survivor, to be with us as we commemorate Holocaust Memorial Day. Aron will share his story during a short service including the lighting of 6 yarzheit candles commemorating the 6 million Jews murdered during the Shoah. There will be a light dessert reception after the program. Sponsored by the TOS Brotherhood.

NEW DATE--Jewish Identity Versus Assimilation in Film


Thursday, May 2nd

6:30p

to

8:45p




Several filmmakers have explored the challenges of preserving Jewish identity despite the overwhelming temptations to assimilate into contemporary Western society. Join us for Liberty Heights, the final film in our series!
About Ohabei Shalom
Progressive in attitude yet traditional in practice, Temple Ohabei Shalom is an inclusive Jewish community committed to nurturing, sustaining, and touching Jewish lives through lifelong learning, joyful worship, and repair of the world in word and deed.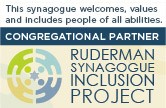 Wed, April 24 2019 19 Nisan 5779