Join Our Team
Book Keeper
Description
Temple Ohabei Shalom is looking for an enthusiastic, diligent, dedicated Bookkeeper to oversee day-to-day business operations. The successful candidate is both detail-oriented and community-oriented and thrives in a fast-paced, good-humored, unpretentious environment. Reporting to the Executive Director, this position encompasses financial duties (accounting, bookkeeping, budget, cash flow management, payroll), some aspects of human resources (file management, insurance, contracts, workers' comp, etc.), and other duties as assigned.
Bookkeeping & Accounting
Execute financial transactions: Full cycle Accounts Receivable, Accounts Payable, and Payroll

Prepare and oversee membership and tuition billing - including monthly payment plans and enrollment updates

Manage payables and receivables (cash, checks, ACH, credit cards, bank & wire transfers)

Manage all banking processes

Reconcile bank, debit card and credit card accounts

Development: Track pledges and donations; Generate, track, and distribute acknowledgement letters, and other tax receipts

Track employer and employee benefits and pension contributions, and complete monthly pension account transfers online

Responsible for the enrollment, and oversight of employee benefits

Point person for staff with payroll and retirement contribution questions or concerns

Interface with vendors, subcontractors, government agencies as needed to ensure compliance with all applicable regulations (1099, W-9, etc.); Coordinate, produce, file all tax documentation as required

Prepare weekly reports as well as monthly, quarterly and annual financial reports in consultation with Executive Director and synagogue leadership; Prepare budget & reports to Board as requested

Keep timely, accurate records on all financial matters
Human Resources and Recordkeeping
Oversee insurance, personnel files, inspection certificates, maintenance contracts

Improve and maintain filing system
Qualifications
Fluency in QuickBooks Online and best bookkeeping practices

Understands core accounting concepts and Chart of Accounts

Basic MS Excel proficiency

Understand core financial statements and the drivers and metrics associated with each

Handle confidential and sensitive information with discretion related to critical processes, both internally and with community members

Interface with families about financial questions and matters

Ask for help, support, or oversight as appropriate
Please send a resume and cover letter to executivedirector@ohabei.org
Fri, February 22 2019
17 Adar I 5779
Help make TOS events the best they can be!
Click here to sign up to a volunteer for upcoming events.
Join us for Shabbat services
Lifelong Learning

The 2018-2019 Adult Education Catalog is here! Download and print it to see our offerings for the year or go to our Lifelong Learning web page.
Upcoming Events
All Events
HomeBASE February Vacation Camp!


Tuesday, Feb 19th

8:00a

to

Friday, Feb 22nd

6:00p




Hannah Arendt: Controversy and Thought with Amos Lassen, Ph.D.


Thursday, Feb 28th

7:00p

to

9:15p




Hannah Arendt covered the trial of Eichmann, and what she wrote made her the most reviled Jewish thinker since Spinoza. We will examine the controversy to see how we view it in today's context.

Shabbat B'yachad


Friday, Mar 1st

5:30p

to

8:00p




The Book of Judges: From Unity to Chaos on the Road to Monarchy


Wednesday, Mar 6th

6:30p

to

8:30p




The Book of Judges contains some of the most dramatic episodes in the bible. It is part of the Deuteronomic History that begins with Deuteronomy itself and continues through Second Kings, with the fall of Jerusalem and the end of the Davidic monarchy. The goals of the course are to engage in a close reading of the texts and to discover a hidden political agenda that underlies much of the Hebrew Bible.

Monthly Women's Rosh Chodesh Group


Wednesday, Mar 6th

7:30p

to

9:00p




Come celebrate the beginning of each new Jewish month with women of all ages from 13 - 113. We'll have the chance to schmooze, learn, enjoy activities and just connect with one another, offering a variety of ways into Jewish learning, community and living.
About Ohabei Shalom
Progressive in attitude yet traditional in practice, Temple Ohabei Shalom is an inclusive Jewish community committed to nurturing, sustaining, and touching Jewish lives through lifelong learning, joyful worship, and repair of the world in word and deed.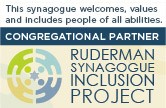 Fri, February 22 2019 17 Adar I 5779