HomeBASE: Brookline Afterschool Enrichment @ TOS
HomeBASE: Out of School Care Covering all of Your Bases
HomeBASE: an innovative out-of-school-time program that combines afterschool childcare and enrichment programs for children from Kindergarten through 4th grade. HomeBASE offers integrated programming based on modern values, teaching children to care for themselves, each other, and the world around them. Our staff provides a safe and fun-filled environment where children can always feel like they are at home. HomeBASE provides a warm, caring environment beyond school hours where your children have the opportunity to play with friends and get homework out of the way before your family sits down to dinner. Children can attend two to five days per week. Programs are organized by grade level.
Our curriculum is based on a program model that focuses on learning enhancement, health, and recreation, while also building competence and confidence in children. HomeBASE gives all children the opportunity to form long-lasting friendships that enhance their development, growth, and self-confidence.

Highlights of Our Flexible, All-Inclusive Program:
We will pick-up your kids at school! Transportation provided (chaperoned walk) from Lawrence, Pierce, or Devotion Schools. Coming from a different school? Let's talk. contact Alexa Roos at aroos@ohabei.org
Flexible schedule: Pick and choose the days and times which work for your family.
High quality staff who take a holistic approach to understanding your child
Innovative enrichment activities
We will pick up your kids and take them to Ansin Religious School (ARS)! Attend HomeBASE two (2) or more days of the week and transition to ARS is included (for TOS members only).
Vacation Camp & Brookline Early Release Day Care available
Our Mission:
HomeBASE is committed to providing enriching, educational, and recreational activities, guiding children toward positive interactions while respecting the rights and needs of each child. Operated by an exceptionally well-trained staff, HomeBASE provides high quality care, featuring flexibility for families, and abundant choice. Through a balanced mix of activities, HomeBASE utilizes our facility and neighborhood to their full potential. HomeBASE supports Temple Ohabei Shalom's philosophy of promoting lifelong learning while building and enhancing the Brookline community.
Philosophy:
Research has shown that the time between the end of the school day and the time a child goes to sleep have a significant impact on a child's cognitive, social-emotional, and physical development. We embrace a holistic approach to out-of-school care, providing guidance and support for each child's individual needs during this critical time. Children will feel supported exploring their interests in a relaxed social setting. We encourage children to develop their sense of independence and awareness as we intentionally guide them towards growing healthy self-esteem.
2:30 Arrival
Children picked up by HomeBASE staff from Lawrence, Pierce, or Devotion Schools.
3:00 Snack
A nutritious snack will be provided daily. We can accomodate most allergies and special diets.
3:30 Physical Activity
Physical activity in accordance with the guidelines suggested by the United States Centers for Disease Control.
4:40 Homework Time Offered
Flexible work time with support offered by our staff (Supervised computer time available for homework).
4:40 Enrichment Activity
Rotating schedule of innovative enrichment activities.
5:30 Open Choice
Time for children to play, read, work on projects, work on homework, etc.
6:00 Pickup
Homework is done. Exercise is done. Enjoy some quality time with your child!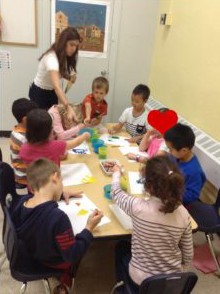 Innovative Enrichment Activities:
Enrichment activities at HomeBASE are selected to match the interests of your child. Participants will enjoy the full benefits that our building and neighborhood have to offer, including: Cooking classes in our newly renovated kid-friendly kitchen, engineering, music, puppetry, drama, art and more!
Our Nurturing Staff:
Flexible scheduling and great programming mean nothing without quality staff. Our high quality staff understand that at the end of each day, your child's experience at HomeBASE is directly tied to the relationships they develop both with their peers and adult mentors. With that in mind, our staff are selected for their commitment to understanding each individual child, their passion for making a difference, and programmatic expertise. To ensure that every child receives the attention that they deserve we employ a 10:1 ratio of children to staff.
Integration with Ansin Religious School: We will pick up your kids and take them to Ansin Religious School (ARS). Attend HomeBASE two (2) or more days of the week and transition to ARS is included (for TOS members only). On these days, your student will be picked up from Lawrence, Pierce, or Devotion Schools and join us for a snack before being transitioned into their ARS class.
HomeBASE Financial Policies 2017-2018
To request more information, contact Alexa Roos at aroos@ohabei.org
Sun, May 27 2018
13 Sivan 5778
Upcoming Events
All Events
Community Shabbat Appreciating Rabbi Sonia


Friday, Jun 1st 5:45p

to 8:45p




We will show our appreciation and love for Rabbi Sonia with a community dinner, an Erev Shabbat service, and an Oneg reception. During each portion of the evening, in addition to prayer and music, we will have words of appreciation from members of our community. We are also delighted that Rabbi Sharon Cohen Anisfeld, Incoming President of Hebrew College and a friend and mentor of Rabbi Sonia, will join us. Free child care.

Sisterhood Shabbat


Shabbat, Jun 2nd 10:30a

to 12:00p




The Sisterhood, Rabbi Berkman, and Music Director David Sparr lead us in joyous, uplifting, and musical worship. After services, stay for a catered Kiddush luncheon.

TOS Annual Congregational Meeting


Tuesday, Jun 5th 7:00p

to 8:30p




Let's take the opportunity to thank the volunteers who take on the awesome responsibility of leading the Temple and get acquainted with the new Board of Trustees, whose term begins on Wednesday June 6.

Shabbat With Pizza and Sign Making


Friday, Jun 8th 6:00p

to 8:30p




Join us for a meaningful Shabbat gathering for prayer and pride the night before the Boston Pride Parade. After the service create a sign for the parade and join us for pizza. Please sign up so we know how much pizza to order.

March with Us in the Pride Parade


Shabbat, Jun 9th 10:30a

to 3:00p




March with us as your most fabulous self in Boston's Pride Parade as TOS community! Celebrate with us whether you're in the LGBTQIA community or you're an ally. Help us show the greater Boston community what an inclusive and welcoming place we are. Pride is an all ages, inclusive event.
Learn about ShulCloud
If you are a member and you have questions about ShulCloud, check out our introductory video, or contact the office: 617.277.6610.
Join us for Shabbat services
About Ohabei Shalom
Progressive in attitude yet traditional in practice, Temple Ohabei Shalom is an inclusive Jewish community committed to nurturing, sustaining, and touching Jewish lives through lifelong learning, joyful worship, and repair of the world in word and deed.
Sun, May 27 2018 13 Sivan 5778