High Holy Days Honey
High Holy Days Honey ~ A Sweet Gift for the New Year!
Each year Sisterhood facilitates the sales of honey for you to send to family and friends at the Jewish New Year. This is a great way to reach out to friends and family and support our Sisterhood at the same time. Now you can order your honey online. Here is how:
Go to the ORT Honey from the Heart

website store

Now you are at the Sisterhood's Honey Store. If it asks for the three letter code, it is TOS.

If you did not buy honey last year, click on "I am a first time buyer".

It will prompt you to set up an account with a user ID and your own password.

If you did order honey last year, click on "I ordered in a previous year."

Then just enter your order and follow the instructions. The honey will be sent directly to your recipients.

Once you have ordered, you can go back to your order if you wish to add new people. Just click on "I already ordered this year – manage my order" and you can update your order.

This is a fully secure website and ORT has been facilitating this program successfully for many years.

Members of our Temple used it to support the Sisterhood last year.
Please note that the cost of $12.00 per jar (free shipping) is in effect until August 5th. After that date, you will pay an additional $5.00 per jar for shipping.
If you have questions, contact Sisterhood President Denise Karlin.
Sun, August 25 2019
24 Av 5779
Help make TOS events the best they can be!
Click here to sign up to a volunteer for upcoming events.
Join us for Shabbat services
About Ohabei Shalom
Progressive in attitude yet traditional in practice, Temple Ohabei Shalom is an inclusive Jewish community committed to nurturing, sustaining, and touching Jewish lives through lifelong learning, joyful worship, and repair of the world in word and deed.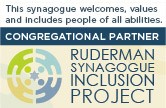 Sun, August 25 2019 24 Av 5779