High Holy Days at TOS 2018/ 5779
2018/5779 High Holy Days Guide
Shanah tovah u'metukah!
May you have a good and sweet New Year!
Welcome! We look forward to sharing the High Holy Days with you. As the High Holy Days approach, we prepare for our shared time of reflection and renewal. As we gather each year in our historic Sanctuary, we create a sacred community enriched by beautiful mus
ic, with the spirit and committment of our members and guests. We look forward to sharing the beauty and joy of these meaningful days with all of you, and send warmest wishes for a healthy and peaceful new year.
Sign up today for tickets and child care.
Zachor: Tributes & Remembrances
Traveling for the High Holy Days?
Find out about reciprocal tickets.
Tue, December 18 2018
10 Tevet 5779
Join us for Shabbat services
Lifelong Learning

The 2018-2019 Adult Education Catalog is here! Download and print it to see our offerings for the year or go to our Lifelong Learning web page.
About Ohabei Shalom
Progressive in attitude yet traditional in practice, Temple Ohabei Shalom is an inclusive Jewish community committed to nurturing, sustaining, and touching Jewish lives through lifelong learning, joyful worship, and repair of the world in word and deed.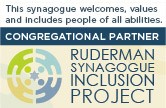 Tue, December 18 2018 10 Tevet 5779