HHD Schedule 2019
High Holy Days 2019/5780 Schedule
5780 is nearly here! We look forward to seeing you and observing the High Holy Days together.
If you are a member in good standing, your tickets will automatically be mailed to you in early September. If you haven't renewed yet, you can do that here. If you would like to join, you can sign up here. Join by December 1 and apply your ticket cost to your membership.
Free tickets are available for Family, Tot and Youth Services. Just contact us and we will mail them to you: 617.277.6610. Tickets for Sanctuary services are available here. Don't hesitate to be in touch if you have questions!
Download a color copy of the schedule below.
S'LICHOT
Sat, Sept 21-No tickets required
7:00 pm Reception Chapel
7:30 pm Havdallah Chapel
7:45 pm Evening Service Chapel
ROSH HASHANAH
Erev Rosh Hashanah
Sun, Sept 29

5:15 pm Rock! Hashanah Family Service Chapel**
6:15 pm Light Dinner Reception
7:30 pm Erev Rosh Hashanah Evening Service Sanctuary*
Rosh Hashanah-Day 1
Mon, Sept 30

9:15 am Tot Service Chapel
10:00 am Morning Service Sanctuary*
11:15 am Youth Service Chapel**
Apples & Honey Reception Penn-Spero
Rosh Hashanah-Day 2
Tue, October 1

10:00 am Morning Service Chapel*
4:45 pm Community Tashlich-Meet on steps at 4:15 pm
YOM KIPPUR
Kol Nidrei
Tue, October 8
7:30 pm Evening Service Sanctuary*

Yom Kippur
Wed, October 9

9:45 am Tot Service Chapel**
10:30 am Morning Service Sanctuary*
10:30 am Youth Service Chapel**
2:45 pm Learning Sessions
4:00 pm Afternoon Service Sanctuary*
5:00 pm Memorial Service (Yizkor) Sanctuary*
5:45 pm Concluding Service (Neilah) Sanctuary*
---
WHICH TICKETS TO BRING:
*Tickets required (All Sanctuary Services)
**Complimentary Family Service tickets required
Sun, August 25 2019
24 Av 5779
Help make TOS events the best they can be!
Click here to sign up to a volunteer for upcoming events.
Join us for Shabbat services
About Ohabei Shalom
Progressive in attitude yet traditional in practice, Temple Ohabei Shalom is an inclusive Jewish community committed to nurturing, sustaining, and touching Jewish lives through lifelong learning, joyful worship, and repair of the world in word and deed.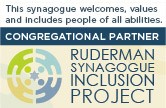 Sun, August 25 2019 24 Av 5779