Giving Opportunities at TOS
Giving Opportunities at TOS
It takes contributions, large and small, to keep our community vibrant. Your financial contributions are important but, as important, is your donation of time. We welcome the precious gift of your time though Committee participation, and encourage both new and seasoned members to take on leadership roles. Below are several ways you can help Temple Ohabei Shalom stay strong.
The Circle of Giving The Annual Circle of Giving Drive provides consistency in our fundraising. Everyone, members and non-members alike, joins us in supporting our community. Circle of Giving contributions help to support our moving worship services, our distinctive brand of education, stellar programming and the warm embrace of community offered to all. For gifts of insurance policies and appreciated assets, please contact the Executive Director. To make a donation online today, please visit our Online Donation Page.
Sanctuary Fund (Restore the Dome) Temple Ohabei Shalom, and in particular our beautiful Sanctuary, has been spiritual home to Jews of the greater community for generations past. Our home is now in need of repair, and it is now up to us to ensure that the Sanctuary may continue to serve its essential role for the next generation and beyond. This is what L'Dor Va'Dor is all about: from generation to generation. Your gift, which will be deposited into a segregated fund dedicated exclusively for Sanctuary renovations, will help make this possible. We very much hope that we will have participation by everyone. Even if your gift is $18, your contribution is most meaningful. Our Sanctuary has served every one of us, and each of us should do his/her share to preserve our Sanctuary for the next generation. You have the option of either donating online or mailing your payment.
Building Fund We are stewards of an historical structure, passed to us by many generations who dedicated their efforts in pursuit of meaningful Jewish lives. Through their efforts, we pray, celebrate, learn and make connections within our community under a magnificent Dome. Our synagogue requires a great deal of upkeep, repair and constant updating to keep it functioning and accessible to all. Your donations keep our building, worship spaces, the socials halls and classrooms ready for use.
Music & Worship Fund Music has always been an integral part of our legacy. Donations help to support an outstanding Shabbat Band, fund the rich voices that move us during High Holiday services, and bring special musical programming. Some highlights over recent years include guest appearances by Jonathan Gramling of Soulfege, Neshama Carlebach, and others, as well as events like Reggae Shabbat, featuring our own talented musicians under the leadership of Music Director David Sparr.
The Sisterhood of Temple Ohabei Shalom has played a major role in our synagogue community for over 100 years! We have a long and impressive history of enriching the synagogue and ourselves as a community of faith and social action. The Sisterhood reflects the principles of Reform Judaism through acts of service to the synagogue including: Providing gifts to B'nei Mitzvah, making annual donations to TOS and Ansin Religious School, helping to support Family Table, the local Jewish food bank, participating in Mitzvah Day, organizing Chanukah and Passover mitzvah visits, sending Chanukah packages to college students, reading to children in the Trust Early Education Center, and helping out wherever there's a need.
Brotherhood Our members have been involved with our Brotherhood for years and it has enriched our lives and our connection to our Temple. The Brotherhood of Temple Ohabei Shalom seeks to foster friendship and connections between the men of our community. The Brotherhood sponsors Health & Well-Being Programs, like the Annual Blood Drive and Health Awareness Programs, and through the PENN Trust, provides scholarships to the Ansin Religious School, as well as co-sponsoring events and projects that benefit the greater Temple Ohabei Shalom community.
Flower & Kiddush Sponsorships Anyone can sponsor a Kiddush (reception after services) or flowers for our bimah for Shabbat Services. This is a wonderful opportunity to honor a family member or friend or to commemorate the anniversary of a loved one who has passed. Make a Donation Online here,
If you prefer to send your donation by mail, download and complete this TOS Donation Form and return to Temple Ohabei Shalom at 1187 Beacon Street, Brookline, MA 02446-5441.
Sat, February 22 2020
27 Sh'vat 5780
Our Most Recent Blog Post
Our Lifelong Learning Catalog
Check out our Lifelong Learning Opportunities for the rest of the year. You'll find everything from Torah study (at Shabbat Morning B'yachad) to learning about the seasons of the Jewish Year, the Shema, and much, much more. Open the catalog here.
Upcoming Events
All Events
Wednesday

,

Feb

February

26

,

2020

Monthly Women's Rosh Chodesh Group with Rabbi Audrey Marcus Berkman


Wednesday, Feb 26th

7:00p

to

8:30p




Come celebrate the beginning of each new Jewish month with women of all ages from 13 - 113. We'll have the chance to schmooze, learn, enjoy activities and just connect with one another, offering a variety of ways into Jewish learning, community and living.

Saturday

,

Feb

February

29

,

2020

Shabbat Morning B'yachad, Tot Shabbat & TCEE Play Date


Shabbat, Feb 29th

10:00a

to

1:30p




A morning of community and learning! All ages, stages & backgrounds welcome! Come when you can, leave when you need to. Warm up with coffee and bagels, study a little Torah, enjoy our Shabbat morning or Tot Shabbat service, and stay for a Kiddush lunch. Free child care is available if the little ones need a break!

Thursday

,

Mar

March

5

,

2020

Soul Cycle: Spiritual Insights into the Jewish Holiday Cycle Taught by Rabbi Daniel Schaefer and Lifelong Learning Intern Ryan Leszner


Thursday, Mar 5th

6:30p

to

8:00p




Select Thursdays, 6:30 pm The cycle of the Jewish year provides us with a road-map for spiritual growth and development. Come nourish your soul with song, meditation, and learning as we journey through the Jewish year. Each session will focus on a couple stories and prayers as we mindfully attune our souls to themes of the season.

Sunday

,

Mar

March

8

,

2020

Purim Carnival Hoopla


Sunday, Mar 8th

3:00p

to

5:30p




FREE ADMISSION. Cotton candy, carnival games, prizes, an indoor bounce house, food, raffles and fun for the whole family! Enter our silent auction to win prizes like a ride to school in a police car, or a special experience with one of our TCEE teachers, or buy one of our mystery gift card boxes. All proceeds support scholarships for children to attend TCEE. Costumes encouraged. Join us for an afternoon of fun!

Tuesday

,

Mar

March

10

,

2020

TOS Community Purim: WTOS 118.7


Tuesday, Mar 10th

6:00p

to

8:00p




Come hear the Purim story, set to pop music. After a brief evening service, there will be a Purim play led by community members, religious school students, and our Rabbis, involving art, music, and chanted selections of the megillah. This event is open to whole everyone. Costumes are encouraged! Come for zany fun, yummy hamantashan, and friends galore.
Help make TOS events the best they can be!
In the Works Now: Israel Trip!
Planning is underway for our next congregational trip to ISRAEL! The trip will take place from approximately February 11-21, 2021 (this is during the February school vacation week). Our member David Seldin is chairing the planning committee, along with Rabbi Berkman. Details.
About Ohabei Shalom
Progressive in attitude yet traditional in practice, Temple Ohabei Shalom is an inclusive Jewish community committed to nurturing, sustaining, and touching Jewish lives through lifelong learning, joyful worship, and repair of the world in word and deed.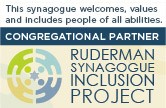 Sat, February 22 2020 27 Sh'vat 5780