Giving Opportunities at TOS
Giving Opportunities at TOS
It takes contributions, large and small, to keep our community vibrant. Your financial contributions are important but, as important, is your donation of time. We welcome the precious gift of your time though Committee participation, and encourage both new and seasoned members to take on leadership roles. Below are several ways you can help Temple Ohabei Shalom stay strong.
COVID Emergency Fund In these difficult times, Ohabei Shalom remains committed to finding ways we can worship together, strengthen our connections, and support one another. We ask, if you are able and have not already done so, to donate now to COVID-19 emergency appeal. If you are able to contribute to keep TOS running during this crisis, and you haven't yet responded to our Emergency Appeal, please give whatever you can now by clicking this link (in the donation "type" drop down menu please choose COVID-19 Emergency Fund). Your support and generosity are critical to Temple Ohabei Shalom, particularly now. Despite our physical distance, we are working to maintain the intimacy and sense of community which form the bedrock of TOS. Click here for more information.
The Circle of Giving The Annual Circle of Giving Drive provides consistency in our fundraising. Everyone, members and non-members alike, joins us in supporting our community. Circle of Giving contributions help to support our moving worship services, our distinctive brand of education, stellar programming and the warm embrace of community offered to all. For gifts of insurance policies and appreciated assets, please contact the Executive Director. To make a donation online today, please visit our Online Donation Page.
Lamed Vavnik Campaign Jewish lore holds that at any time in history there are 36 righteous people who are quietly responsible for saving the world. These are the Tzadikim Nistarim (hidden righteous ones), also known as the Lamed Vavniks (Lamed is 30 and Vav is 6). In 2014, Temple Ohabei Shalom initiated the Lamed Vavnik campaign, with several congregants donating at least $36,000, driving the successful refurbishment of our historic Sanctuary. Today we are confronting the loss of significant revenue streams and increased expenses with the closing of our building and the move of our services on-line. To address this mismatch and protect the survival of the Temple, we must again appeal to the generosity of our friends and congregants with a new Lamed Vavnik campaign. The new Lamed Vavnik campaign's goal is to put the Temple on stronger long-term financial footing. Our goal is for at least 36 family units to pledge at least $36,000 to be paid over a period of one, two, or three years. These contributions will be applied to sustaining ongoing Temple operations, the TOS Hineini and Sanctuary Funds, the TOS endowment.
80th Birthday Celebration of Rabbi Emerita Emily Lipof We will be celebrating the 80th birthday and historic career of our distinguished Rabbi Emerita, Emily Lipof, on the evening of November 8, 2020. This will be a multifaceted, festive Zoom event with attendees from Ohabei Shalom and the greater Boston Jewish Community. Please join us as an Event Sponsor. Your donation to Ohabei Shalom is an honorarium for Rabbi Lipof. It will be placed into a segregated account for the purpose of supplementing the Rabbi's partially restored retirement benefits. Her groundbreaking tenure with us began in 1988 when she became the first female Senior Rabbi to lead a major congregation. Among her many accomplishments, she founded the Ansin Religious School, inspired the founding of the Trust Center for Early Education and was the impetus behind the Hineini endowment fund. As Rabbi Emerita, she continues to teach classes and gives her wise counsel to our spiritual leaders, lay leaders and all of us. Above all it is her unique style of responding to the life and needs of each individual congregant which explains why she attracted over 500 new families and why we, our children and our grandchildren feel our intense connection to her today. Click here for more information.

Sanctuary Fund (Restore the Dome) Temple Ohabei Shalom, and in particular our beautiful Sanctuary, has been a spiritual home to Jews of the greater community for generations past. Our home is in need of repair, and it is now up to us to ensure that the Sanctuary may continue to serve its essential role for the next generation and beyond. This is what L'Dor Va'Dor is all about: from generation to generation. Your gift, which will be deposited into a segregated fund dedicated exclusively for Sanctuary renovations, will help make this possible. We very much hope that we will have participation by everyone. Even if your gift is $18, your contribution is most meaningful. Our Sanctuary has served every one of us, and each of us should do their share to preserve our Sanctuary for the next generation. You have the option of either donating online or mailing your payment.
Building Fund We are stewards of an historical structure, passed to us by many generations who dedicated their efforts in pursuit of meaningful Jewish lives. Through their efforts, we pray, celebrate, learn and make connections within our community under a magnificent Dome. Our synagogue requires a great deal of upkeep, repair and constant updating to keep it functioning and accessible to all. Your donations keep our building, worship spaces, the socials halls and classrooms ready for use.
Music & Worship Fund Music has always been an integral part of our legacy. Donations help to support an outstanding Shabbat Band, fund the rich voices that move us during High Holiday services, and bring special musical programming. Some highlights over recent years include guest appearances by Israeli Superstar David Broza, Jonathan Gramling of Soulfege, Neshama Carlebach, and others, as well as events like Reggae Shabbat, featuring our own talented musicians under the leadership of Music Director David Sparr.
The Sisterhood of Temple Ohabei Shalom has played a major role in our synagogue community for over 100 years! We have a long and impressive history of enriching the synagogue and ourselves as a community of faith and social action. The Sisterhood reflects the principles of Reform Judaism through acts of service to the synagogue including: Providing gifts to B'nei Mitzvah, making annual donations to TOS and Ansin Religious School, helping to support Family Table, the local Jewish food bank, participating in Mitzvah Day, organizing Chanukah and Passover mitzvah visits, sending Chanukah packages to college students, reading to children in the Trust Early Education Center, and helping out wherever there's a need.
The Brotherhood of Temple Ohabei Shalom seeks to foster friendship and connections between the men of our community. The Brotherhood sponsors Health & Well-Being Programs, like the Annual Blood Drive and Health Awareness Programs, and through the PENN Trust, provides scholarships to the Ansin Religious School, as well as co-sponsoring events and projects that benefit the greater Temple Ohabei Shalom community.
Flower & Kiddush Sponsorships Anyone can sponsor a Kiddush (reception after services) or flowers for our bimah for Shabbat Services. This is a wonderful opportunity to honor a family member or friend or to commemorate the anniversary of a loved one who has passed. Make a Donation Online here.
If you prefer to send your donation by mail, download and complete this TOS Donation Form and return to Temple Ohabei Shalom at 1187 Beacon Street, Brookline, MA 02446-5441.
Fri, April 16 2021
4 Iyar 5781
About Ohabei Shalom
Progressive in attitude yet traditional in practice, Temple Ohabei Shalom is an inclusive Jewish community committed to nurturing, sustaining, and touching Jewish lives through lifelong learning, joyful worship, and repair of the world in word and deed.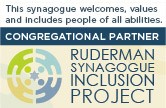 Contact Us
Our phone lines are open daily from 9:00am- 5:00pm.

If a lifecycle emergency occurs after hours, please call: 617.651.0584
Fri, April 16 2021 4 Iyar 5781