GBIO
GBIO
The Greater Boston Interfaith Organization (GBIO) is a broad-based organization that works for social justice by coalescing, training and organizing people across religious, ethnic, class and neighborhood lines. By engaging thousands of people in the Boston area in identifying important problems, GBIO has built and demonstrated collective strength to achieve a wide variety of purposeful goals. In shaping an ongoing social justice agenda, GBIO builds on members' personal stories and faith traditions.
We hope that by participating in GBIO, we can build an even closer community at TOS by sharing our stories about issues that affect the quality of our lives, our families and our community. We look forward to joining with many others in Tikkun Olam.
Wed, May 22 2019
17 Iyar 5779
Help make TOS events the best they can be!
Click here to sign up to a volunteer for upcoming events.
Join us for Shabbat services
Lifelong Learning

The 2018-2019 Adult Education Catalog is here! Download and print it to see our offerings for the year or go to our Lifelong Learning web page.
About Ohabei Shalom
Progressive in attitude yet traditional in practice, Temple Ohabei Shalom is an inclusive Jewish community committed to nurturing, sustaining, and touching Jewish lives through lifelong learning, joyful worship, and repair of the world in word and deed.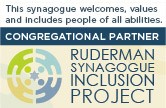 Wed, May 22 2019 17 Iyar 5779