GBIO
Greater Boston Interfaith Organization (GBIO)
Greater Boston Interfaith Organization (GBIO) is a broad-based organization that works for social justice by coalescing, training and organizing people across religious, ethnic, class and neighborhood lines. By engaging thousands of people in the Boston area in identifying important problems, GBIO has built and demonstrated collective strength to achieve a wide variety of purposeful goals. In shaping an ongoing social justice agenda, GBIO builds on the stories and faith traditions of its members. At TOS, we are working to engage our members in meaningful one-to-one conversations that are building a closer sense of community and the deeper relationships that will be needed to organize effectively.
As Mordecai said to Esther during the time of King Ahasuerus, "Who knows? Perhaps you have come to your royal position "for such a time as this?" And as we know, Esther did act to save our people.
For this, too, is a critical time – a time to resist bigotry and a time to remember our Jewish call to welcome strangers and refugees. It is a time to seek fairness in access to housing, healthcare, education and in criminal justice reform. It is a time to reduce violence.
We hope that by participating in GBIO, TOS members can join with many others in Tikkun Olam and help bring about the changes we so deeply desire – for a time such as this.
Wed, September 28 2022
3 Tishrei 5783
About Ohabei Shalom
Progressive in attitude yet traditional in practice, Temple Ohabei Shalom is an inclusive Jewish community committed to nurturing, sustaining, and touching Jewish lives through lifelong learning, joyful worship, and repair of the world in word and deed.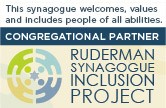 Contact Us
Our phone lines are open daily from 9:00am- 5:00pm.

If a lifecycle emergency occurs after hours, please call: 617.651.0585
Wed, September 28 2022 3 Tishrei 5783