ARS Confirmation Class Registration
Thu, December 12 2019
14 Kislev 5780
Our Most Recent Blog Post
Just In!
Our Lifelong Learning Catalog
Check out our Lifelong Learning Opportunities for the rest of the year. You'll find everything from Torah study (at Shabbat Morning B'yachad) to learning about the seasons of the Jewish Year, the Shema, and much, much more. Open the catalog here.
Help make TOS events the best they can be!
Join us for Shabbat services
Upcoming Events
All Events
Soul Cycle: Spiritual Insights into the Jewish Holiday Cycle Taught by Rabbi Daniel Schaefer and Rabbinic Intern Ryan Leszner


Thursday, Dec 12th

6:30p

to

8:00p




Select Thursdays, 6:30 pm The cycle of the Jewish year provides us with a road-map for spiritual growth and development. Come nourish your soul with song, meditation, and learning as we journey through the Jewish year. Each session will focus on a couple stories and prayers as we mindfully attune our souls to themes of the season.

David Broza & Friends


Motzei Shabbat, Dec 14th

7:00p

to

9:00p




Join us for this exciting and exhilarating Hanukkah concert when we welcome Israeli superstar David Broza and NY based Cuban "Trio Havana" lead by flute virtuoso Itai Kriss. This union of musicians brings a unique interpretation to the full spectrum of Broza's rich repertoire of hits. Israeli superstar David Broza is considered one of the world's most dynamic and vibrant performers. Come for the amazing concert and stay for a reception afterwards. Tickets are available at the box office, including tickets for both the concert alone and the concert/reception.

Community Hanukkah Celebration


Tuesday, Dec 17th

5:45p

to

7:00p




We'll eat latkes, sing songs, the kids will play dreidel, and do some art, and we'll spend time together as a community.

Monthly Women's Rosh Chodesh Group with Rabbi Audrey Marcus Berkman


Wednesday, Dec 18th

7:00p

to

8:30p




Come celebrate the beginning of each new Jewish month with women of all ages from 13 - 113. We'll have the chance to schmooze, learn, enjoy activities and just connect with one another, offering a variety of ways into Jewish learning, community and living.

The Sisterhood Annual Hanukkah Pot Luck Luncheon and Yankee Swap


Thursday, Dec 19th

12:00p

to

2:00p




A delightful event with friends, food (lots of it) and fun. All women are welcome to attend – no need to be a Sisterhood member. Please RSVP by Friday December 13th to Alberta Lipson (albertalipson@gmail.com) and let us know what dish you will bring. Sisterhood supplies the beverages and paper goods and you supply everything else.
In the Works Now: Israel Trip!
Planning is underway for our next congregational trip to ISRAEL! The trip will take place from approximately February 11-21, 2021 (this is during the February school vacation week). Our member David Seldin is chairing the planning committee, along with Rabbi Berkman. Details.
About Ohabei Shalom
Progressive in attitude yet traditional in practice, Temple Ohabei Shalom is an inclusive Jewish community committed to nurturing, sustaining, and touching Jewish lives through lifelong learning, joyful worship, and repair of the world in word and deed.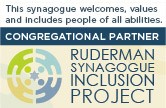 Thu, December 12 2019 14 Kislev 5780